For this edition of our Homegrown Business feature, we spoke with Ana Tanase of Athena's Apothecary. Athena's Apothecary is your one-stop shop for supporting your mental, emotional and spiritual wellbeing.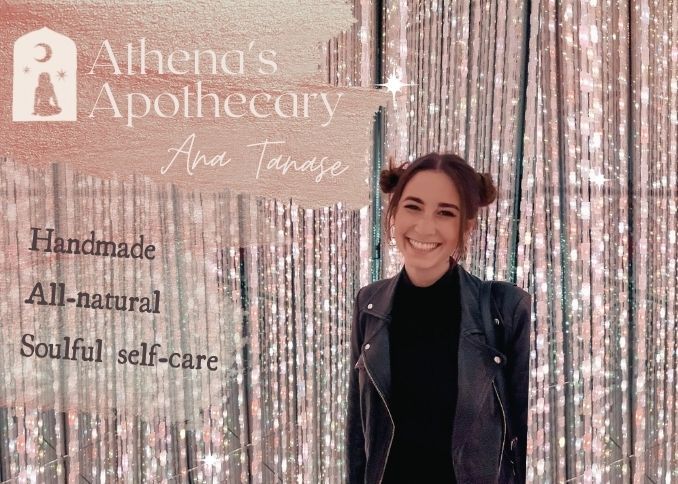 What is your business called and what does it do?
My business is called Athena's Apothecary and I aim to help people unearth the magic within them and reconnect with lost fragments of their identities through enchanting self-care products. Each product contains a thoughtful ritual to awaken one's inner wisdom.
Like mindfulness meditation is a physical reminder to be aware, Athena's products are physical reminders to connect with different parts of one's spirit.
The Worthy line is designed to remind people to be gentle, loving, and compassionate with themselves through self-care activities they already do: such as unwinding in a bath, moisturizing one's body, or applying a face mask. Take the Worthy Bath Crystals which naturally tint bath water pink, for soaking up loving energies through meditation all while leaving skin luxuriously hydrated.
Athena's products only contain high-functioning, all-natural ingredients, so not only can users feel good about what they're putting on their skin, but also about what happens with those ingredients as they are washed down their drains. Packaging is designed using high-quality materials such as glass, which can be infinitely recycled or repurposed.
What made you want to do this work?
When I realized how many chemicals I was exposing my body to through my beauty products, I quickly made the swap to all-natural products. While going chemical-free felt good, I wasn't very impressed with the formulas and packaging, so I began to diligently research cosmetic formulation science and began handcrafting my own beauty products.
Around the same time, I began battling depression and anxiety, and realized that I was absolutely miserable and out of alignment with who I was. My career, my romantic relationship, my friendships, and my mindsets were no longer serving me, and the life I had been diligently working towards was no longer the life I wanted. I didn't even know who I was anymore!
I took a sabbatical year to travel, live life slowly, and reconnect with my identity and intuition. Slowly, I began to reconnect with my inner magic, and fall in love with myself and my life all over again. I vowed to find ways to keep engaging in soulful self-care and self-discovery while living my life in Canada, without the need to travel to connect with these sides of myself.
I started Athena's Apothecary to give women an opportunity to connect with their inner magic regularly, and gently contemplate those important, bigger existential issues in a safe space. I wanted to bring those moments of personal epiphanies into the homes of women in Canada through soulful self-care. You don't need to travel the world to reconnect with yourself, you just need a quiet space and the right self-care tools and rituals.
What problem did you want to solve with the business?
Many of us are facing burnout and overwhelm but aren't sure how to overcome this bleakness. Society's cult of productivity is starving us of meaning, making us feel empty and disconnected from the person we aspire to be. The opportunity to find peace and wisdom in everyday experiences is seen as frivolous because it isn't "productive".
Our beauty routines contribute to our dissatisfaction with our appearance and often contain some ingredients that can cause some long-term damage to our health and natural environment. Diligently researching each ingredient and its associated health implications in our beauty products is tedious and exhausting, and the rituals that should help us feel beautiful and fulfilled end up being just another task we cross off our list.
I want to show women the power of nurturing their wellbeing, connecting with their intuition, and falling in love with themselves and their lives all over again. The easiest way to do this is to partake in soulful self-care.
Who are your clientele/demographics?
My demographics are those who want to connect with their inner wisdom, and intuitive, feminine side. The ethereal and feminine aesthetic mostly draws in women of all ages, but I have noticed that millennial men are also expressing interest in connecting with the gentler sides of their identities through mindful self-care.
How does your business make money? How does it work?
Currently, Athena's Apothecary is a product-based business. Products are sold via the Athena's online shop (www.athenasapothecary.com), via BeLocal Calgary, and at various markets within the city. I will be working with various boutiques, metaphysical shops, and yoga studios within western Canada to have my products sold in brick-and-mortar locations as well.
I am also developing monthly self-care workshops that use the current astrological "weather" as inspiration for gentle self-reflection and self-care. There is an admission fee for these bespoke events.
Where in Calgary can we find your profession?
The best place to follow along with Athena's Apothecary news is via Instagram (@athenas.apothecary (https://www.instagram.com/athenas.apothecary/)), where I will be posting information about markets I'll be attending, boutique stockists, self-care tips and tricks, and self-care workshops, or my website (www.athenasapothecary.com)
What is the best question a prospective customer could ask a member of your profession when comparing services? Give the answer as well.
Can I try a tester of this product before committing to the full size?
Before committing to a full-size product, I recommend asking for a tester of the product and testing it on the sensitive skin of the crook of your elbow before applying to your face or body. If there is no indication of irritation on this part of your skin, apply the product as recommended (to your face or body), and see how you like the formula. I have mini product testers available for purchase to ensure you absolutely love the product before buying the full size.
Do your products contain any of these (https://skinkraft.com/blogs/articles/toxic-chemicals-in-cosmetics) harsh ingredients?
Cosmetic ingredient education is a passion of mine, and I am working on developing a list of all the natural ingredients and botanicals in Athena's Apothecary products, and the amazing properties they impart to the formula.
In short, Athena's products contain NONE of the harsh ingredients on this list. I've even designed the formulas to be waterless so they don't require preservatives (parabens) that may be harsh on the skin's microbiome, and disruptive to your health and the natural environment. I use high-quality essential oils to support your mind and spirit rather than hiding my scent formula behind the word "fragrance" (a term that can be used for a combination of thousands of chemicals, so you don't know what you're actually putting on your body). I use all-natural botanicals with skin benefits that double as natural colourants (such as pink dragon fruit, strawberry extract, and beetroot powder) rather than using synthetic colours.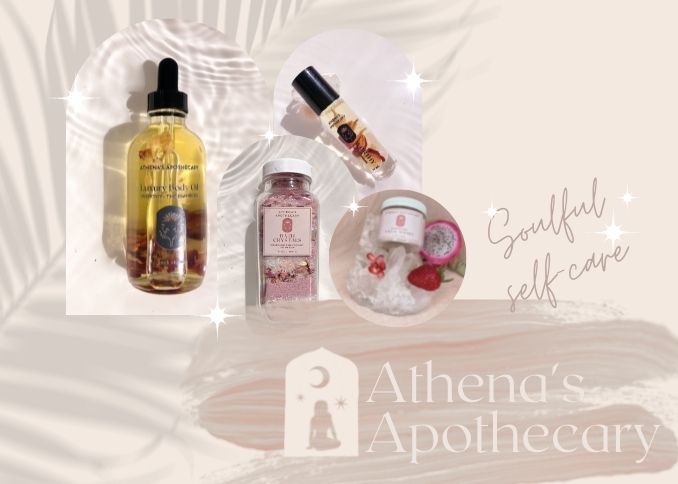 What's the best self-care routine for me?
Self-care is a personal, multifaceted definition, but it is SO much more than physical pampering. If you aren't sure where to start, rest easy knowing that I've designed a soulful ritual for each Athena's product that contains a combination of breathwork, meditation, visualization, and affirmations to elevate your self-care routine with my favourite exercises. All you need to do is clear your schedule to connect with the most beautiful parts of your being.
What is the best part about what you do? What is the worst part?
The best part of what I do is the ability to have full control of the creative aspects of the business. Product formulating, branding, label design, graphic design: these are all things I LOVE doing and having full control of. Designing the self-care rituals that come with each product is something I also enjoy, and I love getting inspiration for these rituals by combining ancient wisdom and modern science. I also love the process of handcrafting each product with all-natural ingredients and blessing each product before it leaves my workshop.
The worst part is all the administrative work and scheduling involved with the multifaceted nature of being a business owner. I like to follow my intuition and work on each business aspect when my energy is at its peak, but I know that following a schedule and doing administrative tasks on time keep the business healthy.
What is your favourite joke about your own profession?
The biggest joke would be: I am always zen, tranquil, and spend countless hours each day on self-care. Life has ups and downs: I still get discouraged, stressed, and down on myself. The only difference is that now I am kinder with myself, and I try to deal with my stresses as they come up, rather than letting them fester and pile up, leading to burnout.
Perfect tranquility is not practical, but small, slow and steady steps towards a more tranquil life and compassion for ourselves when we "fall off the wagon" of self-care make all the difference.
PAY IT FORWARD: What is another Calgary business that you love?
We have SO much local talent here in Calgary, it is very inspiring!
I LOVE the BeautyRak (https://www.thebeautyrak.com/), a home-based beauty bar run by Reanna Rak, a Registered Nurse and esthetician that provides luxurious beauty treatments: sugaring, facials, lashes, brows, and teeth whitening services. She is so sweet and nurturing, I always feel so taken care of in her hands and love treating the women in my life to her special services.