Diane Smit is the Calgary Program Coordinator for Scientists in School. We got to speak with her to find out more about the organization and to find out why she wanted to get involved with them.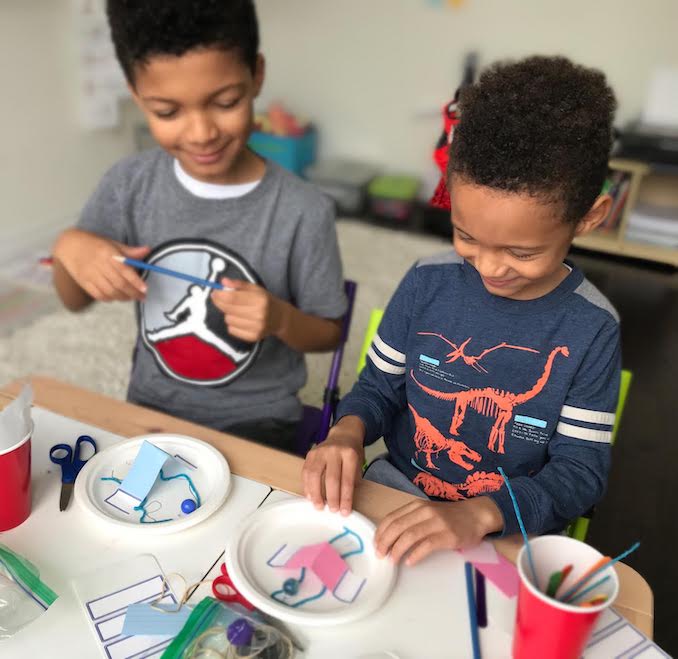 Describe your charity/non-profit in a few sentences.
Scientists in School is a leading science, technology, engineering and math (STEM) education charity that annually inspires over 700,000 children and youth in Canada. We collaborate with educators and parents to help children build critical thinking skills and confidence in STEM and heighten interest in STEM careers. Science comes to life in our classroom and community workshops, and children become real scientists as their curiosity is sparked through hands-on inquiry. Since 1989, over 10 million children in Canada have discovered the wonder of science in our workshops!
What problem does it aim to solve?
Our vision is for all children in Canada to be actively engaged in the seeing, doing and understanding of science. Our next generation deserves equal opportunities to view science and technology as fun. However, not every child has access to early childhood STEM enrichment.
Together with our donors, we're working hard to change that so that no child is left behind. Our Adopt-a-School and Lift-a-School programs provide complimentary workshops funded by donors to schools serving low-income communities. To learn more about our commitment to equity, view our 2019 Annual Report.
When did you start/join it?
My first experience of Scientists in School was as a volunteer. Scientists in School was exploring Calgary as a potential new region. My child's school was hosting workshops, and I was able to join as a parent volunteer. The presenting scientist shared such passion and knowledge with the class, and I could see the immediate, positive impact the hands-on nature of the program brought to the students in my son's class. The class was energized with the discoveries they made, and I couldn't wait to volunteer again. Several months later, I was so fortunate to join Scientists in School's team as the first Calgary-based presenter on what has grown to an incredible team. We just celebrated our sixth-year anniversary in Calgary, and it has been a very rewarding and exciting journey nurturing our role here, and building on the roots established by our teams' 31 years of charitable work in Ontario.
What made you want to get involved?
Impact has always been important to me. I studied Biology and Education at the University of Lethbridge, and enjoyed several years as a science teacher. I understand the importance of STEM experiences for our youth, and the challenges teachers sometimes face in the classroom. I see a ton of value in the work Scientists in School does for the young scientists in our community, our teachers and community leaders. It's very rewarding to see firsthand the lasting impact our programs have. I'm excited to see that grow as we keep moving forward.
What was the situation like when you started?
There were so many challenges when we first launched. The response from our local schools has been incredibly welcoming and there is a real hunger for STEM opportunities in our city. That has really pushed us to keep evolving and growing in a thoughtful, collaborative way with the people we serve. Our team is a very passionate bunch, and we learned quickly to pivot when needed, while still staying true to our overall mission. We have built some very lasting and positive relationships in Calgary over these past six years, and it's exciting to look towards the future.
How has it changed since?
COVID has been an incredible challenge for us, like so many charities. Our STEM workshops were always in person. We have worked very hard to pivot quickly to a new virtual model, while staying true to our hands-on nature. I'm pleased to share that we're still actively bringing hands-on STEM to schools and community groups through our new virtual programming. Our topic-expert presenters deliver virtual STEM workshop live through Microsoft Teams. We provide all of the hands-on science materials for children in the form of individually packaged Mini Science Bags shipped prior to the workshop. Despite COVID and the near constant challenges it brings, we see a future that is bright and full of promise. We're holding tight to our vision, and our goal of providing opportunities for all children across Canada to explore the seeing, understanding and doing of science.
What more needs to be done?
Where to start! We are working hard to let educators know that our program is still there to enrich their STEM lessons, just virtually! In a world of COVID, it can be a challenge to get that information out there and often every day is a new adventure. As a charity, we work very hard to provide equitable experiences for youth, and are extremely grateful for the support of generous donors who see value in the work we do. There are so many charities finding themselves in the same situation as us, and I have to say that the struggle is real. We do look forward to the day when we can safely return to our in-person work, but with several pandemic months behind us, we see our virtual workshops have really filled a niche for science exploration. A virtual platform has also allowed us to expand the regions we serve, and that is very exciting. There is a lot of promise in this, as we see continue to reach out to our local community, and also reach out virtually across our province, and across Canada!
How can our readers help?
There are many to support Scientists in School. Our donors help Scientists in School to subsidize workshops—keeping the cost to schools and parents as low as possible; offer complimentary workshops to schools serving low-income communities; expand our programs into new communities; and develop new workshop topics. We couldn't do what we do without our amazing donors. You can make a donation anytime on our website. Businesses and organizations interesting in becoming an Adopt-a-School partner can find more information on our website.
We're always looking to partner with new (and returning!) schools, community groups and businesses. We'd love to work with you to bring hands-on science to your young scientists. If you're interested in booking a virtual STEM workshop, party, or Family Science Night, visit our website to browse available topics or email us at virtual@scientistsinschool.ca.
Do you have any events coming up?
Follow us on social media for updates on upcoming events.
Where can we follow you?
We're on Instagram, Facebook, Twitter, LinkedIn and YouTube. You can also sign-up for our e-newsletter on our website.
PAY IT FORWARD: What is an awesome local charity that you love?
There are so many! I think my favourite is Brown Bagging for Calgary's Kids. Working closely with schools, it's been great to see so many neat charities of all sizes working so hard to support our city's youth. Brown Bagging for Calgary's Kids does excellent, impactful work, and they have found some very creative ways to keep their mission going during COVID. Our city has a great giving spirit, and charities of all kinds have such passion for what they do. I really do believe that this is what drives us all to keep moving forward, even amidst the challenges COVID has placed squarely on our shoulders.