While, according to the weather forecaster types, the average temperature in Calgary for May ranges between 7 Celsius and 19 Celsius, anyone who has lived here for more than five minutes knows that can change in an instant.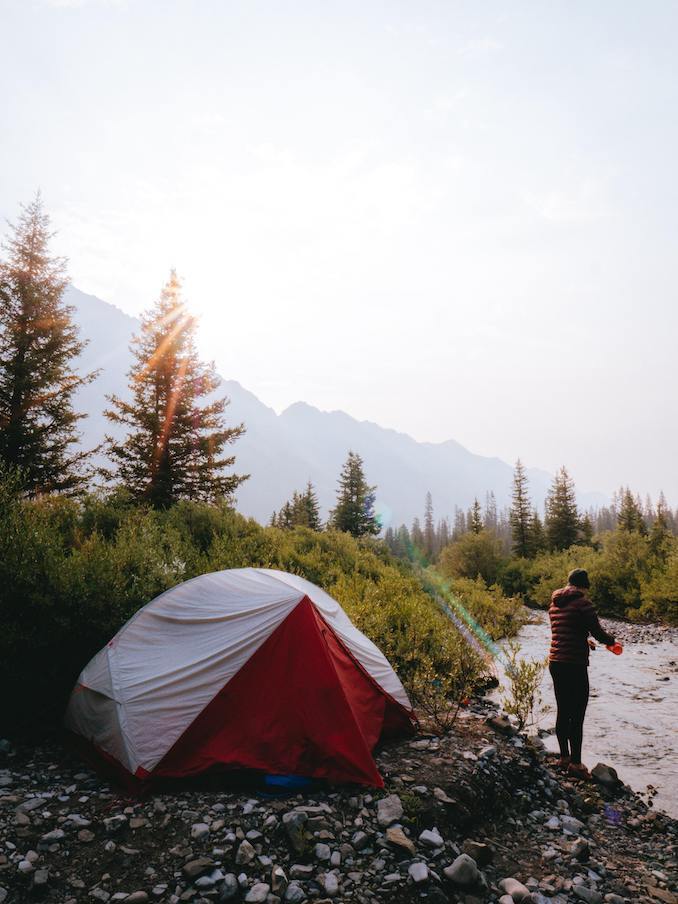 May is also a time when we start to gravitate more and more to the outdoors after a long winter. And based on just how quickly the ReserveAlberta sites book up every year, a whole lot of us are gravitating to camping.
Anyone who has been camping when unexpected snow has blown in knows just how miserable an experience that can be if not properly prepared for the elements. As Mountain Equipment Company's (MEC) Natasha Kelly points out, "the weather in the Rocky Mountains is unpredictable – for your own personal safety, it is always better to be overprepared."
Just in time for the unofficial May long weekend kick-off to camping season, Kelly shares strategies and must-have camping necessities for camping in a region that has been known to get snow in every month of the year.
Shelter (specifically for those who are tenting)
Look for a three-season tent; two-season tents are either sold without a rainfly, or they come with a rainfly that is not designed to uphold winter conditions
Consider the size of your tent vs the size of your party – a two-person tent for two people is going to trap in more heat than an eight-person tent for two people
Bring along a tarp and set it up above the tent and rainfly
Sleeping
As far as sleeping bags go, a comfort temperature rating of –5 to –10 is typically recommended for shoulder season camping in the Rockies
Sleeping bag shape matters

A mummy sleeping bag is going to retain more heat than a rectangular sleeping bag
A double sleeping bag will allow you and your partner/pal to share body warmth
Women specific bags accommodate for wider hips
Quilts can be used as a standalone or additional layer side sleeper – there are sleeping bags designed for side sleepers, that will conform to your body shape while you are on your side

A sleeping bag liner increases warmth, keeps the sleeping bag clean, and prevents odor/sweat/moisture from getting on your sleeping bag
Clothing
Always bring layers, preparing for the worst-case scenario

Base layer: next to the skin, moisture wicking, heat retention
Mid layer: between the base layer and your shell, usually a fleece layer
Outer layer: a wind proof layer, typically a puffy or waterproof outer layer
Rain layers: wind/waterproof outer layer

Bring hats, buffs, and gloves – again, the temperatures plunge at night, think about walks to the bathroom, getting camp set up for morning coffee
Bring extra socks – accidents happen, and having cold feet in cold weather overnight is a way you can get frostbite
Same thing goes for clothing – in colder environments, clothing that gets wet/sweaty from the day's activities (hiking, kayaking, etc.) will not be able to dry – bring extra layers accordingly
Cooking
Prepare for the possibility that you will be cooking in rainy and/or snowy conditions by bringing a tarp and all-season fuel
Do you plan to pack in or buy firewood at the campsite? If it's the latter, be advised that many campgrounds that keep their firewood uncovered, meaning the wood stays wet for days after rain/snow accumulate on the wood
Make sure you're able to start a fire under any condition with waterproof matches
Emergency Preparedness
Pack a first aid kit with band aids, wipes, bandages, etc.
Pack a headlamp (with backup batteries – the cold diminishes battery lifespan)
Always consider bear safety – don't store food or scented products in or near your tent, have bear spray on hand and know how to use it
Plan for your water needs by ensuring you know the water situation at the campground
Above all else, Kelly suggests having a backup plan. "If the weather turns and you aren't prepared to sleep in the snow, there are always hikes to be done, or hotels to stay in."
Cheers to the May long weekend!
Read: Staying Bear Smart in Bear Country