Armstrong Cheese shared with us this delicious recipe for Creamy Cheese and Broccoli Penne. This delightful dish combines tender pennette rigate and vibrant broccoli florets, all enveloped in a luxuriously creamy Armstrong Lactose Free Triple Cheddar Shredded Cheese sauce. Topped with a golden breadcrumb crust, it's a satisfying, cheesy delight that's sure to please the whole family.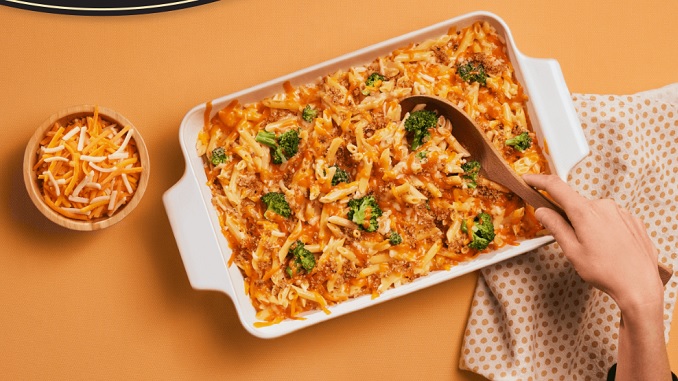 Creamy Cheese and Broccoli Penne
Prep time: 15 min
Total time: 45 min
Serving: 4-6
Ingredients:
125 mL (1/2 cup) breadcrumbs
30 mL (2 tbsp) olive oil
500 g Armstrong Lactose Free Triple Cheddar Shredded Cheese
45 mL (3 tbsp) butter
2 garlic cloves, minced
45 mL (3 tbsp) flour
600 mL (2.5 cups) lactose free milk
15 mL (1 tbsp) Dijon mustard
2.5 mL (1/2 tsp) pepper flakes (optional)
2 cups of small broccoli florets
300 g (3.5 cups) of pennette rigate
Salt and ground pepper, to taste
Directions:
1. Preheat the oven to 200° C (425° F).
2. In a small bowl, combine the breadcrumbs and oil. Add 1 cup of cheese. Set aside.
3. In a saucepan over medium heat, melt the butter and cook the garlic for 1 minute, stirring with a wooden spoon. Incorporate the flour and continue cooking for another minute. Slowly add the milk and mustard and bring to a boil. Using a whisk, stir constantly for a few minutes, until the mixture thickens. Add the rest of the cheese. Season with salt and pepper.
4. In a large pot, cook the pasta in boiling water according to the directions on the package. Add the broccoli florets 1 minute before the end of the cooking time. Drain.
5. Combine the pasta and broccoli with the cheese sauce.
6. Pour the preparation into a buttered casserole dish. Sprinkle the breadcrumb mixture evenly over the top.
7. Bake for 10 to 15 minutes, until the top is golden.