Chef Dennis Prescott, host of Netflix's Restaurants On The Edge and author of the cookbook Eat Delicious, shared with us this Steak, Brie, and Roasted Cranberry Crostinis recipe.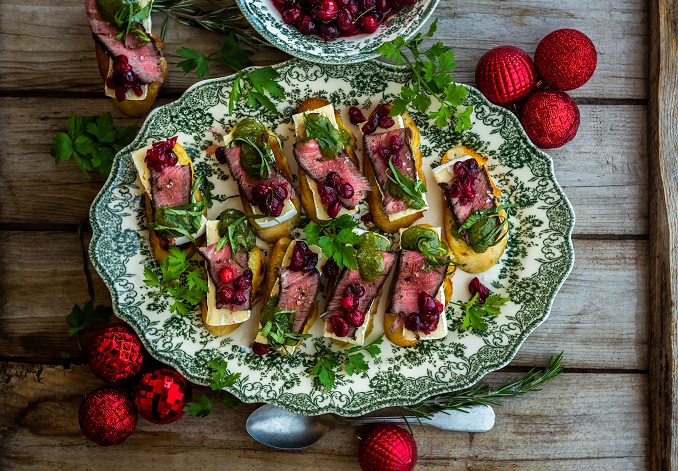 Steak, Brie, and Roasted Cranberry Crostinis
Makes 10 – 12 appetizer servings
Ingredients:
Espresso Chili Steak
2 X 1 1⁄2-inch thick striploin steaks, at room temperature
2 teaspoons chili powder
2 teaspoons smoked paprika
2 teaspoons ground espresso
2 1⁄2 teaspoons dark brown sugar
Zest of 1 lemon, grated on a microplane
Sea salt and fresh cracked black pepper
2 tablespoon grapeseed (or other neutral) oil
2 tablespoons butter
2 garlic cloves
2 sprigs rosemary
Roasted Cranberries
2 cups fresh cranberries
2 tablespoons minced fresh rosemary leaves
2 tablespoons bourbon
2 tablespoon pure maple syrup
Zest of 1⁄2 lemon, grated on a microplane
Pinch of sea salt
Basil Vinaigrette
1 shallot, peeled and roughly chopped
1 garlic clove, roughly chopped
2 cups packed fresh basil leaves
Zest of 1⁄2 lemon, grated on a microplane
Juice of 1⁄2 a lemon
1 tablespoon champagne vinegar
1⁄2 cup extra virgin olive oil
Sea salt and cracked black pepper
To Build Your Crostinis
2 baguettes, sliced
Olive oil
1 – 2 large wheels brie, sliced
3 tablespoons minced fresh basil leaves
Directions:
1. Preheat your oven to 350 degrees F and line a baking sheet with parchment paper.
2. First, dry rub the steak. In a small bowl, combine the spices, ground espresso, lemon zest, and brown sugar. Season the spice rub to taste with a generous pinch of salt and pepper, and mix well. Coat the steaks with your rub, covering every nook & cranny with deliciousness. Let the steaks sit at room temperature for at least 1 hour before cooking. Awesome.
3. Next, prepare your cranberries. On your prepared baking dish, combine the cranberries, rosemary, bourbon, and maple, then season with a pinch of sea salt and mix well. Bake for 25 – 30 minutes, or until blistered and bubbling.
4. Next, make the Basil Vinaigrette. In a high-powered blender, combine the shallot, garlic, basil, lemon zest & juice, and champagne vinegar, and season with sea salt and pepper. With the machine running on low, slowly drizzle in the olive oil until the vinaigrette is thick and emulsified. Beautiful.
5. Lightly coat each side of your baguette slices with olive oil, then toast until golden and crisp on both sides.
6. Steak time. Heat a large skillet over medium-high heat and get it as hot as the sun. You want it rocking hot. Open any kitchen windows and turn on your hood fan (trust me).
7. Add your grapeseed oil to the pan, then add your steaks and immediately set a timer. Every minute on the minute, flip the steaks. At the 7 minute mark, go in with your butter, garlic, and rosemary. While constantly basting the steaks in your garlicky rosemary butter, and always flipping on the minute mark, cook the steaks until they reach an internal temperature of 130 degree F (this is perfect for medium-rare, as the internal temperature of the steaks will continue increasing as they rest). Rest at least 7 minutes before carving into very thin strips.
8. Build your crostinis on toasted baguette with a slice of both brie and steak, a drizzle of your basil vinaigrette, a few cranberries, and a sprinkle of fresh basil. Delicious!