Chef Chelsea Kram from XO&So shared this tasty recipe for Savoury Overnight French Toast Bake With Gruyere and Chives. This new spin on a breakfast classic will make you eager to wake up to enjoy this delicious meal.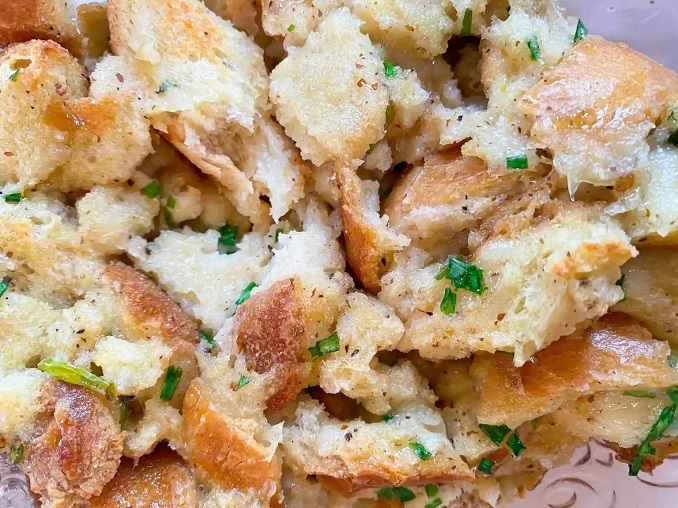 Savoury Overnight French Toast Bake With Gruyere And Chives
Prep time: 10 minutes
Cook time: 35 minutes
Servings: 3
Ingredients:
● 3 eggs
● 250 g French bread, cubed day-old (or it will get soggy), about half a
large loaf
● 2 teaspoon dijon mustard smooth
● ¼ teaspoon onion powder
● 2 tablespoon fresh chives, chopped
● 1 cup milk I use 2 or 3.25%
● 3 oz gruyere, shredded a little more than ⅓ cup
● salt and pepper
Directions:
1. Grease a loaf pan (9×5 inch) with butter until it's well-coated.
2. In a large bowl, whisk eggs. Add milk, Dijon mustard, onion powder, shredded cheese, salt and pepper, and chives to the eggs. Mix well.
3. Add the cubed bread to the egg mixture, and blend with your hands until all the bread is coated in the egg mixture.
4. Pour the coated bread into the greased pan. Press the bread down with your fingers, filling in any gaps. Cover with saran wrap and refrigerate overnight (or at least four hours).
5. The next day, preheat your oven to 350F. Set pan out to come to room temperature while your oven heats. Cook for 35 minutes in a convection oven, covering with tinfoil for the last ten minutes. (It's done when it looks "set," not soggy, and the bread is golden brown. It may need a few more minutes depending on your oven)
6. Serve hot (with maple syrup!) or ketchup.