October 14 was World Egg Day, and to celebrate, the Egg Farmers of Canada sent us Chef Dale MacKay's Potato Gnocchi with Tomato Sauce and Basil recipe to share with our readers. Enjoy!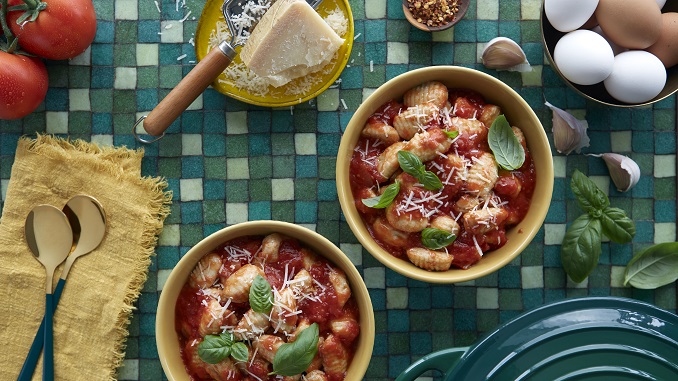 Potato Gnocchi with Tomato Sauce and Basil
Prep Time: 10 mins
Cook Time: 60 mins
Serves: 4
Ingredients:
• 4 cups (1 L) canned whole tomatoes
• ⅓ cup (75 mL) olive oil
• ½ cup (125 mL) finely diced onion
• 2 tsp (10 mL) minced garlic
• ¼ tsp (1.2 mL) chili flakes
• ¼ tsp (1.2 mL) salt
• 3 cup (750 mL) milled potato (approximately 8 medium potatoes)
• 3 egg yolks
• ¾ tsp (4 mL) salt
• 1 cup (250 mL) all-purpose flour
• 2 tbsp (30 mL) fresh basil, ripped
• 4 tbsp (60 mL) parmesan cheese, finely grated
Directions:
1. Put tomatoes into a blender and pulse for a few seconds to break them up.
2. Place a wide-bottom sauce pot on medium heat. Add olive oil and onions and cook for about 4 minutes. Make sure you do not brown the onions.
3. Add garlic, chili flakes and salt to the pot. Cook for another 1 minute.
4. Add the tomatoes to the pot. Cook for about 15 to 20 minutes stirring every once in a while. Cook until the extra liquid from the tomatoes evaporates to allow the sauce to thicken by about 50%. Place to the side until gnocchi is ready.
5. Preheat the oven to 400°F (200°C).
6. Place 8 to 10 medium-sized potatoes on a baking tray and put them in the oven. Bake for 60 minutes, or until soft all the way through.
7. Once baked, allow the potatoes to cool slightly. Carefully scoop out the potato from the skins and put into a potato miller/ricer, or mash well so there are no lumps. Measure out 3 cups (750 mL) of potatoes while they are still warm and place in a bowl or on a floured counter.
8. Separate the egg yolks* from the whites, and mix with salt, and flour by hand or with a spoon until the dough forms a ball; you don't want to overwork it.
9. Next, lightly flour your counter and cut the dough into quarters. Roll each of the quarters into logs about ¾ inch (2 cm) in diameter, then cut logs into ½ inch (1.2 cm) pieces. Place cut logs on a floured baking tray.
10. Blanch gnocchi in boiling salted water until they float. Once they float for 1 minute, remove gnocchi with a slotted spoon and add to tomato sauce.
11. Toss gnocchi and tomato sauce in the pan on medium heat. Using a spoon, plate gnocchi and then garnish each plate with basil and parmesan. Enjoy!
Note: Check out our meringue recipe for your leftover egg whites!