Our latest recipe is for Grilled Salmon with Chayote Noodles, Marinated Mussels & Tropical Salsa created for us by local Calgary Chef Alex Edmonson.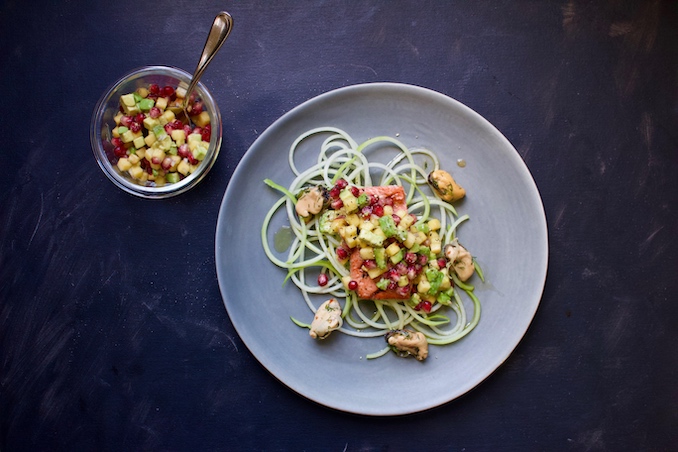 Grilled Salmon with Chayote Noodles, Marinated Mussels and a Tropical Salsa
Makes: 4 plates
Prep Time: 25 minutes
Cook Time: 15 minutes
Special Equipment needed: A spiralizer, grill, 2 medium pots and a large frying pan
Ingredients
4 portions Wild Sockeye Salmon
1-2 medium Chayote Squash
About 25 Mussels
1/2 can Coconut Milk
1 tbsp chopped Dill
2 cloves Garlic
2 large Shallots
1/2 whole Pomegranate
1/2 a whole Mango
1 small Avocado
2 tbsp chopped Basil
1/2 lime, juiced
1/2 Lemon, Zest and Juice
Cooking Oil
Salt
Pepper
Directions
1. Start by cutting the fruit and vegetables. Remove the pomegranate seeds by cutting the whole fruit into quarters. Bend open each quarter to expose most of the seeds and using the back of a spoon smack the skin side over a bowl to remove the seeds.
2. Peel the mango and cut the flesh off the seed. Small dice the mango and add to the pomegranate seeds
3. Cut the avocado in half and remove the seed. Cut into quarters and peel off the skin. This will make it easier to dice. Dice the avocado the same size as the mango
4. Dice the shallots and the garlic. Add half of each to the salsa, as well as the lime and the basil. Season with salt and pepper.
5. Set salsa in the fridge and begin the mussels by putting a medium pot on the stove at medium heat. Rinse your mussels off.
6. Once hot add the rest of your shallots and garlic. Stir as they cook for about a minute then add your mussels followed by the coconut milk. Place a lid on to generate steam and cook fro 4 minutes.
7. Strain off your mussels and reserve the coconut broth. Pluck the meat out of each shell and place into a separate bowl. Once all of the mussels have been removed discard the shells.
8. Add the chopped dill, lemon zest and juice to the mussels and place in there fridge.
9. Bring a medium pot of water to a boil and fire up your grill. Using a spiralizer, cut the Chayote into noodles. Add the noodles to the boiling water for 4 minutes
10. Meanwhile, gently massage the salmon portions with some cooking oil. Season with salt and grill on high for about 5 minutes. While that is cooking add your left over coconut broth to a frying pan and begin reducing it until thick
11. Remove the noodles from the water and add to the reduced coconut milk broth. Season with some salt and pepper.
12. Place the noodles on the plate first followed by a piece of grilled salmon, 5 mussels per plate. Top with the salsa, serve and enjoy!