For this week's recipe, chef Connie DeSousa shared her delicious recipe for Portuguese Piri Piri Turkey Churrasquinho! This dish is sure to be a crowd pleaser and will leave everyone wanting another piece!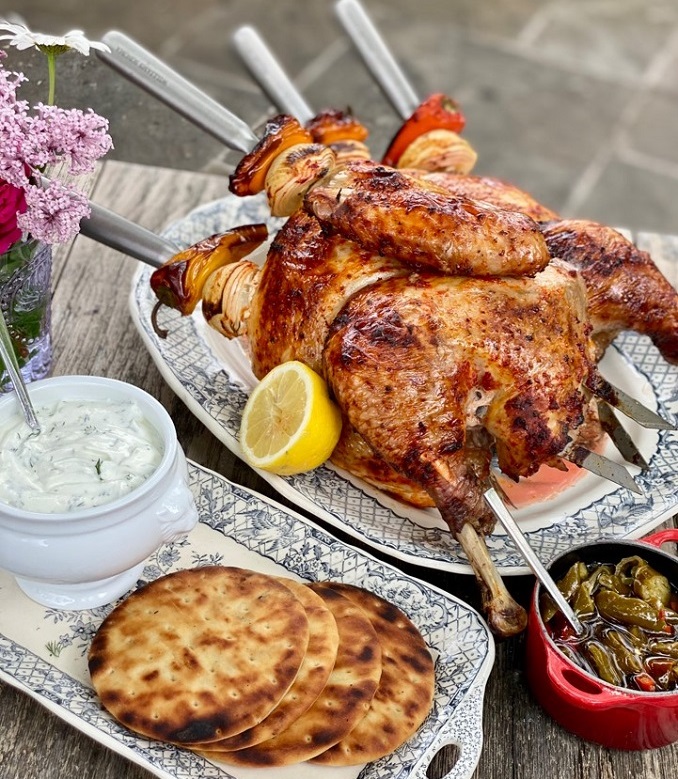 Portuguese Piri Piri Turkey Churrasquinho
Serves: 8 people
Prep time: 15 minutes
Cooking Time: 2 hours
Ingredients:
Brine:
– 1 whole turkey, approx. 8lbs
– 4 cups water
– 1 cup salt
– 1 Tbs black peppercorns
– 4 cloves garlic
– 2 bay leaves
– 1 lemon, juiced
Turkey Skewers
– 1 tsp salt and pepper
– 1 cup Portuguese pepper sauce (Piri Piri)
– 1⁄4 cup olive oil
– 2 small white onions
– 4 small sweet peppers
– 4 pcs large heavy-duty metal skewers for kebab
Dish Accompaniments
– 8 pita bread or naan
– 1⁄4 cup olive oil
– 1 bunch fresh dill, chopped
– 1 lemon, zested and juiced
– 2 cups plain Greek yogurt
– 1 cup pickled chillies
Directions:
For the turkeys:
1. Remove neck and bag of offals from inside of the turkey.
2. Using sharp kitchen shears, cut out the backbone from the turkey
3. With a sharp chef's knife, cut through the turkey breast bone to separate the turkey into 2 halves. (note: steps 1-3 can be done by your local butcher upon request)
4. Combine all ingredients for the brine and cook to dissolve the salt. Cool brine to refrigerator temperature. This can be done overnight.
5. Place both turkey halves in a deep dish or bowl and cover with brine. Allow turkey to brine overnight in the fridge or min 8 hours.
6. Preheat your grill to 350°F
7. Remove turkey from brine and pat dry to remove all moisture.
8. Generously sprinkle salt all over the turkey.
9. Pour pepper sauce all over the turkey front and back.
10. Drizzle turkey with olive oil on the front and back.
11. Cut onions in half and remove the skin. Skewer 1⁄2 onion on skewer and push down to the handle. Skewer 1 pepper on the skewer and push down to meet the onion. Repeat with the other 3 skewers. Skewer half turkey with 1 metal skewer, inserting at the tip of the breast all the way through to the bottom of the leg. Repeat with another skewer 3 inches beside the other skewer. Test the stability of the turkey by lifting both skewers simultaneously. Repeat with the other half of the turkey
12. Place turkey halves skin side up on the grill with skewer handles sticking out on the front edge of the grill. Close the lid. (if using a grill without a lid, cover the turkeys with heavy gauge aluminum foil)
13. After 1.5 hours, carefully flip turkeys skin side down and cook turkeys for an additional 30 min to internal
temperature 170°F.
14. Remove turkeys from the grill and place them on a baking sheet and cover with foil. Rest turkeys for 30min before carving.
15. Carve turkey into slices and place on a large platter with accompaniments.
For the Pita:
16. Brush pitas with olive oil on both sides.
17. Grill pitas on both sides to a golden brown.
18. Place grilled pitas on a large platter and tent with foil to keep warm.
For the yogurt dipping sauce and chillies:
19. Combine lemon zest and juice, chopped dill and yogurt. Season to taste with salt.
20. Pour yogurt sauce into a serving bowl and place on a platter with pitas.
21. Spoon prepared pickled chillies into a serving bowl and place on a platter with pitas and yogurt.
***
TIP: Large metal skewers can be purchased at any specialty kitchen store.
Note: there will be leftover turkey for use in sandwiches for the next day. We recommend 100gr of carved turkey per pita.