Earls shared with us this Maple-Glazed Salmon and Butternut Squash Salad recipe. With its farro and salmon, spinach and goat cheese, green beans and pumpkin seeds, this dish from Dawn Doucette covers all the food groups, while also spanning the farm, field and ocean. It couldn't shout "Canada" any louder if it had vocal cords.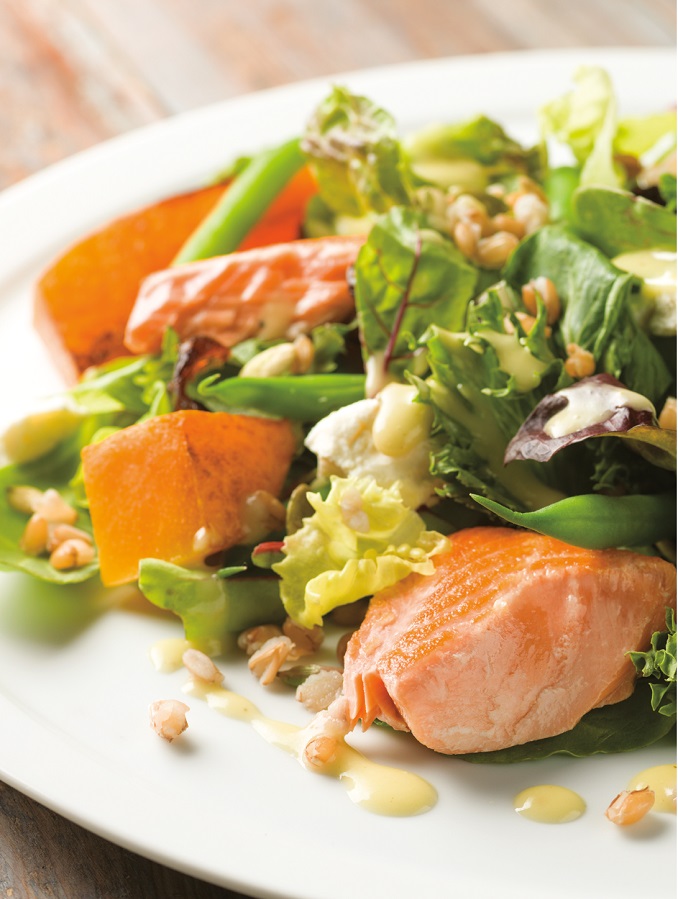 Maple-Glazed Salmon and Butternut Squash Salad
Serves 4
Ingredients:
1 tbsp (15 mL) fine salt
1 cup (250 mL) trimmed green beans 1 cup (250 mL) farro
1 small butternut squash (approximately 1½ lb/680 g)
2 tsp (10 mL) olive oil
1 tsp (5 mL) fine salt
½ tsp (2.5 mL) ground black pepper 1 lb (450 g) salmon fillet, divided into 4 portions
2 tbsp (30 mL) maple butter, melted (recipe follows)
Additional salt and pepper to taste 6 oz (170 g) mixed greens
6 oz (170 g) baby spinach
1/3 cup (80 mL) lemon honey vinaigrette (recipe follows)
3 oz (85 g or 1/3 cup/80 mL) goat cheese
¼ cup (60 mL) salted pumpkin seeds
¼ cup (60 mL) dried cranberries
Directions:
1. Preheat the oven to 450°F (230°C).
2. Bring a pot of water to a rolling boil. Add the salt and blanch the green beans for 3 to 4 minutes depending on the thickness of your beans. Taste and cook according to your preference. Reserve the salted cooking water. Submerge the beans in ice water to stop cooking.
3. Add the farro to the boiling water and return to a boil. Lower heat to medium-low and simmer for 30 minutes, uncovered. The farro will remain quite chewy even when completely cooked. Once cooked through, drain and allow to cool to room temperature.
4. Peel the butternut squash and remove the seeds. Cut into 1-inch (2.5 cm) dice. Toss with the olive oil, salt and pepper. Roast in the preheated oven for 20 to 25 minutes, turning once halfway through cooking so that both sides are caramelized. The squash is cooked once a fork pierces it without any resistance. Remove from the oven and allow to cool to room temperature.
5. Cut the salmon fillet into 4 even pieces. Place the salmon on a foil-lined rimmed baking tray. Drizzle with half the melted maple butter. Season lightly with salt and pepper. Roast in the 450°F (230°C) oven for 6 to 8 minutes or until the internal temperature of the salmon registers 130°F (54°C) on an instant-read thermometer. Immediately remove from the oven and drizzle with the remaining maple butter.
6. Combine the mixed greens and spinach in a large bowl. Add the cooked farro, roasted butternut squash and lemon honey vinaigrette. Toss well so that each ingredient is coated lightly in the dressing.
7. Divide among the plates. Cut or crumble the goat cheese into ½-inch (1 cm) pieces and divide evenly over each salad. Garnish with pumpkin seeds and dried cranberries.
8. Serve each salad with 1 piece of maple-glazed salmon.
***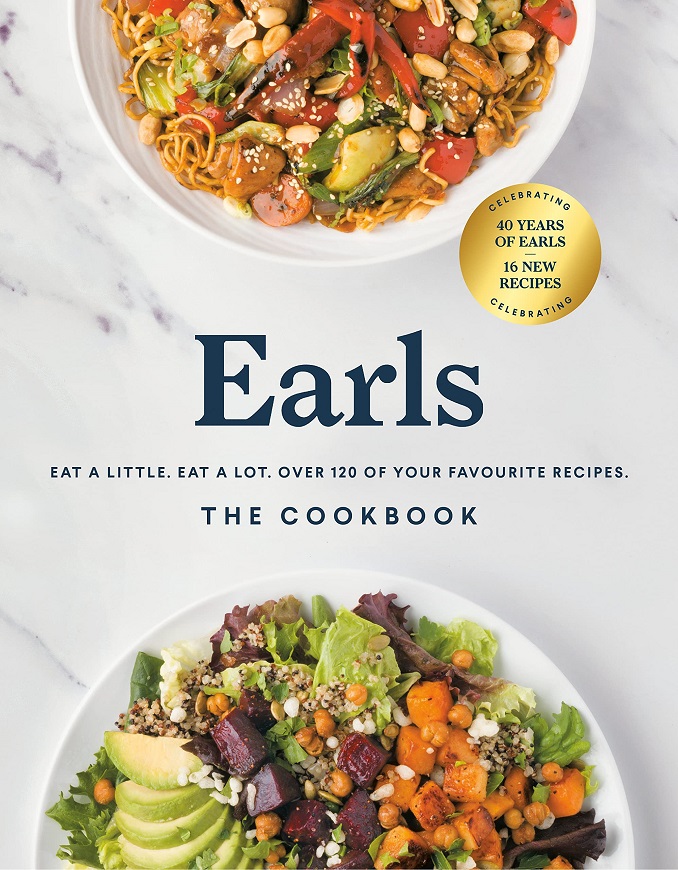 The Earls 40th Anniversary Commemorative Cookbook offers over 120 beloved Earls recipes spanning across food and beverage to keep you prepared for every holiday occasion. New to hosting, interested in picking up culinary as a hobby or simply gifting that special chef in your life? You've found the perfect gift.