If you're looking for a vegan-friendly treat to have alongside a dessert table or a treat to have the family enjoy, look no further! This vegan reeses cookie dough is the perfect treat to satisfy any sweet tooth. The best part – no one will know that it's actually secretly made mainly with chickpeas! You can find this recipe as well as 59 other vegan-friendly recipes in Lloyd Rose's new fall cookbook called "Crazy Good Vegan".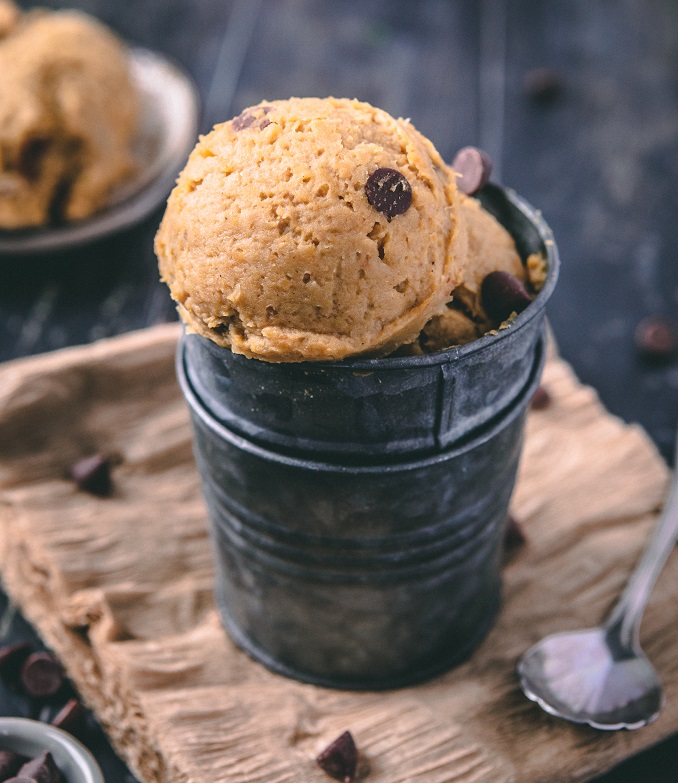 Vegan Reeses Cookie Dough
Serves 3
Ingredients
– 1 (15.5-oz [439-g]) can chickpeas, drained
– 1⁄4 cup (65 g) creamy peanut butter, at room temperature
– 1⁄2 tsp kosher salt
– 3 1⁄2 tbsp (49 g) brown sugar
– 1 1⁄4 tsp (6 ml) vanilla extract
– 1 tsp melted coconut oil
– 2 tbsp (12 g) almond flour or oat flour
– 3 tbsp (33 g) dairy-free chocolate chips
Directions
In a large bowl, rinse the chickpeas under water, rubbing off the outer transparent shells. The shells will float to the top of the water in the bowl, while the shelled chickpeas will sink to the bottom. Skim the shells out of the water and discard them, then repeat to remove as many of the shells as you can.
Drain the chickpeas, then add them to a blender along with the peanut butter, salt, brown sugar, vanilla extract, coconut oil and almond flour. Blend the mixture at low speed until a smooth, thick dough is formed, scraping down the sides of the blender if needed to fully incorporate.
Transfer the dough into a large bowl, and fold in the chocolate chips.
You can store the dough in the refrigerator covered in parchment paper (press it onto the cookie dough) and sealed in an airtight container for up to 5 days.
***