Guess Where Trips offers one-day surprise road trips across Canada. We spoke with Jessica Off, Creator and Founder, to find out more about what they do.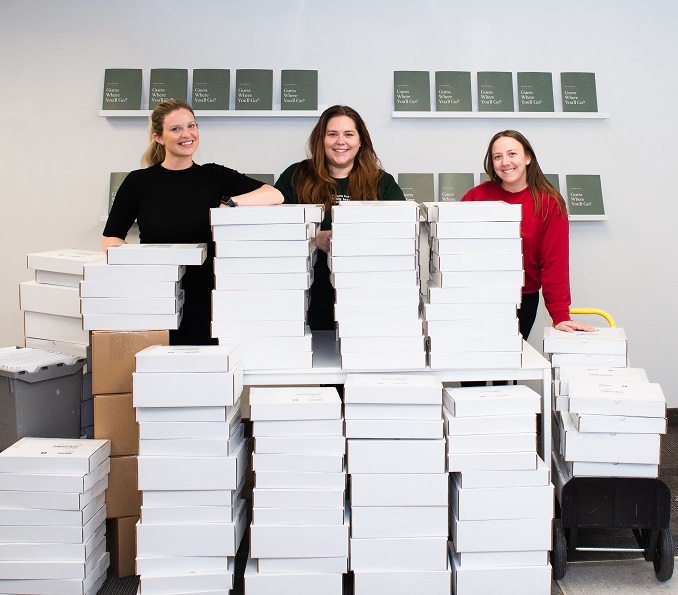 What is your business called and what does it do?
Guess Where Trips offers one-day surprise road trips across Canada. Travellers choose a travel theme online and receive a curated self-guided itinerary in the form of 5 surprise envelopes (digital trips are also available). Each envelope offers a new surprise location complete with fun facts, history and more of the area they'll travel to.
What made you want to do this work?
I've always loved researching the unknown and creating travel plans for others. I've also always had a passion for entrepreneurship. The idea originally stemmed from a Christmas gift I gave my parents. I loved the planning part so much, I decided to make a hobby business out of it. Three years later, we offer surprise trips across Canada!
What problem did you want to solve with the business?
I wanted to provide customers with a giftable experience. Something that removes the hours of planning and provides an easy-to-follow surprise day trip in a pretty package.
Who are your clientele/demographics?
Our main clientele is 90% females between the ages of 30-60.
How does your business make money? How does it work?
We don't charge any money from the local businesses we support and include it in our packages. We charge travellers $65 for a physical package or $39 for a digital PDF.
What is the best part about what you do? What is the worst part?
The best part about doing what I do is creating new itineraries and then hearing about our travellers' positive experiences while on the trip. The worst part is dealing with printers all day long! We're constantly running out of toner, and getting paper jams (even with three production-size printers at the office).
What is your favourite joke about your own profession?
That travel companies are dying! I agree that if you were to start a traditional travel agency you would run into some problems. However, if you can get creative within any industry and find a niche within an underserved market, you will always find a missed opportunity.
Where can we follow you?
Website | Instagram | Facebook
We're launching our first-ever winter trip collaboration with SportChek on Tuesday! They partnered with us to provide $100+ worth of extras in each of our winter packages.
PAY IT FORWARD: What is another local business that you love?
We love 94 Take the Cake Bakery Inc. They're on one of our Calgary-based surprise trips, and our travellers rave about this stop!