Canadian MSC Ambassador Chef Charlotte Langley shared with us this recipe for Air Fryer Fish Finger Nachos. This version of nachos transforms a classic snack favourite into a more complete meal and is a new way to serve up MSC certified sustainable fish sticks to little and big kids alike.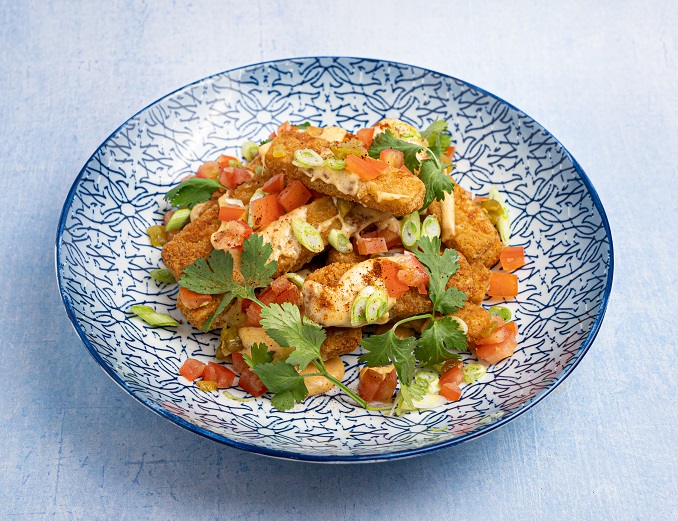 Air Fryer Fish Finger Nachos
Prep: 10 minutes
Cook Time: 10-15 minutes
Serving size: Serves 4 as a main course for lunch, dinner or a hearty snack
Experience level: Beginner
Ingredients:
1 box (640 g) of your favourite MSC certified sustainable breaded Fish Sticks
½ cup (115 g) tomatoes, seeded and chopped
2 tbsp (30 g) pickled jalapeño, chopped
2 green onions, chopped
4 tbsp (15 g) fresh coriander (cilantro), chopped
For the Nacho Cheese Sauce:
2 tbsp (28 g) unsalted butter
2 tbsp (15 g) flour
2 cups (500 ml) milk
2 cups (225 g) shredded Tex-Mex cheese
1 tsp (2.5 g) chili powder
Directions:
1. Preheat the air fryer to 400°F
2. Cook the fish sticks in the air fryer for 5-7 minutes or until crispy.
3. In a small saucepan over medium-low heat, melt the butter and whisk in flour. Cook for 1-2 minutes, or until the mixture starts to smell toasty.
4. Slowly add in the milk stirring constantly and bring to a low simmer. Cook stirring often until the sauce is thick enough to coat the back of a spoon.
5. Add in the shredded cheese a handful at a time and mix well until each is fully incorporated.
6. Season the cheese sauce with chili powder and salt to taste.
7. To assemble, on a large platter, spread out the crispy fish sticks, top with the nacho cheese sauce and garnish with chopped tomato, pickled jalapeño, green onions, and coriander (cilantro).
8. Optional: serve with sour cream, guacamole, salsa, hot sauce, or whatever other nacho toppings you have handy.