Mother May I is a homespun company focussed on keeping the ingredient list short in their brand of hummus. What started humbly as a mother's quest to feed her children better-for-you hummus, Mother May I is now available at several chain grocery stores in Alberta as well as smaller retailers. We spoke with Nada Choufi, the founder and mother of Mother May I, to find out more about the six flavours of hummus and her mission behind them.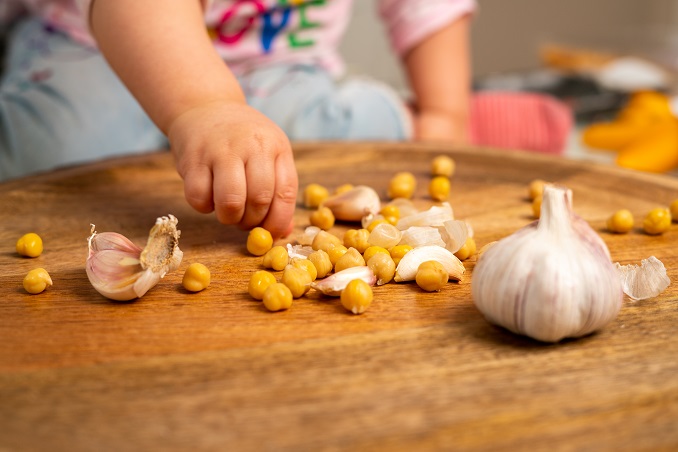 What is your business called and what does it do?
Mother May I is a hummus company. We've developed unique, good-for-you flavours of hummus and now mass-produce across our beautiful province of Alberta. So I'd say I'm a foodie, with an ah-mazing line of hummus dips that retail at our local grocers.
What made you want to do this work?
After becoming a Mother, I was very picky about the foods I'd let my children eat. I have a big rule, you can't pronounce it, don't eat it! After my first was born I took a walk to our local Safeway. I searched the shelves high and low for a hummus that did not have all the added ingredients, preservatives and things I could not pronounce. It was right then and there I walked back home and brewed my own batch of homestyle, traditional hummus with just a few ingredients (just how hummus should be made). My neighbours loved it, my friends loved it, and all our babies loved it. I was making hummus for the community and soon after I was sharing with all of Calgary. Blush Lane picked it up, Co-op stores, Italian Centres and I am very proud to share that Mother May I Hummus is the only Alberta Made hummus that sits on the shelves of Safeway and Sobeys today.
What problem did you want to solve with the business?
I wanted a clean ingredient list that was truly good for you and readily available at an affordable price. Good food made easy. Food and nutrition is incredibly important in how we live our life, how we act, and how we perform. A good diet is crucial and we need to nourish our bodies the best we can. All starting at a young age. That's why I brought my hummus to the table. It was risky jumping into the food business, but it wasn't long until I saw it's what the community needed. My hummus has been a first food for many, a high protein snack, a nutritious dip and more. For this reason, I'm a big supporter of small businesses. I've learned what it takes to bring a product to the market. I've learned the high-quality ingredients grown on our soils are healthier, and I've adapted some key recipes to make Mother May I the largest hummus manufacturer in Alberta. And I have 4 ah-mazing taste testers (aka my little food critics) that keep me on my toes and help me bring new flavours to market.
Who are your clientele/demographics?
Everyone! I love everyone to try hummus, it's such a versatile dip that's packed with nutrition, fibre and proteins. One of my flavours has Calgary-farmed beets in it, I encourage the farmers to try some so they can see how we use their ingredients. Mom & Dad's doing the household shopping, youth, health-conscious shoppers, athletes and hummus lovers everywhere! Like I said, everyone!
How does your business make money? How does it work?
I wish it was a simple process. Retail, wholesale and small businesses, in general, can get tricky. But all you need to do is consume hummus. When you purchase the Mother May I brand from stores, they call me and put in an order for more. As long as that circle keeps active, I'm a happy hummus maker 😊
Where in the city can we find your profession?
I have a list of retailers Alberta-wide. If there is a store you'd like to see my product please find me on social media and share your feedback @mothermayibake
Otherwise, please shop Calgary Co-op stores, Safeway, Sobeys, Italian Centre, Amaranth Foods, Blush Lane and Sunnyside Market for some of my vegan line of hummus dips.
What is the best question a prospective customer could ask a member of your profession when comparing services? Give the answer as well.
The biggest question is: Why Mother May I?
Besides the fact that Mother May I is an Alberta-made product and we support local farmers to source our ingredients, we've taken this traditional dish and introduced it to the market with a modern twist. We have a variety of flavours. It is gluten-free, high in nutrition with its plant-based properties (vegan) and as of recently, we've removed all oils. Yup, we're now oil free! But you wouldn't be able to tell cause we've kept the consistency and flavour above par. So go ahead, dip in and find out why Mother May I's hummus is selling out Calgary-wide.
What is the best part about what you do? What is the worst part?
The best part is having the community enjoy a product you have created. It shows trust and support and all this makes me happy. I love giving to the community, and I love my kids learning about good-for-you foods and picking up entrepreneurial skills at a young age. I love sharing our story, our experience and most importantly being able to do it as a family. I love to share food, good food. I enjoy eating together and hope we can share this luxury for years to come. What's the worst part? I've yet to experience that, and hoping that will remain the answer for a while.
What is your favourite joke about your profession?
What's Hummus's favourite Superhero? Pita Parker.
Where can we follow you?
Would love it if you follow my crazy journey on Instagram.
When I started my business I started off as a food blogger, you can find my recipes here. Also, you can visit my website.
PAY IT FORWARD: What is another local business that you love?
Please find my heart and hustle hockey Mama @littleicecollective and tell her I say hello <3