Armstrong Cheese shared with us this delicious recipe for a Burger Bowl. From perfectly roasted sweet potato cubes to savoury ground beef and a tantalizing array of toppings, this bowl is a delectable twist on a classic favourite that'll leave your taste buds craving for more.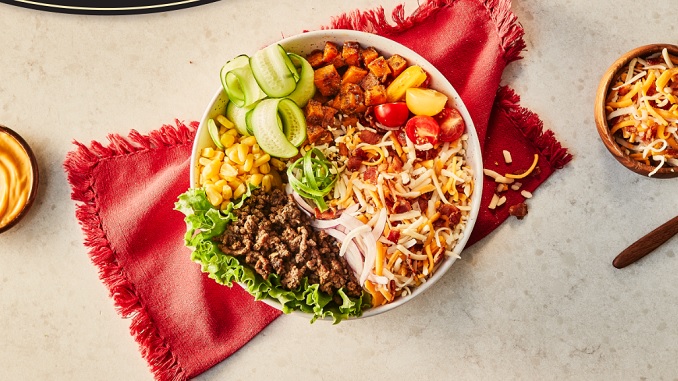 Burger Bowl
Prep Time: 20 mins
Total Time: 45 mins
Serving: 4
Ingredients:
1 large sweet potato, diced
15 ml (1 tbsp) olive oil
5 ml (1 tsp) garlic salt
5 ml (1 tsp) taco seasoning
1/2 tbsp olive oil
15 ml (1 tbsp) canola oil
1 onion, chopped
454 g (1 lb) lean ground beef
Salt and freshly ground pepper to taste
2-3 garlic cloves, chopped
4 large leaf lettuce leaves
250 ml (1 cup) Armstrong Bacon Shredded Cheese
1 cucumber, sliced into strips
125 ml (1/2 cup) of corn, drained and rinsed
12 cherry tomatoes, sliced
Sriracha mayonnaise
1 green onion, sliced lengthwise
Directions:
1. Preheat the oven to 200 ºC (400 ºF).
2. Combine the sweet potato cubes, olive oil, garlic salt and taco seasoning, and mix until well blended. Spread evenly on a large greased baking sheet and roast the mix for about 20 to 25 minutes, turning the diced pieces halfway through, or until golden and tender.
3. Heat a large pan over medium heat. Add the canola oil, onions, ground beef, salt, pepper and garlic, cook for 5 minutes or until beef is cooked through. Set aside on absorbent paper to remove the excess grease.
4. Place a lettuce leaf in the bottom of each bowl and spread the beef over those, then top with all the toppings and mayonnaise.