The end of summer is just around the corner, and any Calgarian knows just how quickly the temperature can turn when the month of August yields to the brisk, short evenings of fall. In the meantime, there are still a few days left that bear the warm summer temperatures and extra hours of daylight that Calgary is known for. It is no wonder that when the season does roll around, locals are eager to rush to the nearest restaurant patios for a refreshing drink and a moment to relax outside with some friends – including the furry ones.
There is no shortage of inviting patios in Calgary's bustling restaurant community. Some are known for their locations in the city's many verdant, expansive parks. Others offer a menu of unique and intriguing items that keep customers rushing back for more. Regardless, taking the time to visit any of these three notable Calgary patios will be the most memorable way to relish the last of these warm summer days.
Last Best Brewing & Distilling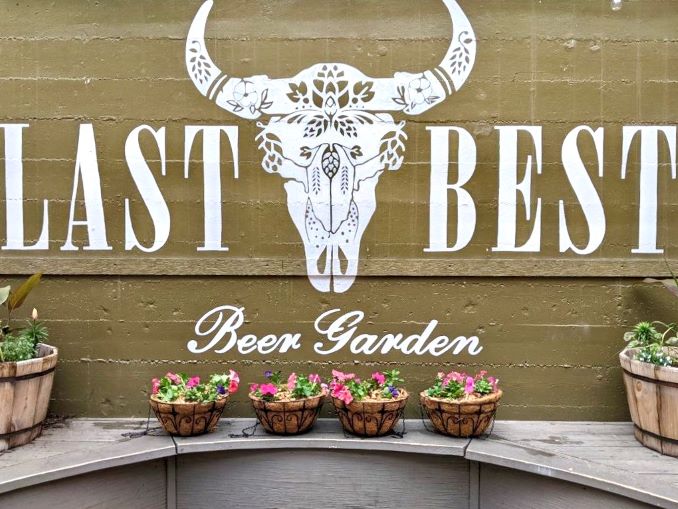 In the midst of a bustling community of restaurants and bars on 10th avenue, an industrial building stands apart from Calgary's steel cityscape with a façade of bricks and two bright-yellow doors. This is where Last Best, a local brewery serving up top-notch food and drinks, operates its business. Although the entrance just off 11th street gives the impression of a smaller, more intimate interior, the farthest can be from the truth. Visitors are welcomed into a spacious dining room which itself is centred around an aesthetically modern bar – complete with navy barstools and exposed piping.
Another component mysteriously hidden from Last Best's street entrance is a patio. However, just a short walk through the dining room will lead customers to an outdoor space reminiscent of a small courtyard, adorned with a central firepit and Edison lights. This is the patio of all patios, and it is one of the most private in all of Calgary thanks to all-around fencing. So, while enjoying some seasonal food and drinks under the open sky, visitors are offered privacy from the bustling crowds of Calgary's beltline.
River Café
In between the sprawling trails of Calgary's Prince's Island Park sits the River Café, a charming restaurant with a rustic ambience.
Inside, visitors are welcomed into an open dining room, itself warmly lit by natural lighting and accented with antiques from Canada's sporting industry. One eye-catching display is an authentic canoe which has been repurposed into a shelf, standing upright just a few steps beyond the restaurant's front doors. It is a wonderful hint to the ways in which the River Café pays homage to the alluring nature of Canada's outdoors.
On that note, River Café's patio is certainly one you will not want to miss. Especially on the last warm days of August and September, few places are as enchanting as the restaurant's rustically accented patio, enclosed by quaint wood fencing and lush trees. Plus, it is only a few steps from the Bow River. Another excellent way to celebrate the end of Summer is to pre-order one of River Café's picnic baskets to go and set up shop anywhere along Prince's Island Park, where you can enjoy a selection of locally curated, farm-to-table dishes while watching herds of Geese waddle their way along the riverbanks.
Ol' Beautiful Brewing Co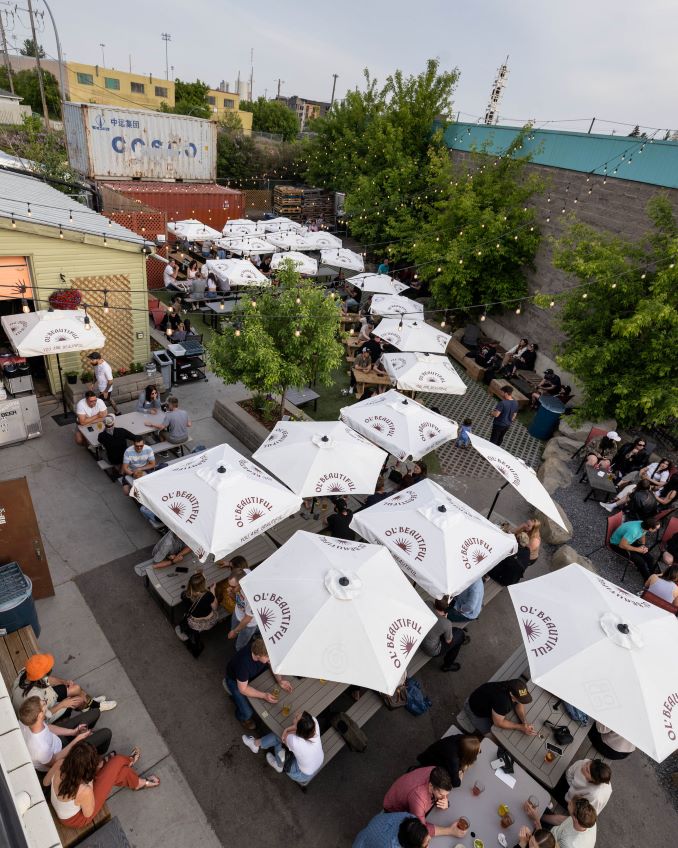 Only a few blocks south from Inglewood's main street sits Ol' Beautiful Brewing Company, one of Calgary's finest breweries operating out of a building so expansive it is reminiscent of a warehouse, albeit one that has been repurposed into an inviting social space with amble seating and a modern aesthetic. During the spring and summer months, a garage door on the side of the building is opened, allowing visitors fresh air plus a view of the dog-friendly patio which takes up most of the brewery's spacious lot.
With over a dozen park benches and umbrellas to offer relief from the beating sun, Ol' Beautiful's patio is one of the best in Calgary to share the last warm days of the season with a four-legged friend. Aside from a lineup of refreshing beverages made in-house, Ol' Beautiful offers an exciting menu of Mexican cuisine from A1 Burrito.