On the occasion of the Canadian National Exhibition (CNE) that takes place from August 18 to September 4 in Toronto, the CNE, in collaboration with Mazola and Bacon Nation Canada, shared with us this recipe for Bacon Wrapped Chicken Wings. The innovative artists at Bacon Nation continue to outdo themselves and redefine the boundaries of flavour with this bacon-wrapped delicacy; the combination of crispy bacon embracing tender chicken wings creates a symphony of flavour that leaves guests craving for more. But what makes this delicious snack even more delicious? The secret is in the carefully selected mix of ingredients, including a delicious BBQ sauce, a touch of honey and a selection of hand-selected spices that will enchant the palate with every bite.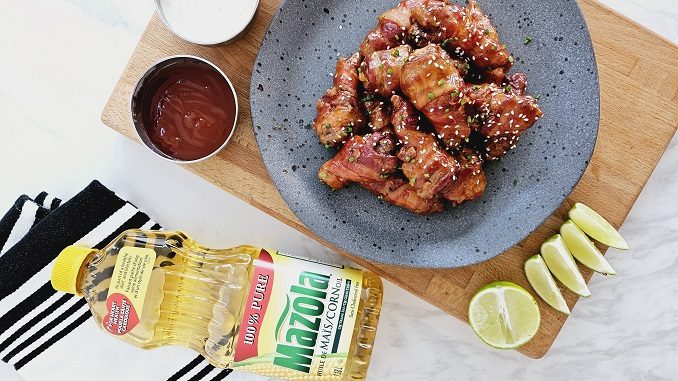 Bacon Wrapped Chicken Wings
Ingredients:
1 lb of Chicken Wings (8-10 pieces)
1 lb of Thick Cut Bacon
1 bottle of Mazola Corn Oil (1.18 L)
2 tablespoons paprika
1 teaspoon garlic powder
1 teaspoon black pepper
1 teaspoon salt
3 oz of your favourite BBQ sauce
1 tablespoon of butter
1 bunch of Chives
1 oz Sesame Seeds
1 oz of Honey (More or less depending on how sweet you like it)
Directions:
To cook the chicken wings
1. Line a baking sheet with parchment paper.
2. Combine paprika, garlic powder, and salt & pepper in a mixing bowl.
3. Fully coat each wing with the seasoning mix and place it on the baking sheet.
4. Bake for 25 minutes at 420°F. Then turn the wings over and bake for another 15 minutes.
For the sauce
1. Heat saucepan on low-medium heat.
2. Add tbsp of butter, watching to ensure it does not burn.
3. Add BBQ Sauce.
4. Add Honey.
5. Bring sauce to a simmer for 3 min.
6. Let cool.
To wrap the chicken wings with bacon
1. When wings are cool enough to handle, take one strip and wrap it around a wing, and pin it with a toothpick. This will prevent it from unravelling during the frying process
2. Pour the bottle of Mazola in a pot and heat up to 350 degrees. Temp with probe thermometer.
3. Add wings carefully into oil with a pair of tongs and cook 2-3 minutes
To sauce it up
1. In a mixing bowl add fully cooked wings with sauce from the pan. Mix until fully coated.
2. Add wings to a plate and garnish with sesame seeds and chives.
3. Enjoy!