Bonnybrook Junction is a collaborative space in industrial Bonnybrook, formed by different businesses. We spoke with Kara Bullock, COUNTER-SPACE creative and Collective Member of Bonnybrook Junction, to find out more about what they do.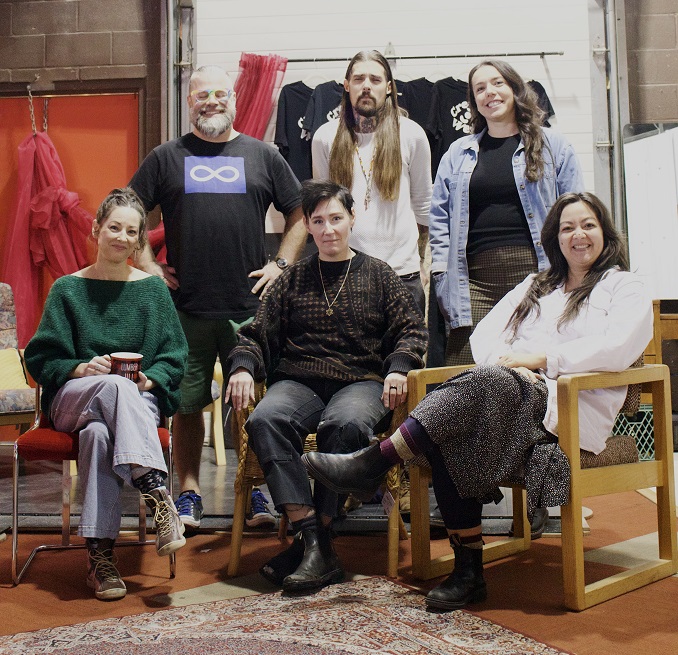 What is your business called and what does it do?
Our collective is called Bonnybrook Junction. The businesses within it are: Birdie and Jules Vintage, COUNTER-SPACE creative, K Hudson Hair, Left and Found, Prairie Ritual
Bonnybrook Junction is a collaborative space in industrial Bonnybrook that sells vintage, thrift, mid-century items, homemade local goods, hosts workshops and events for artists, activists & community organizers, has a hair-dressing space and hosts markets with community members outside the collective.
What made you want to do this work?
All of us hate working in environments that are harmful, oppressive and stick with the status quo. We challenge systems and we are all loud about it in our own ways.
What problem did you want to solve with the business?
Lack of support for small business owners, self-employed workers, makers and artists, especially those from marginalized communities.
Who are your clientele/demographics?
We see a lot of younger folks 16 to mid-40s and then a lot of folks in the 60s/70s range who are really into specific vintage items. The comments we get from younger people are that they feel like they belong in the space, that it is like the basement they wish they had growing up. So there is a nostalgia factor, people are seeking a community, a vibe, and maybe even healing through interacting with the space.
How does your business make money? How does it work?
Bonnybrook Junction brings in income from collective members paying rent, local makers paying rent, and people who rent the space for events/workshops. The collective also has its own Pay What You Can Shelf where all the proceeds go directly to the collective. All the items sold in the space otherwise go to the business owner that curated them. Individual business owners may hold events for their own profit, I personally am a dance/movement coach, and we also have a hairdresser and collective member that offers energy readings. That income all goes directly to the person offering the service.
Where in Calgary can we find your profession?
I have no idea if there is another place quite like us. Ella Grace Marketplace does vintage items and antiques. Ninth and Brick in Inglewood curates mostly BIPOC and makers from marginalized communities. Tigerstedt Flea curates a local maker store and initiates a lot of community events.
What is the best question a prospective customer could ask a member of your profession when comparing services? Give the answer as well.
Ask people about the lineage of their products. Where do they come from? How do they source them? Ask them where their knowledge comes from for the service they offer.
They should be able to back up what they're selling with personal experience and name their major sources.
What is the best part about what you do? What is the worst part?
Best part: getting to transcend industries and make our space about values. Worst part: people hating on us because we place values first, we can be loud about it and that can cause discomfort.
What are your social media channels?
Bonnybrook Junction: Facebook | Instagram
You can also follow us on Instagram: Birdie & Jules Vintage, COUNTER-SPACE, Kendra Hudson Hair, Left and Found YYC and Prairie Ritual.
PAY IT FORWARD: What is another Calgary business that you love?
Ninth and Brick