Although blooming from the suburbs of Calgary, AB, Kirsten Ludwig belongs to no set of roads and dwells in transition. A nomad at heart, Ludwig finds true solace in her quiet ambition, gentle voice, and mellotron- induced thoughts. With a soft demeanor and heavy mind, Kirsten Ludwig achieves simultaneous vulnerability, strength, grace, and madness.
Living many lifetimes in her 20-sum years, Ludwig has managed to attend Berklee's summer program, independently record and release 2 projects, tour with Dan Mangan's Madic records, as well as tour cross-canada and internationally multiple times.
'We Get It Now' (2018), Kirsten Ludwig's third and most recent full-length album received international praise, reaching #19 on the national college radio charts. Paste Magazine wrote "The wispy guitars and Ludwig's ethereal echoes capture the weightless, disoriented feeling of looking out bleary-eyed at an unchanging landscape while on a long drive." With influences like Beach House, Laura Marling, and Sharon Van Etten, Ludwig set out to produce a record – alongside Juno award-winning Colin Stewart (Dan Mangan, Black Mountain, Sleepy Sun) – with strong melodic structures, catchy hooks, and soaring dynamic soundscapes. 'We Get It Now' is anchored by themes of loss, grief, fleeting optimism, and residual anger.
Ludwig is set to release her newest project 'Wasted Time' this fall as well as setting out on a European tour October 2019.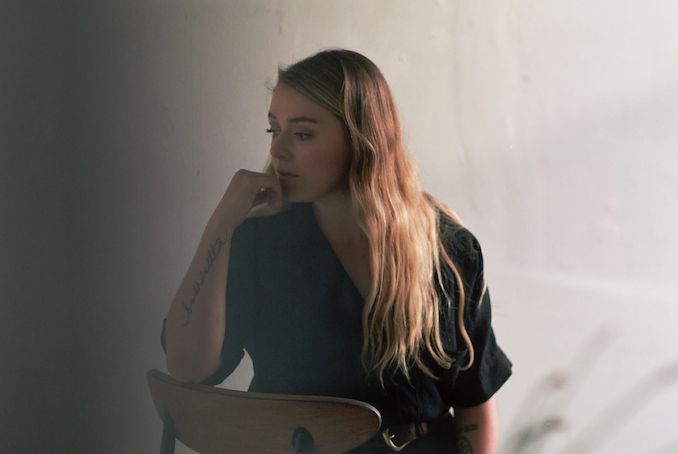 Name: Kirsten Ludwig
Genre: Dream-Folk Canadiana
Founded: 2014
# of Albums: 2 full-lengths, 1 EP – Most recent record 'We Get It Now'!
Latest Release: 'Wasted Time EP' (October 4, 2019)
Latest Single: Wasted Time
Latest Video:
Favourite Local Restaurant:
Pigeonhole, Monogram (coffee), Made by Marcus (ice cream)
Favourite band as a teenager:
The Beatles, A Fine Frenzy, Danny Elfman
Favourite band now:
Joni Mitchell, Haley Heynderickx, Radiohead, The War On Drugs, Hiss Golden Messenger
Guilty Pleasure Song:
Avril Lavigne – I'm With You
Live Show Ritual:
I usually say 'well, should we do this?' – a couple times the venue played my record before I started and in those moments I made some joke about the new expectation of our performance haha.
Favourite local artist:
Mariel Buckley – we played some odd shows back in the day and I feel forever bounded to Mariel.
Nose Hill or Fish Creek??
Nose Hill for the memories of my grandparents, and Fish Creek for the serenity.
EP or LP?
LP – way more work to pull off a longer, cohesive vision.
Early bird or night owl?
Night owl – I still feel like a teenager that could sleep til noon.
Road or studio?
The studio definitely – it's an introvert's dream to be cooped up with people you love exploring another universe. But nothing beats the delirious heartfelt conversations with your tour mate whilst driving days across Ontario playing shows to empty rooms. Shout out to Alexandria Maillot!
Where can we follow you?
Instagram | Facebook | Twitter | Youtube | Spotify | Website
Any shows or albums coming up?
None upcoming in Calgary, but I am going on a European tour from my upcoming EP 'Wasted Time':
October 4 • Haus der Musik • Vienna, AT
October 6 • Hafen 2 • Offenbach, DE
October 7 • Katy's Garage • Dresden, DE
October 8 • Bar Bobu • Berlin, DE
October 9 • Tsunami • Koln, DE
October 10 • Spatz & Wal • Unna, DE
October 11 • SOM • Bereldange, LU
October 12 • Studio 30 • Saarbrucken, DE
October 15 • Cafe Marta • Bern, CH
October 15 • Sound & Sandwich • Bern, CH
October 17 • Viertel Bar • Wuppertal, DE
October 18 • Volksbad Buckau • Magdeburg, CH
October 19 • Bedroomdisco • Darmstadt, DE
October 20 • Wohnzimmer • Dresden, DE
October 21 • cucurucu • Munchen, DE
October 22 • Smaragd • Linz, AT
October 23 • Wohnzimmer • Klagenfurt, DE
October 24 • Corner • Salzburg, AT
October 25 • Lichtspielhaus Gloria • Immendingen, DE
October 28 • Portier • Winterhur, CH