Wants is the brainchild of Jeebs Nabil – a Malaysian-born veteran Calgary musician and one of the founding members of retro synth-pop trio Melted Mirror. Initially a growing collection of demos, this synth-pop project took shape over the pandemic in the wake of Melted Mirror's disbandment. Previously known for accompanying goth-electro music with delay and chorus-laden post-punk guitar lines, Wants sees Jeebs stepping into the role of producer and vocalist on a debut self-titled EP that offers propulsive and sample-driven synth-pop tracks that skirt the line between Synthwave, Darkwave, and even a hint of Techno. Enlisting help from veteran Calgary musicians Cian Haley and Tom White, Wants delivers a live sound that couples the raw human energy of a band with the moody precision of sequenced 80's synths and sampled drums.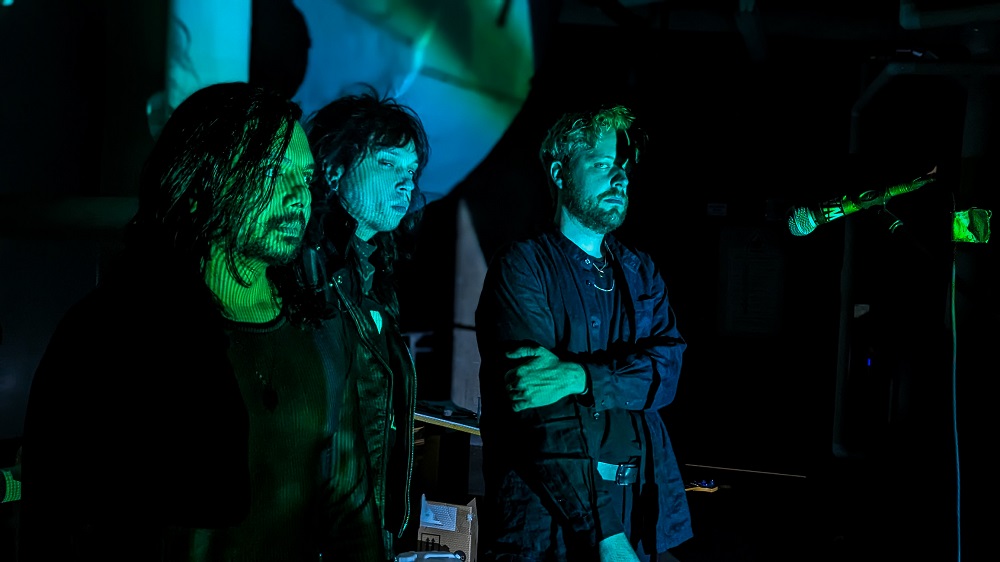 Name:
Wants
Genre:
80's Synth-pop / Post-punk
Founded:
September 2022
# of Albums:
Just 1 for now!
Latest Album:
Self Titled EP – released September 2nd 2023
Latest Single:
Decline (of our self-titled EP, released September 2 2023)
Latest Video:
Wants – Black Mold. Directed by Winona Julian. Released September 16 2023
Favourite musician growing up:
I've always found it difficult to pinpoint a favourite musician, but I have fond memories from my very young days of watching and rewatching Michael Jackson's Moonwalker on VHS. I do think that Michael's voice and brand of pop music planted a seed in my young brain.
Favourite musician now:
Again, I find it so difficult to pick a favourite musician! Each artist has something unique to offer and my music consumption tends style tends to be to obsessively listen to one album for a couple of weeks, only to move on to another shortly after. Right now, I can say that I'm strongly inspired by bands like Drab Majesty, Sacred Skin, Kontravoid, Light Asylum, Nuovo Testamento, and many others. If I had to pick a band that I can go back to again and again and again though, it would be The Sound, which was an English post-punk band that was active from 1979 – 1988.
Guilty pleasure song:
I feel a little silly saying this but if have to…. I've always found Drake's Hotline Bling to be really catchy lol. I personally think popular mega-hit music can be fairly superficial most of the time, but I guess it's popular for a reason 😊
Live show ritual:
I don't have a set ritual before a show, but I tend to get fairly anxious right up to the point when we get up there and start the set, which is when I feel like I suddenly channel a different side of myself and become super confident. Leading up to the performance though, I'm always stressing about what could go wrong – either with my gear, or with the set itself. I've found that practising lots on my own time helps to mitigate the anxiety though – the more prepared I feel, the more confident I am.
Favourite local musician:
I can't bring myself to pick one favourite local musician… so many of my closest friends are in Alberta-based bands and I cherish them all. I'd say that Da'at, Poltergeist, and Uncanny Valley are my favourite local bands right now, plus I have the privilege of calling them my friends. I feel so grateful to have these people in my life and to be a part of such a supportive community of artists. I also want to give a shoutout to Calgary band Stucco – they're always a pleasure to watch live!
EP or LP?
I'm always impressed by artists who are able to put out LPs! I personally prefer releasing EPs and singles. I feel like releasing music more frequently (and in smaller chunks) is more representative of the creative journey, if that makes sense.
I've been part of projects that have put out LPs and I feel (in my own personal experience) that an LP can sometimes take so long to write, record and produce, that by the time it's released, the songs don't carry the same lustre and excitement for me.
Early bird or night owl?
Definitely a night owl, haha. I absolutely hate getting up in the morning. I like to joke sometimes that I find it way easier to stay up all night until 5am than it is to sleep and wake up at 5am.
Road or studio?
It's hard to compare! Both are very different experiences with different things to offer. I do love performing in different cities and getting to know people from different music scenes. I sometimes take a step back and think fondly about how I have good friends that I see and talk to on a somewhat regular basis despite living in different cities. It just goes to show how close-knit and interconnected music communities can be, bonded by people who all share the same love for music.
But I digress – I'd say that I spend a huge amount of my time in my home studio, and truly most of the magic for me is there in the creative process. Making music can be a pretty tedious thing, but once a track starts to come together and I feel myself moving to it in my chair (or even jumping up and dancing to it), I feel an exhilaration like no other.
Any shows or albums coming up?
I'm so proud of what we've accomplished in the past 12 months of this band, and I would definitely say that the debut self-titled EP and music video that we just put out in September 2023 are the two main focal points that cap off the progression of the band so far!
In the meantime, we're in the process of booking more live shows and there should be festival announcements coming up in the next few weeks or months.
Where can we follow you?
I would say our main social media account would be our Instagram account so definitely give us a follow there!
***
Rapid Fire Local Questions:
What is your favourite local restaurant?
The Palomino! Not only does this place legitimately have the best BBQ in Calgary, they also do a ton to support the local music scene. The Palomino is a frequent hangout spot for us as well.
What is your favourite street in your city and why?
17th Ave SW (sometimes referred to as the "Red Mile"). It has everything! Bars, restaurants, thrift stores, record stores, etc.
What is your favourite park in your city and why?
Confederation Park. It's in NW Calgary – I used to share a house with my old band back in the day and we were literally just across the street from it. One of my fondest memories of that park was when we threw an epic NYE bash at the band house. Confederation park is kind of hilly, so tons of people brought over snow sledges and snowboards and we had a blast sliding down the thick snow in the middle of the night.
What is your favourite music venue in your city?
I don't have one favourite music venue, but two! I love them both equally – The Palomino and Dickens. Both venues are critical to the local music scene and my social life basically revolves around them, haha.
What is your favourite music store in your city?
Sloth records! It's an independent record store on 17th Ave (the Red Mile) and also occasionally serves as a music venue. The people who work there are really knowledgeable and helpful too. Definitely worth a visit!