Is everybody ready for the "Monster Mash?" Because when October hits that is when all the spooky sights hit the streets and beyond. This year is no exception and not just because of the pumpkin spice lattes. So, whether you have your costume ready or not, the excitement is going to come in full force all month long. Get your pumpkins bumpkins because in our beautiful city, we got a whole lot of haunting to do. Here is a list full of fang-tastic fun to look forward to.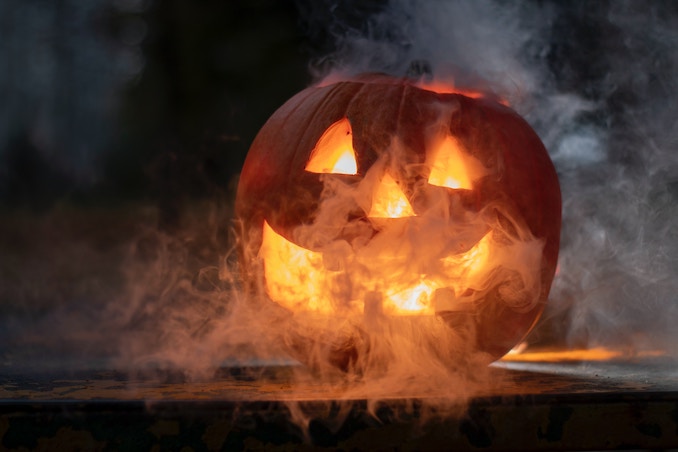 Pumpkins After Dark – September 22- October 31 – Winsport, Canada Olympic Park
Who says that Halloween only starts in October? This is what the good people at Winsport thought when they set up these pumpkin art installations for people of all ages to enjoy. As it turns out this is the largest fall and Halloween festival in all of Canada. You will see all kinds of Halloween characters carved into pumpkins both big and small. With creepy sound effects, and spooktacular lighting a person can have an enchanting evening of exploration. They have snacks there, so you can take your time.
Screamfest – October 6-31 – Stampede Park
You will scream! That is a promise from the good ghouls of this festival. With six haunted houses, monster truck rides, carnival games, and even a nightmarish mini-golf, this is the perfect way to ring in every "bodies" favourite fearful holiday. So, if you are feeling brave and ready to face down the undead that lurks on the stampede grounds there is no better way to get some thrills and chills. Don't worry the zombies may chase you but they won't bite.
Halloweekend – October 7-9 – Calaway Park
As the summer comes to an end, Calaway Park gives it a last howling hurrah and welcomes the next season before closing down for the year. For a short time, everyone's favourite local amusement park is transformed into Hallotown. A place where there are magical meet-and-greets in the enchanted forest, spooky scenes that are "dying" to be sightseen, a parade of fun characters that entertain one and all. Say goodbye to summer and hello to autumn with one last rollercoaster ride.
Spark After Dark: Fear – October 13 – Telus Spark Science Centre
Just in time for the world's scariest holiday; Telus Spark looks into what frightens us the most. For one night only, patrons will learn the science behind phobias, fear, and why we are so afraid of the things that make us shiver. No need to be frightened because Spark after Dark is anything but boring. This adults-only event has themed cocktails for all to enjoy, free rein of all the activities without the little ones getting in the way, and entertainment that dazzles the eyes thanks, especially to Cirque de la Nuit.
Rocky Mountain Food & Wine Festival – October 13-14 – BMO Centre
Are you a foodie or an alcohol connoisseur of some renown? This is the festival for you. Since 1998, this treasured event has showcased local chefs in their element. Beverages are ever-flowing while the food is plentiful and delicious. Over 25,000 people visit this party every year to bite and sip the city's best cuisine. What better time to test your tastebuds than this weekend? You never know what new dish or drink you will discover.
Ghost Tea – October 14-15 & October 21-22 – Heritage Park
Ever have a "high-spirited" tea? Here is your chance to hear some ghostly tales on a tour, then have some tea and treats to warm yourselves up after such chilling tales. Their menu has many "horror-able" bites that would sate the appetite of even the pickiest of vampires that happen to be in your company. So, if you can join in for a "witches" brewed tea, you might just spot one of Heritage Park's friendly ghosts.
Harvest Lights – Open until October 31 – Calgary Farmyard
After the sun goes down and the moon comes up, the harvest lights go on. The Calgary Farmyard is a chilling albeit easygoing attraction that makes for an enjoyable evening for guests of all ages. The entire farm is lit up in a whimsical display to highlight their activities and give a good chance for some photo-ops. However, the corn maze is not illuminated anyway so the people who are travelling through it, have to bring a flashlight in order to make it out. Make sure you dress warm.
ZooBoo – October 29- 31 – Calgary Zoo
Trick-or-treating for a whole weekend? Yes, please! Treat stations are set up all over the zoo for the kids all dressed up in their costumes. This is also a great way to support wildlife conservation. So if you and your family are environmentalists, this is a wonderful opportunity to help the world and have fun in a special way. Besides, what is Halloween without travelling into the "dangerous" depths of Calgary's own wild animal haven.
Field of Screams – October 13-14, October 19-21, October 28-29 – Cobb's Adventure Park
If it isn't too spine-tingling and you love to be outdoors then why not come to this Cowtown treasure? Anyone who loves the morbid, macabre, or just mayhem in general will find that this place is right up their alley. Not only does it harbour some uniquely grotesque haunted houses but has the added joy of archery tag, pedal carts, and a kangaroo petting zoo. And if you are peckish after facing down such fearful feats, you can make a quick nosh stop at their food truck and/or candy store.
Any month where you get to dress up in costumes, eat candy, and go ghost hunting is always a great time. Who knew that an ancient Celtic festival could turn into one of the most enjoyable holidays that we celebrate today? Tomorrow we are going to have to pull out our winter jackets, warm sweaters, and woolly boots. But for right now, lets enjoy the Thriller dance, costume contests, and carnivals of crazies. Watch those cauldrons folks because you don't want them to over boil and bubble.