The Wandering Off is a Rock band formed by Emily & Kyle Corner, which just released their debut album. Recently, we had the chance to catch up with them to find out more about their style, influences and projects.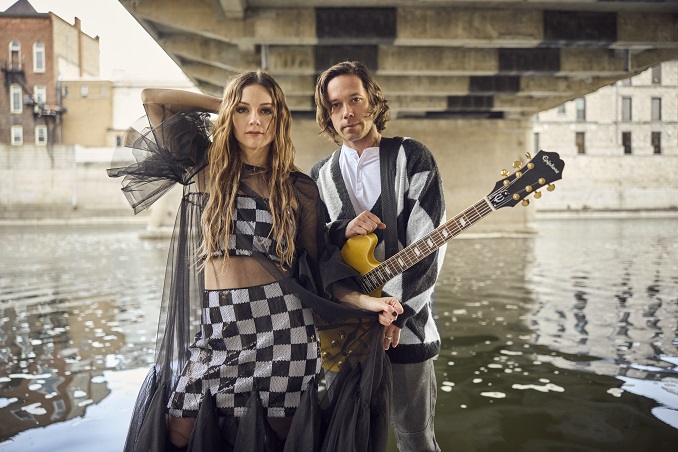 Name:
The Wandering Off (Emily & Kyle Corner)
Genre:
Rock
Founded:
2022
# of Albums:
1
Latest Album:
The Wandering Off (Self-Titled)
Latest Single:
Hey There
Latest Video:
Favourite musician growing up:
Kyle: I wore out a lot of Our Lady Peace CDs. Iconic Canadian rock with their own unique sound. They can write a hook!
Emily: Part of my later childhood I became fixated on Avril Lavigne when she took the world by storm in her Converse. It was the first time I really identified with a female pop musician. Hooks, the attitude, she had it all in those days!
Favourite musician now:
This is a tough one! Our speakers are always on. Lately we've been listening too a lot of Third Eye Blind, we even got to catch a show in Las Vegas last year. We re-discovered The Killers during the pandemic when they released this insane concept album called Pressure Machine. If it were a CD, it would be worn to pieces. The lyricism, storytelling and guitar hooks were insane! Fans forever now. We also have a huge heart for Mother Mother.
Guilty pleasure song:
Emily – Lizzo: About Damn Time (this track just makes me feel like better days are HERE. Our girls and I dance to this in the living room like every night right now.
Kyle: Teenage Dream: Katy Perry (it's just such a great nostalgia story that brings you back to your teen years, although it's nostalgia on its own now! Can't believe it's over 10 years old now!)
Live show ritual:
Kyle: This early in our career, finding any way to laugh and forget the jitters.
Emily: Kyle does a great job of making me laugh. My least fav ritual is eating light before a show. I sing and perform better but it's torture! HAHA!
Favourite local musician:
This is easy! They are actually our friends and literal neighbours – the Hello Darlin's (Mike Little & Candace Lacina) they have this awesome Americana band and their extended band rotates. They have a wonderful album out and another one on the way this year. They put on a hell of a show too!
EP or LP?
We're LP kids. We like to dive into an artist. Without an LP you don't get the "deep cuts" from an artist. Something we miss with the single trend now.
Early bird or night owl?
We're early birds. We are young parents. Doesn't matter how late we stay up the kids wake us up at the same time every morning. 6:30 am comes early!!
Road or studio?
100% studio for both of us. The magic in there is unprecedented, it's a sacred space to us. There is nothing like a song being born, it's exciting every time.
Any shows or albums coming up?
Our debut album just came out on March 31st, 2023. Next time you will hear us live will be on CBC Radio 3. We have 2 of 4 planned music videos on our YouTube channel @TheWanderingOff and we are having a heck of a lot of fun doing them!
Where can we follow you?
Website | Tiktok | Twitter | Facebook | Instagram | Youtube
***
Rapid Fire Calgary Qs
Favourite local restaurant:
Brix+Barrel or the RoofTop YYC!
Favourite street in your city:
17th Ave for the people watching & the cool shops (shout out to Kate Hewko, Purr & Blondie Boutique – we get a lot of our photoshoot and video outfits local!)
Favourite park in your city:
We have a soft spot for biking up Nose Hill but we haven't been back after our dog found a hibernating porcupine there! That was an expensive walk that cold January day.
Favourite music venue in your city:
Jack Singer Concert Hall – the sound and vibe are unmatched! Every seat is a good seat.
Favourite music store in your city:
Sunrise Records! You might even see one of our music videos in their store.