Ben Motion/Team B.M.B (BMB Stands for Born to be Magnifique & the Best) is a Community Group. It all started with a few friends who wanted to give back to our communities with entertainment such as Music and Dance. Our main goal is to grow responsibly in our music, remembering personal values.
We have played for many events in Alberta, such as Canada Day Shows, Brooks Rodeo, Calgary Franco Festival, Raje, Giving back to fort mac fundraising show, J.H Picard school in Edmonton, French school in Canmore, Red deer Feb 2022, St Albert Morinville, David Thompson Resort etc. several shows in Lethbridge, Brooks & in Calgary, Taste of Nations, Canadian winter games 2019, Rec the mic, Raw Artists show, and various events organized by different communities in the cities. Our language is Motivation, Discipline & Inspiration. We connect to inspire expressions and creations in Arts & Entertainment that make the world better!
Network of Music, Media, and Streetwear. Our goal is to inspire everyone to reach their full potential. We gain skills through sharing Knowledge, Celebrating each other.
TeamBMB is more than a group, it's a lifestyle. Discipline and Inspiration.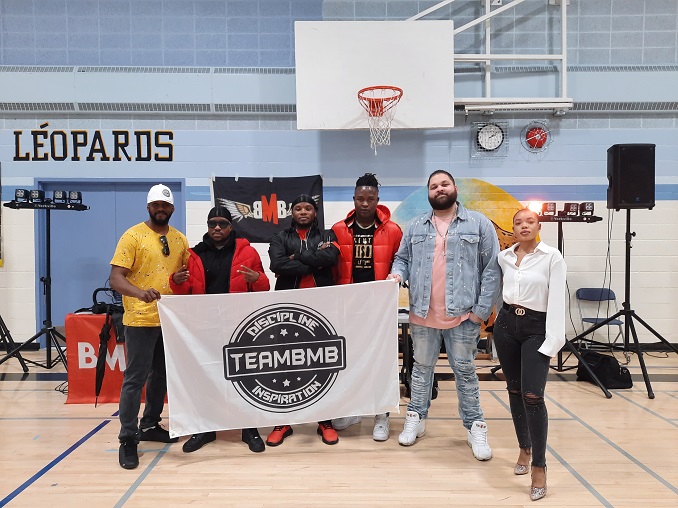 Name:
Real name is Ben Kisimolo and artist/stage name is Ben Motion.
Genre:
Rap
# of Albums:
2
Latest Album:
Icône 2
Latest Single:
Gucci & Luis ,Rumba and Diferencias
Latest Video:
Favourite musician growing up:
Bob Marley and Lucky Dube
Favourite musician now:
Kendrick Lamar, Bob Marley, lucky Dube, Spri Noir
Guilty pleasure song:
Rick Astley – Never Gonna Give You Up
Livin' La Vida Loca
Live show ritual:
Before any event, I take a few minutes where I listen to Lucky songs such as Three Little Birds by Bob Marley. It helps me to get in the zone, to get in the Character prior to getting on the stage. I also stretch and hug a group when I'm performing with my teammates. This is the best medicine to get into the zone for me.
Favourite local musician:
Billy Bishop, Mr. Blanco, Sammy B and Andrex.  I personally like their motivation and how dedicated and humble they are to the craft. Their songs are motivating and inspiring.
EP or LP?
2
Early bird or night owl?
Early Bird. I like starting my day early, it helps me to get a lot done and stay on top of my game plans.
Road or studio?
Studio
Any shows or albums coming up?
As school has started I'm talking to a few schools as they want me to come to perform for students and give workshops, etc.
I would like to promote my new Album Icône 2.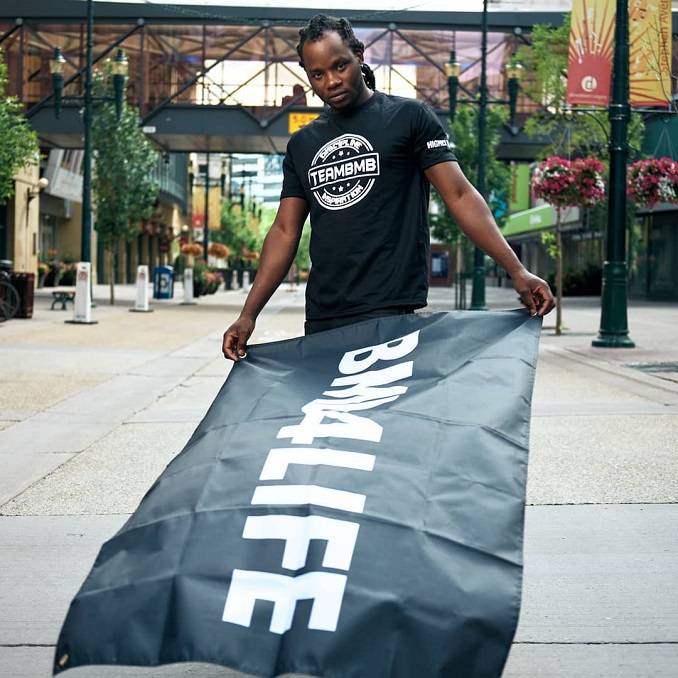 Where can we follow you? 
Website | Facebook | Instagram | Clothing line
***
Rapid Fire Calgary Qs
Favourite local restaurant:
Safari Grill. Great environment, great food and amazing customer service
Favourite street in your city:
5th Street Square /East Village. This site is my favourite as you can visit this place every weekend as you will never get tired of it as the library is nearby the bow river and has multiple walkways. In the summer there is lots of entertainment for families .very clean and organized. I have done lots of projects around this area and I can always go back as the city of Calgary is always improving and maintaining it.
Favourite park in your city:
Stephen Avenue Walk. well built, very safe, there are a lot of restaurants, stores and almost anything you need. It is very touristy and it's the street that never sleeps. There is always something great going on.
Favourite music venue in your city:
The Palace Theatre
Favourite music store in your city:
Long & McQuade Musical Instruments