Slim Tyme's incredible musical journey began at the tender age of 4 in Port-Harcourt, Nigeria. Exploring a myriad of instruments, he ventured into the world of guitar, keyboards, and drums before discovering the heartwarming allure of the saxophone's soulful melodies. A new chapter unfolded when he moved to Canada at 14, where his creativity flourished as he delved into music production and smoothly transitioned into the captivating world of DJing. With an unmatched ability to blend genres like hip hop, R&B, afrobeat, gospel, dancehall, and more, Slim Tyme crafts enchanting musical experiences that set him apart as a truly exceptional artist.
Despite his numerous achievements, Slim Tyme remains humbly dedicated to his craft. His journey as a DJ has been marked by awe-inspiring performances, including opening for renowned artists like Davido, Ty Dolla $ign, NSG, Adekunle Gold, and more, leaving audiences spellbound by his captivating sets. Notably, he has also collaborated with emerging Canadian talents such as bbno$, Teon Gibbs, Dozie, Betta Boyz, The Blue, Joyboy NEIO, and Ebun, endearing himself as a supportive figure within Canada's vibrant music community. From intimate house parties to grand festivals like Kelowna's "Center of Gravity," Slim Tyme has graced diverse stages, imprinting a lasting mark with his distinct style and occasional incorporation of the saxophone. As he continues to create "Music For Hope," his heartfelt melodies resonate deeply, touching hearts and spreading positivity across the globe. Slim Tyme's unwavering dedication and genuine passion for his artistry assure a promising future ahead, one that will undoubtedly inspire and uplift listeners worldwide.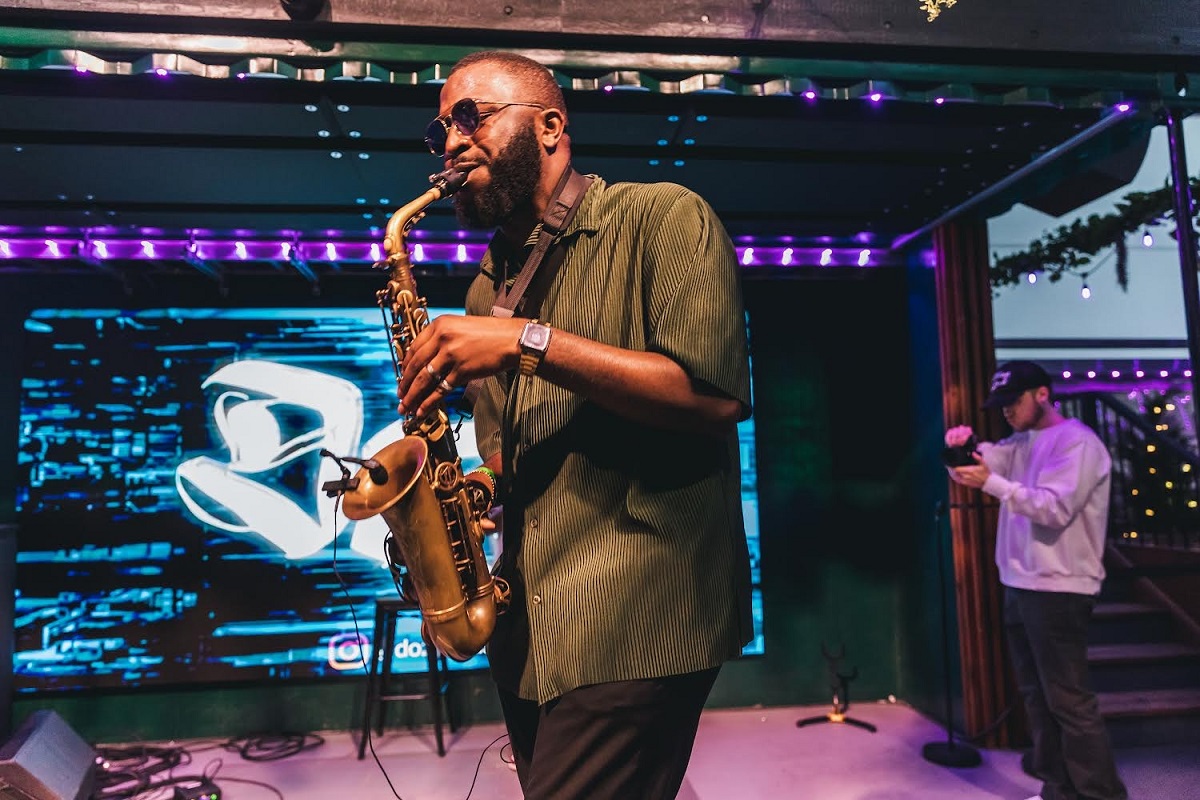 Name:
Slim Tyme
Genre:
Open Format DJ & musician with roots in RnB & Afrobeats
Founded:
Official intro to music was in 2000, but Slim Tyme as a brand started in 2011
# of Albums:
1 Album out so far
Latest Album:
About Tyme
Latest Single:
Peace ft. Ebun
Favourite musician growing up:
I grew up listening to gospel and jazz, so I really enjoyed Ron Kenoly and Miles Davis and actually still listen to them now.
Favourite musician now:
It's hard for me to pick just 1 because I listen to different musicians for different things. Afrobeats, Burna Boy is absolutely fire, I love Lecrae as well, Prinx Emmanuel is definitely up there too. Masego & Perpie for saxophone are my favourites.
Guilty pleasure song:
This has to be Meditation by Perpie. The melodies in that song.?? Oowwiiieee
Live show ritual:
Hanging out with my guys and vibing out and then taking some time to myself right before going up on stage.
Favourite local musician:
This isn't an easy one to answer at all. There are soo many talented artists in the city from Betta Boyz, The Blue to Dozie, HecO, Kuzi Cee, Bijaan, Tea Fannie, Transit and soo many more. But my favorite local artists have to be Ebun and Perpie. There is just something about their melodies and sound that make you feel like you're cruising down a backroad with the top down or enjoying a beautiful sunset over the ocean.
EP or LP?
I would say EP for sure.
Early bird or night owl?
Night owl easily.
Road or studio?
Oo this is a tough one, I enjoy being on the road and doing shows, but there is just something about sitting in the studio with friends and artists and creating a masterpiece out of nothing, so I'm going to give this one to studio
Any shows or albums coming up? 
So I am actually currently working on a 3-4 track EP aiming to drop Late January 2024. I recently had a show with Jackboys and RIB Entertainment at Dreamers, and I will be posting any more that come up over on my Instagram as well.
Where can we follow you? 
Website | Instagram | Tiktok | Twitch | Youtube | Spotify | Soundcloud | Beatstars
***
Rapid Fire Local Questions:
What is your favourite local restaurant?
I would say Bro'kin Yolk.
What is your favourite street in your city and why?
Stephen Ave. I like to think it was named after me 😂😂 but also, nice memories hanging out with friends there too
Battalion Park for sure. A lot of good memories from there. My now wife and I hung out there a few times when we first started talking/dating.
What is your favourite music venue in your city?
Favourite music venue has to be either Palace Theatre or Rose Lounge.
What is your favourite music store in your city?
Favourite music store is Long & McQuade. You can lock me there for a whole day and I'll be very happy. Especially the Royal Oak location.