Long Time No Time is a five-piece Calgarian horn band formed in September 2017 as an amalgamation of music school nerds from University of Calgary looking to find mainstream outlets. Using horns instead of guitars or keys, we use our academic musical knowledge to explore pop music tropes with technique and precision – all while developing a unique style with thriving energy. Long Time No Time released our debut album "First Time Full Time" on June 24, 2018 and has been working on new music ever since. Categorically ubiquitous, audiences will find themselves steadily surprised by what comes next, the only constant being that no one will be standing still.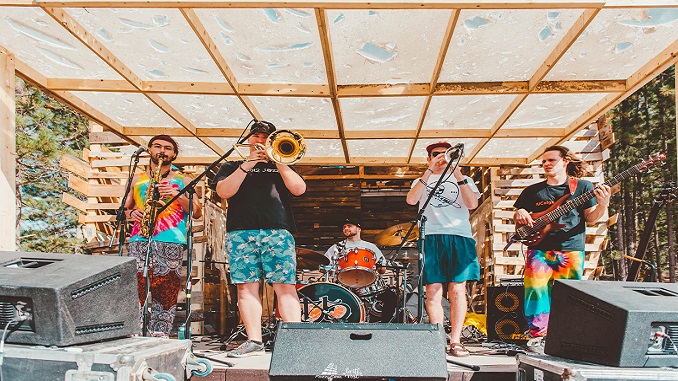 Name: Long Time No Time
Genre:
Small brass band with lofty aspirations? Rock/jazz/ska? You tell us – we need help.
Founded: September 2017
# of Albums: One LP + one live EP
Latest Release: Live on CJSW 90.9fm
Latest Video: Hellephant
Latest Single: Hellephant
Favourite Local Restaurant:
1 Pot in Chinatown is pretty great for late all-you-can-eat binges
Favourite band as a teenager: Eluveiti
Favourite band now: Frank Zappa
Guilty Pleasure Song: Pachelbel's Canon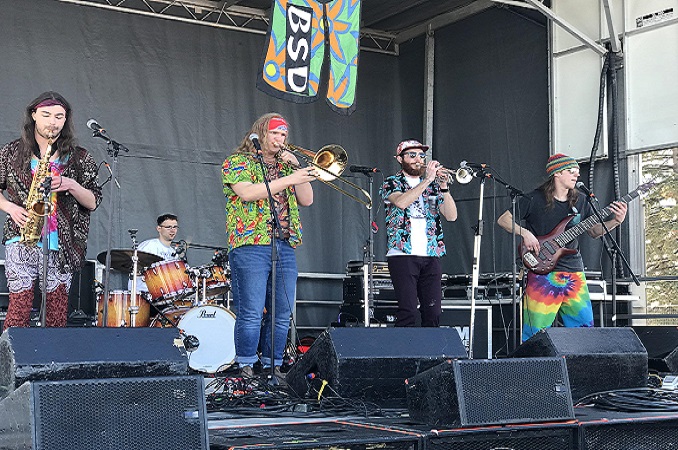 Live Show Ritual:
Show up early and be nice to our sound tech. Hug all our friends who also showed up early. Try to tune before most of the audience shows up and then play really well.
Favourite local artist:
Legendary saxophonist Dr. Jeremy Brown.
Nose Hill or Fish Creek?
Fish Creek forever and always
EP or LP? LP
Early bird or night owl? Night owl
Road or studio?
Can we have both? A mobile studio would be great.
Where can we follow you?
Facebook | Instagram | Soundcloud | Spotify | iTunes | YouTube | Bandcamp
Any shows or albums coming up?
We are playing in the BIG Winter Classic Festival January 24-27, venues TBA. The Rose & Crown in Banff July 2-3.