The Hi-Tops are becoming known around Calgary for their unending creativity, infectious energy, and their dedication to consistent performance. Following the success of their first EP "Whoever Gets It, Gets It", which was nominated for 2023 Rock Recording of the Year by the YYC Music Awards, The Hi-Tops recently released their sophomore EP "Characters". Since the release of "Characters" the band embarked on a Cross Canada tour playing shows in Calgary, Edmonton, Red Deer, Lethbridge, Hamilton, Montreal, and Toronto. Along with their touring success, the band has opened for notable Canadian and American Touring artists such as Marianas Trench, IllScarlett, The Honest Heart Collective, and Ron Gallo.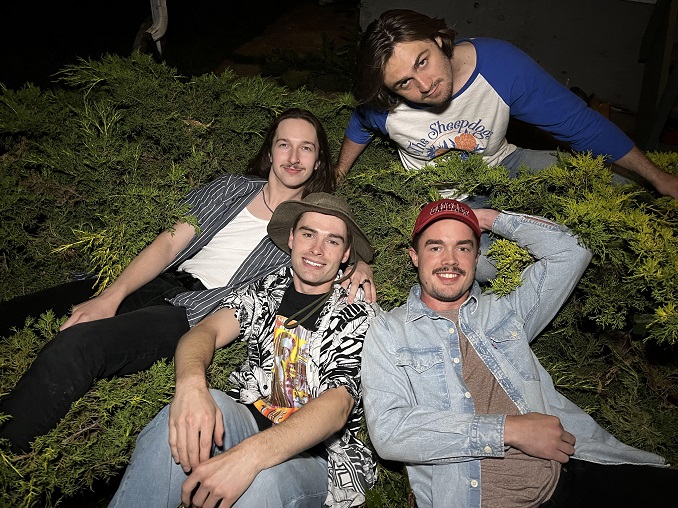 Name:
Kole Halvorson (Vocals/Guitar), Luke Lepine (Guitar), Chandler Billinghurst (Bass) and Will Hitchings (Drums) of The Hi-Tops
Genre:
Alternative Hard Rock
Founded:
2018
# of Albums:
2
Latest Album:
"Characters"
Latest Single:
"Change of The Season" and "Peaches and Cream"
Latest Video:
Favourite musician growing up:
Kole: Kurt Cobain
Chandler: AC/DC
Will: The Offspring
Luke: John Frusciante
Favourite musician now:
Kole: Dead Poet Society
Chandler: Queens of the Stone Age
Will: Turnstile
Luke: Alexisonfire
Guilty pleasure song:
Kole: Brandy You're a Fine Girl – Looking Glass
Chandler: Baby Shark
Will: Hot – Avril Lavigne
Luke: Dancing Queen – ABBA
Live show ritual:
Beers and Mario Kart
Favourite local musician:
Kole: Crooked Spies
Chandler: King Bull
Will: The Varmoors
Luke: In Search of Sasquatch
EP or LP?
No Preference
Early bird or night owl?
Early Bird in the Summer, Night Owl in the Winter
Road or studio?
We all prefer the roads
Any shows or albums coming up?
We just released our second EP "Characters" which is available on all streaming platforms. We recorded this at AudioHouse studio with Grant, which was an amazing experience.
We will also be playing at Modern Love on Sept 16th with Whale and the Wolf. Tickets are available at the ticket link in all of our social bios.
Where can we follow you?
Instagram | Facebook | TikTok | Spotify | Apple Music | YouTube
***
Rapid Fire Local Questions:
What is your favourite local restaurant?
Jimmys A&A
What is your favourite street in your city and why?
We all live together in the same house In Calgary, we won't disclose the location but where we live has bred some pretty special moments.
What is your favourite park in your city and why?
Princes Island Park. Beautiful for spike ball, rollerblading, sitting in the sun, and Enjoying time with our peers.
What is your favourite music venue in your city?
The Palomino Smokehouse. Inclusive environment with amazing staff, and an amazing venue to play at. We are always stoked when we have a Palomino gig coming up.
What is your favourite music store in your city?
Turn it up records. Small record store on 16th AVE with some of the best deep-cut records available.