Russell Broom is the JUNO Songwriter of the Year winner, Producer and Engineer nominee, and winner of multiple WCMA, AMPIA and SOCAN Awards.
Also, he is the producer of records, including Jann Arden "Descendant", "Uncover Me", "Jann Arden", "Love is the Only Soldier", "Greatest Hurts", Art Bergmann "Late Stage Empire Dementia", Kyle McKearney "Down Home", Jason McCoy "We Are One" and "Christmas at the Grand", and composer for CTV Series "Jann".
As a guitarist, his live and recording credits include Jann Arden, Ian Tyson, Robbie Williams, Martin Page, and Josh Groban.
Father of two swell teenagers and husband of a restauranteur.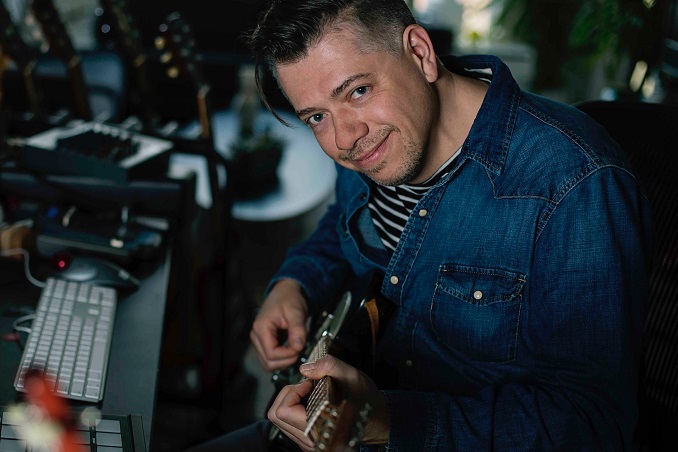 Name:
Russell Broom
Founded:
Music has been my job since I was 14
# of Albums:
Lots! Lol
Latest Album:
Jann Arden "Descendant", Kyle McKearney/Don Amero "Let Em Lie"
Latest Single:
Kyle McKearney "Grandfather", Jann Arden "Was I Ever 13"
Favourite musician growing up:
Daniel Lanois, Jimi Hendrix
Favourite musician now:
Jimi Hendrix, Daniel Lanois
Guilty pleasure song:
"Can't Get You Out Of My Head" Kylie Minogue
Live show ritual:
Tuning!
Favourite local musician:
We have so many, Jann Arden, Ian Tyson, Kyle McKearney, Mariel Buckley, Kue Varo, Tim Williams, Steve Pineo, Sweet Barry Wine
EP or LP?
LP!
Early bird or night owl?
I love working early in the morning
Road or studio?
Both are amazing and frustrating
Any shows or albums coming up? 
Jann Arden "Descendant" that I co-produced with Jann and Bob Rock, Kyle McKearney's new album is going to be terrific, we are 9 songs in and having a blast, a new Chixdiggit album is in the works, as well as some new songs from Art Bergmann. I really love producing records!
Where can we follow you? 
@russellbroom | @otiu.m | Facebook | TikTok
***
Rapid Fire Calgary Qs
Favourite local restaurant:
Moonlight & Eli
Favourite street in your city:
1st SW between 17th Avenue and 6th Avenue SW. So many great restaurants, bars, etc and feels like it's always changing and evolving
Favourite park in your city:
Princes Island
Favourite music venue in your city:
Ironwood, Blues Can, Jack Singer
Favourite music store in your city:
Long and McQuade on 58th Ave SW and Guitar Shack