"You'd have to travel far to find a more accomplished, driven young guy than Travis Dolter. Travis can read a room like a pro and is a natural born entertainer." Greg Shannon – 840 CFCW
Singer/songwriter Travis Dolter has seen an increase in demand as his energy, talent, and enthusiasm while performing have been showcased at several events this past year. Recently providing direct support as the opener for Gord Bamford at the Vegreville Fair, local journalist Michelle Pinon, described the performance as "electrifying" referring to Travis as an "up-and-coming country music sensation."
Raised on the family farm near Edmonton AB, Travis takes on life with a positive and lively attitude and reflects that spirit in the creative storytelling of his songs. With upcoming performances, Travis's confidence and charisma add excitement to every performance he is a part of.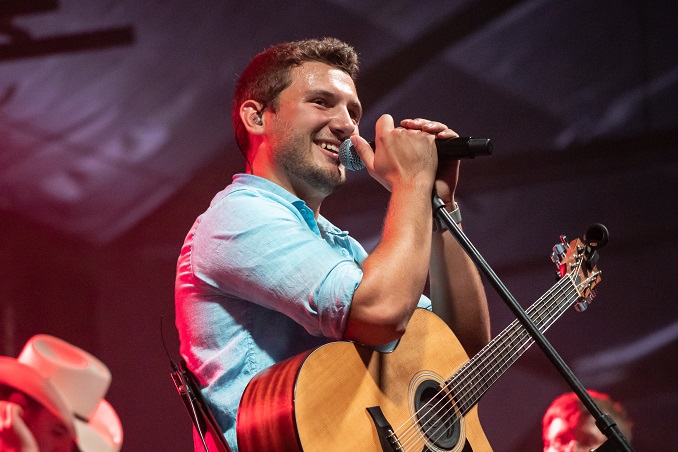 Name:
Travis Dolter
Genre:
Country, Country-Pop
Founded:
I started performing in my family's Ukrainian band when I was 6 and formed my own band when I was 15
# of Albums:
2 EP's – released in July 2022, currently only available at live shows
Latest Album:
"Every Song" and "A Story"
Latest Single:
Does Your Mother Know
Latest Video:
Favourite musician growing up:
I was always a massive fan of Buddy Holly. It was after I went to see "The Buddy Holly Story" when I was 14 that I really started learning songs and upping my guitar playing!
Favourite musician now:
I still really enjoy Buddy Holly, but I also really enjoy Kenny Chesney and The James Barker Band
Guilty pleasure song:
'Dooley' by the Dillards!
Live show ritual:
I don't really have one! I just say good luck to the boys in the band and we go put on a show!
Favourite local musician:
Brett Kissel or Aaron Goodvin
EP or LP?
LP! I have lots of them. I would say 45's are my actual favourites!
Early bird or night owl?
Both! I tend to stay up too late and wake up too early!
Road or studio?
I enjoy performing more than recording. It is just so much fun to play live music for people!
Any shows or albums coming up?
I am constantly releasing new music, and my next release is a fun one. I wrote it a couple of years ago and it's called "Pyrohy and Borscht"!
Where can we follow you?
Facebook | Instagram | TikTok | Twitter | Youtube
***
Rapid Fire Calgary Qs
Favourite local restaurant:
Boston Pizza for wing Wednesday!
Favourite street in your city:
Mainstreet Hay Lakes, it's the only street with anything on it!
Favourite park in your city:
Jubilee Park in Camrose is the only one they really have, so that must be the one! It has a nice walking trail and is very peaceful.
Favourite music venue in your city:
I like Cook County in Edmonton, but now that I have moved to Calgary I will have to say Ranchman's!
Favourite music store in your city:
Long & Mcquade!