Reid Zakos is a triple-threat LGBTQ2+ pop performer with a YouTube channel of over 100K views and 25K+ music streams worldwide. Born in Calgary into a musical family, from an early age he possessed undeniable stage presence and a love for dance and theatre. Inspired by trendsetting artists like Gwen Stefani, Lady Gaga, and Troye Sivan, Reid is also a true original and loves to write most about self-acceptance and empowerment. Facing struggles with bullying growing up, Reid hopes to inspire people to be themselves fully through his bravery and freedom of expression.
First discovered by 101.9 Queer FM Radio Vancouver in 2015, Reid immersed himself further in songwriting in Vancouver and released his debut album "Legends & Myths" in 2020. A retro-pop and greek mythology-inspired project, he explores heartbreak, love, and self-empowerment, teaming up with indie artists such as Dante Hart on the acoustic ballad "Smoke", and on the R&B/pop duet "Blurry Now" with his partner Jayden Mckenzie.
Since his first album, Reid has gone a more dancepop/futurepop direction releasing hit single after single, also releasing a remix EP entitled "The Reidmix" in 2021. He's also working on a second full length album with RedPanda Productions, and other singles with emerging Canadian and queer talents.
Dance grooves, theatrical vocals, and clever songwriting all lead to Reid's ultimate expression of freedom wrapped up with choreography, bold visuals, costume changes, joy and escapism.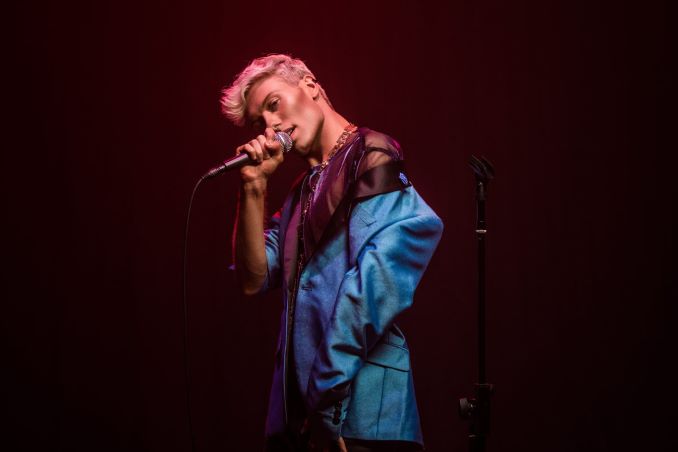 Name:
Reid Zakos
Genre:
Pop, Dance, Nudisco
Founded:
2010
# of Albums:
1
Latest Release:
"cloudbreak" featuring Jayden Mckenzie
Latest Single:
"cloudbreak" featuring Jayden Mckenzie
Latest Video:
Favourite musician as a teenager:
Gwen Stefani
Favourite musician now:
Lady Gaga
Guilty Pleasure Song:
"Wannabe" by the Spice Girls
Live Show Ritual:
Warm-up body and voice, do my makeup/hair, drink a tropical red bull, pray to Gaga
Favourite local artist:
Hello Moth
EP or LP?
LP
Early bird or night owl?
Night owl
Road or studio?
Road (once it's safer to travel/tour). But for now, studio.
Any shows or albums coming up?
In September I opened for my friend Khaled Rahime's 'Emotions Tour' in Edmonton, and I'll be curating monthly live shows with the company 'youbloom' in Calgary going forward.
I'll be featured on a new single called "Doctor Smile" by Paul Michael (a queer electronic artist based in Connecticut) just in time for Halloween!
I'm also working on 2 new album projects – one with RedPanda Productions (based in Vancouver), and another project which will all be duets with Jayden Mckenzie.
Rapid Fire Calgary Qs
Favourite local Restaurant:
Broken Plate
Favourite Street?
17th Avenue because it just feels full of life
Favourite Park?
Glenmore Park
Favourite Music Venue?
Ironwood and Koi
Where can we follow you?
Instagram | Youtube | Website | Spotify | Apple Music