I Am The Mountain is everywhere, from bars and cafes to caught-in-your-brain as you try and fall asleep. Beginning as a folk project of singer-songwriter Colton O'Reilly, the late-night campfire soul songs that once whispered between the pines in Kananaskis have echoed through almost every music-friendly space in Calgary.
The indie-rockers kicked off 2022 with a brand new single 'Overthinking Conversations' released on January 21st. 'Overthinking Conversations' depicts the story of two young hearts and the growth that follows a breakup. The video, directed by Finn Westbury, was filmed in Calgary at various locations and local businesses, with the desire to feature "the beautiful city we live in".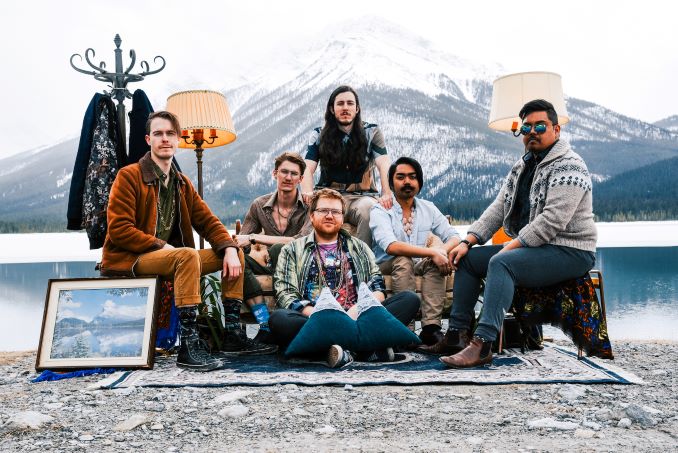 Name:
Jesse Aaron Shire from I Am The Mountain
Genre:
Indie-rock
Founded:
I joined the band in 2015 when Colton met me late one night on the streets while I was wearing nothing but my underwear. He asked if I play Bass, and the rest was history.
# of Albums:
2 EPs, multiple singles and a full-length on the way.
Latest Album:
We're Here For Each Other
Latest Single:
'Overthinking Conversations'
Latest Video:
Favourite musician growing up:
Jaco Pastorius
Favourite musician now:
Mitski
Guilty pleasure song:
Karma Chameleon by Culture Club
Favourite local musician:
Kate Stevens
EP or LP?
LP
Early bird or night owl?
Night Owl
Road or studio?
Studio
Any shows or albums coming up?
Single/Video Release Show on January 22 at the Globe Cinema.
Where can we follow you?
Website | Facebook | Instagram | Twitter
***
Rapid Fire Calgary Qs
Favourite local restaurant:
Vegan Street
Favourite street in your city: 
17th Ave SW because despite the chaos it feels the most alive. I wish more of the city were like it.
Favourite park in your city:
Prince's Island because it hosts a lot of festivals and is a great inner-city escape that acts as a conduit to a lot of great neighbourhoods
Favourite music venue in your city:
Palace Theater because it's where all the mid-sized acts play and is the only real venue of its type in the city,
Favourite music store in your city:
Recordland. Absolute GOAT.