Formed during their university days, Emblematics is an indie rock band based in Calgary. What began as an educational distraction eventually evolved into a full-blown musical experiment, a deep foray into swooning art rock. Emblematics' music has been described as "British influenced, post-rock chamber pop," dominated by atmospheric synths, crashing piano chords and jangly Telecaster riffs. The band's songs reflect a unique blend of their influences, artists such as Radiohead, Blur, Grizzly Bear, and Joy Division. During the past decade, Emblematics have created a lengthy body of work; every new recording building and expanding on the sonic foundation of the previous one.
In 2021, Emblematics began work on their latest release, Navigation. Due to pandemic restrictions, most of the individual tracks were created in isolation, though the band managed to organize a single outdoor session to gather ideas. Song lyrics started to take on a common theme, discussing the concepts of anxiety, everyday unease and the ability to cope. Musically, what began as a collection of simple acoustic demos morphed into intricately layered pieces, bringing together different elements of ambient music, shoegaze and synth-pop. In the end, Navigation became Emblematics' documentation of the current times, an ode to the sometimes fragile state of one's mental well-being. Navigation is due for release on April 22nd, 2022.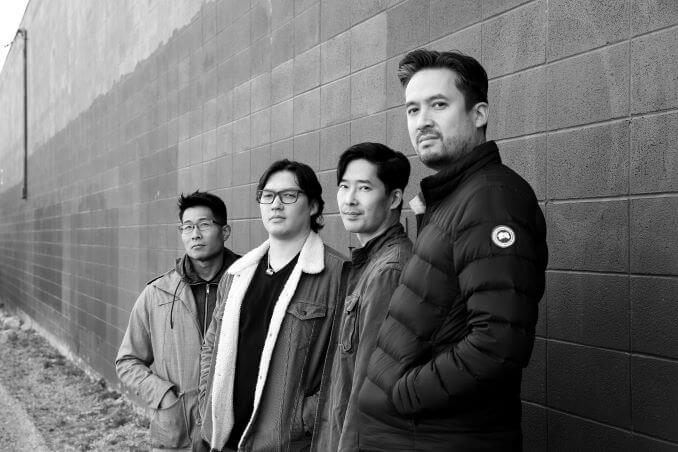 Name:
Emblematics
Genre:
Indie rock, art rock
Founded:
2005ish.
# of Albums:
2 LPs, 3 EPs
Latest Album:
Navigation
Latest Single:
'An Impact'
Latest Video:
Favourite musician growing up:
Michael Yun (vocals/guitar): The Beatles, Blur, Radiohead
James Yue (keyboards): Green Day
Will Yue (bass): Radiohead
Favourite musician now:
Michael: It's still The Beatles, I'll keep buying re-released versions of The White Album til the end of my days.
James: The Beatles
Will: Lord Huron
Guilty pleasure song:
Michael: Hit Me Baby One More Time by Britney Spears. There are so many more, but it'll get embarrassing so I'll stop there.
James: Leave Before You Love Me – Marshmello & Jonas Brothers
Will: Sign of the Time – Harry Styles
Live show ritual:
Michael: The band doesn't really do anything specific before the show starts, but I have my own personal ritual of loading up all the gear, probably forgetting something, and trying to remember the lyrics to my own songs. It's pretty fun.
James: Stress out and drink lots of tea with honey
Will: Panic. Get on stage. Hope for the best.
Favourite local musician:
Michael: Sunglaciers, Astral Swans. Does Preoccupations still count? My favourite local band of all time was Axis Of Conversation, but they don't exist anymore, unfortunately.
EP or LP?
Michael: Our band makes more EPs than LPs just out of convenience sake, but I like listening to LPs more.
James: LP
Will: EP
Early bird or night owl?
Michael: Night owl. I'd sleep in till noon every day if I could get away with it.
James: Night owl
Will: Night owl
Road or studio?
Michael: Studio. I prefer being isolated in my little home studio, messing around with recordings.
James: Road
Will: Pub
Any shows or albums coming up?
Our new EP called Navigation comes out in April, and we're excited for it to be released. We're also playing a few shows up and down Highway 2 this summer in support:
May 13 – Ironwood (Calgary)
May 21 – Blakbar Tavern (Edmonton)
June 11 – The Velvet Olive Lounge (Red Deer)
July 8 – Koi (Calgary)
Where can we follow you?
There are just too many of these, but here we go:
Website | Instagram | Facebook | Twitter | Bandcamp | Spotify | Youtube
***
Rapid Fire Calgary Qs
Favourite local restaurant:
Michael: Jjamppong for the Korean noodles, and Fuji for the ramen
James: Bridgette Bar
Will: Noble Pie
Favourite street in your city:
Michael: 17th Ave, just cause it's so vibrant and there are so many places to eat.
James: Memorial Drive. It's peaceful and lined with beautiful trees, but there's lots of life and activity with people enjoying the river path.
Will: 17th Avenue. Lots of great places to enjoy a patio drink and good memories from high school.
Favourite park in your city:
Michael: Fish Creek, for the lovely trails and cause it's close to where I live.
James: Riley Park. It's close to downtown, but it's always pretty empty. And the groundkeepers do a great job with the flowers.
Will: Edworthy Park. Where my life turned around.
Favourite music venue in your city:
Michael: Palomino
James: Palomino Room
Will: Ironwood
Favourite music store in your city:
Michael: Sloth and Turn It Up
James: Hot Wax Records
Will: Hot Wax Records