Thomas Thomas is giving the nostalgic charm of the mid-century a modern twist. Created and fronted by musical and visual artists Thomas Englund (Betaboys, Bell Tower) and singer-songwriter Shannon Thomas, the Calgary band is creating musical alchemy saturated with dreamy harmonies and catchy hooks.
To help bring their vision into being, Thomas and Shannon recruited guitarist Michael Hudec (Bell Tower), drummer and vocalist Anthony Vespa (Domestic Bear), and bassist Michael Stokes (Ten Minute Detour).
Honest and intentional about everything that is Thomas Thomas, the young group has combined creative forces to cultivate a memorable live experience for their audience. Their catchy song writing, dynamic visuals, and bright 50's pop-rock sound has the young band generating buzz and gaining momentum ahead of their highly anticipated debut EP release on April 26.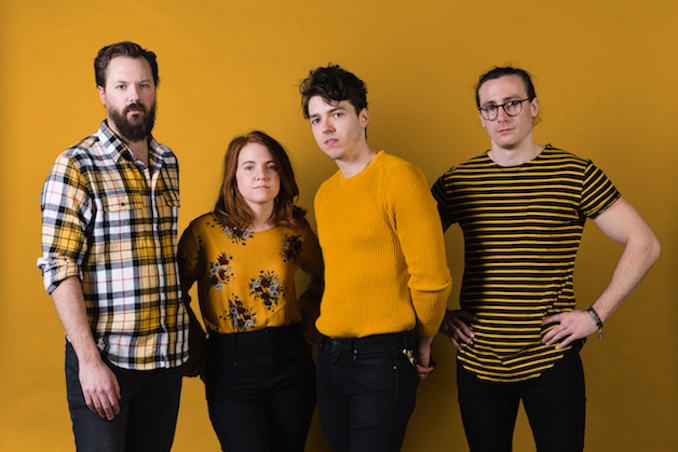 Musician Profile Name: Thomas Thomas
Genre: Indie Pop-Rock
Founded: 2018
Number of Albums: Debut Self-Titled EP coming April 26!
Latest Video: Lyric Video for the song "Gracious Host"
Favourite Local Restaurant?
Bow Bulgogi House – seriously the best hidden gem
Favourite band as a teenager?
The Hives
Favourite band now?
Bahamas
Guilty Pleasure Song?
Wrecking Ball – Miley Cyrus (No guilt here)
Live Show Ritual?
We like to circle up and all do a group "om"/chant to all get in a moment together before we start a show.
Favourite local artist?
Hmm only one? We'll say Windigo.. Catch them at our release show April 26 😉
EP or LP?
EP… but LP on road trips
Early bird or night owl?
Night owl
Road or studio?
Writing songs in the "studio" (living room)
Where can we follow you?
Any shows or albums coming up?
We're having a release show party for our debut EP April 26th at the Palomino with Windigo and The Conversation Killers. Guaranteed good times!