Caitlyn O'Connor is a musician, actor, and dancer from Calgary. She graduated from the conservatory theatre program at Rosebud School of the Arts (Rosebud, AB) in 2018 and has been living in her home city ever since. She released her debut, self-titled EP in the summer of 2018. Caitlyn's folk, jazz, and alternative style is the groundwork for her lyrical storytelling, and with each song, she strives to create a unique narrative. She pulls her songwriting influences from the likes of Norah Jones, City and Colour, and Joni Mitchell. Caitlyn has had the privilege of performing in a variety of venues in and around Calgary and Southern Alberta, including Gravity Espresso & Wine Bar, Cornerstone Music Café, Calgary ProArts Society, and the 15 Minutes of Fame Festival. Caitlyn has been using her extra time during the pandemic to return to school for psychology—yet another passion of hers. She also recently released her first music video for her song 'The Bored Song', with the support of filmmaker Stephanie Lanting, and Great Canadian Films.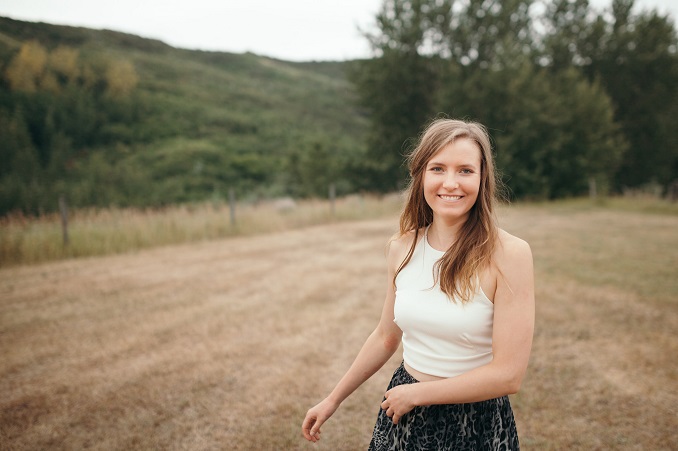 Name:
Caitlyn O'Connor
Genre:
Folk/alternative
Founded:
2018
# of Albums:
1
Latest Album:
'Caitlyn O'Connor'
Latest Single:
Tongue Tied
Latest Video:
Favourite musician growing up:
Avril Lavigne
Favourite musician now:
The Barenaked Ladies, Half-Moon Run, Lorde…hard to choose just one!
Guilty pleasure song:
Escape (The Piña Colada Song) by Rupert Holmes
Live show ritual:
Load up on water, vocal warm-up, triple check google maps before heading to the venue, chat with fam and friends after soundcheck and START
Favourite local musician:
Natalie Inga, The Dearhearts, Matthew Joseph, Marcus Trummer Band. So many fantastic artists to choose from.
EP or LP?:
EP! I'd prefer a really fantastic and curated EP over a potential overload of content from an LP.
Early bird or night owl?:
Early bird, I turn into a zombie after midnight.
Road or studio?:
Definitely road. Performing live is way more fun than being in a studio and trying desperately not to make any mistakes, take after take.
Any shows or albums coming up?
Just writing at the moment! Hoping to put out a full-length album in the next year or two.
Where can we follow you?
Instagram | Facebook | Bandcamp | Spotify
***
Rapid Fire Calgary Qs
Favourite local restaurant:
Ten Foot Henry
Favourite street in your city:
17th ave is always excellent for people-watching and tasty restaurants
Favourite park in your city:
Lindsay Park because it's got lovely views of downtown, lots of places to walk, and it's full of BUNNIES. I'm talking proper cute little white and orange and black bunnies not just hares.
Favourite music venue in your city:
For big shows the Jubilee, for smaller gigs Cathedral Church. We all know cathedrals have unbeatable acoustics
Favourite music store in your city:
Long and McQuade is always a reliable go-to, and the staff is always extremely knowledgeable.