The voice of Amy Bishop is a combination of the smoothness of the pavement and the gravel of the road, with the ability to charm listeners with her sweet tones; yet stun audiences with the ability to hit any high note. Hailing from Calgary, Amy Bishop began her music career around campfires, at block parties, and in the church choir. Knowing a career in music is no guarantee, Amy decided to practice other trades, but her passion for music prevailed, leading her to collaborations with Moby and opening for April Wine, Farmer's Daughter, and Chris Cummings. Most recently you may have seen her as a finalist on CTV's "The Launch" where she wowed the panel and won over the hearts of Canadians. Amy has an instinctive ability to craft stories into song and deliver them with sincerity and passion, all qualities that make her an undeniable Canadian talent.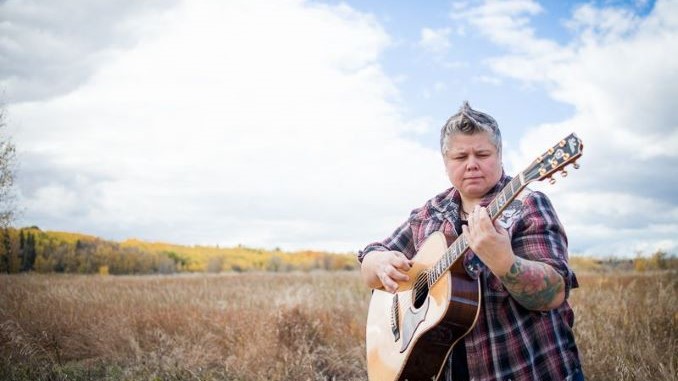 Name:
Amy Bishop
Genre:
Folk/Pop
Founded:
1973 (I know, I am an aged woman… I'm ok with it)
# of Albums:
8
Latest Album:
Perfect & Broken
Latest Single:
Shotgun
Latest Video:
Favourite musician growing up:
k.d. lang
Favourite musician now:
Mary Chapin Carpenter
Guilty pleasure song:
Dance Monkey – Tones and I
Live show ritual:
Set up, take some quiet time, then I go greet the audience before the show starts.
Favourite local musician:
Jenny Allen
EP or LP?
LP
Early bird or night owl?
YES… I love both but can't do both so generally, I choose Early Bird
Road or studio?
Road – Although I LOVE being in the studio. Being on the road allows me to personally connect with my audience.
Any shows or albums coming up?
I just released my 8th solo record, "Perfect & Broken" so I have some shows coming up to promote the new music.
March 16, 2022:
Palace Theatre
Daysland, Ab
Amy Bishop & the Hopeless Sinners
March 19, 2022:
The Pearl Showroom, Pure Casino – Yellowhead.
In partnership with Jennie Ogilvie
March 24, 2022:
Blues Can
Calgary, Ab
Amy Bishop & the Hopeless Sinners
March 26, 2022:
Sisters Bar & Grill
Lethbridge, Ab
In partnership with Jennie Ogilvie
April 9, 2022:
Airdrie Boys and Girls Club
Airdrie, Ab
In partnership with Jennie Ogilvie
Where can we follow you?
Website | Facebook | Twitter | Instagram | TikTok | YouTube | Spotify
***
Rapid Fire Calgary Qs
Favourite local restaurant:
Earls
Favourite street in your city:
9th Ave SE (Music Mile!)
Favourite park in your city:
Heritage Park – when I was a kid we would go there a couple of times a year, the whole family. When I started having my own kids I would bring them to heritage park almost weekly to ride the train and have picnics.
Favourite music venue in your city:
It's a tie between the Blue Can and The Ironwood Stage and Grill
Favourite music store in your city:
Long & McQuade