Carter Felker's songwriting is the embodiment of simplicity. Like the hammer and the nail, the tongue and groove or the wheel and its roll, his stringent and punchy use of words alongside his outstanding fingerpicking are as effective as they are memorable. Stories of hometown lore, love lost and bitter relationships steeped with a deep sense of humour are Felker's modus operandi. The ability to tell a story we all know, inside parameters we forget exist.
Working off of the success of his 2016 debut album Everyday Life, Felker put himself on the map in Western Canada. Sharing stages with Sam Outlaw, Valdy and Del Barber as well as playing regional festivals (Calgary Folk Festival, Blockheater, Tongue On The Post). Felker's songwriting has been picked up on by other roots artists during the 4 years since he arrived on the scene. Del Barber added Felker's "Everyday Life" to his Juno nominated 2019 album "Easy Keeper" and Alberta based country artist Shaela Miller sings "Good Woman" on her soon to be released LP Big Hair Small City (2021).
Felker and a small team of musicians spent 10 days in September of 2020 recording his latest offering Even The Happy Ones Are Sad (2021). Expanding on the central themes of heartache, unrequited love and hardluck losers. Behind his jaunty guitar strings and creative percussive arrangements, Felkers newest batch of tunes are as tragic as they are humorous. With an expected release date of fall 2021, Even The Happy Ones Are Sad, will help propel Carter Felkers name into the Canadian songwriting lexicon.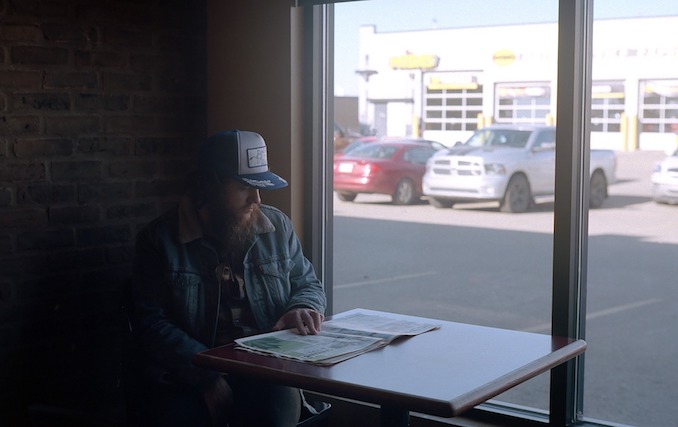 Name: Carter Felker
Genre: Folk/Singer-songwriter
Founded: August 13 2009
# of albums: 1
Latest Release: Everyday Life (2016)
Latest Single: I Can't Believe (Skinny Dyck & Friends – Twenty-One Nighters)
Latest Video:
Favourite Local Restaurant?
Cedars Deli Edmonton Trail location.
Favourite Band as a teenager?
Pantera
Favourite Band Now?
Barton Carroll
Guilty Pleasure Song?
Daniel Beddingfield – Gotta Get Through This
Live Show Ritual?
Staring off into space, being overly short with folks. I can't help it and it makes me feel bad, but the post show euphoria is pretty sweet.
Favourite Local Artist?
Amy Nelson
Nose Hill Or Fish Creek?
Honestly, I don't go outside a lot so it's unfair for me to say, I spend a lot of time walking around Ramsay and The Elbow River. I've spent more time in Fish Creek so it wins for me!
EP or LP?
LP
Early Bird or Night owl?
I get up as soon as my eyes open in the morning. I look forward to a cup of coffee and gazing out the window. I love the early morning hours, hope springs eternal.
Road Or Studio?
I love hitting the road, but after recording my last record I might have to say the studio! So fun to hear all the ideas the band would come up with!
Where Can We Follow You?
Instagram | Spotify | Facebook | Bandcamp
Any Shows or Albums Coming Up?
I'll be releasing my Sophomore Album "Even The Happy Ones Are Sad" in 2021 (Hopefully!)