Many parents of children with disabilities often wonder what may happen to their child in the future. This week we spoke to Dawn Leonard, Executive Director of PLAN Calgary, about how they are working to create a future where all people of all abilities are able to live a good life.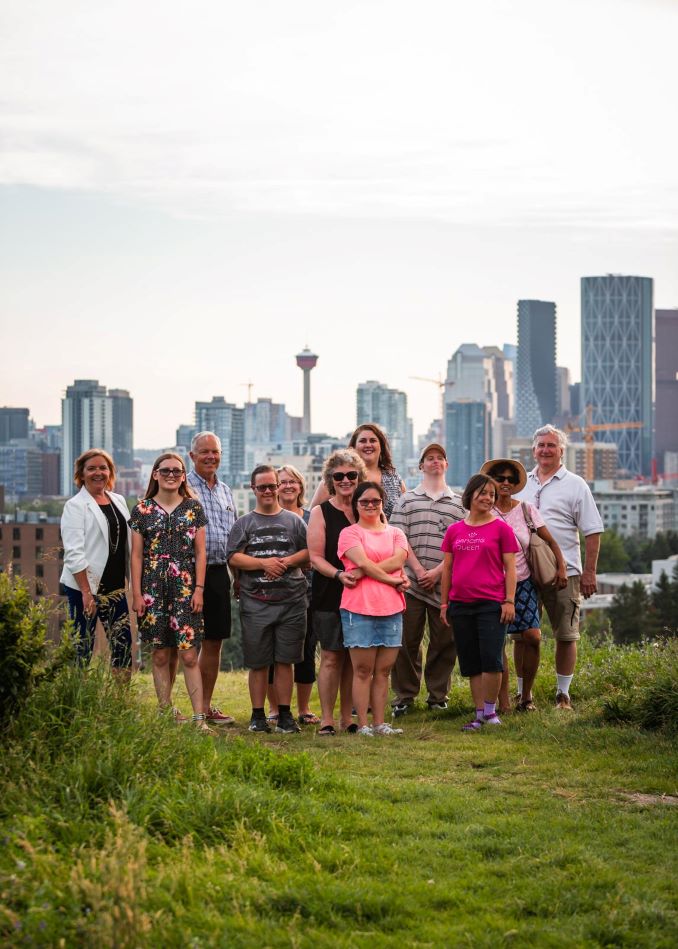 Describe your charity/non-profit in a few sentences. What problem does it aim to solve?
PLAN Calgary helps many parents in our community with the question "What happens to my loved one with a disability when I die?". This is not an easy answer or an easy process for families as they work through planning a life for their loved one when they will no longer be able to support them.
When did you start/join it?
PLAN Calgary was started by a group of founding families who in the early 90's came together to solve a complex problem. They were at a conference, heard about Planned Lifetime Advocacy Networks (PLAN) in Vancouver and asked themselves "Who wants to bring PLAN to Calgary?" Thus, our PLAN Calgary group was formed. This December marks our 20th year of operations and we are still connected with many of those founding families who continue to support our organization and plan for the future of their loved one.
What made you want to get involved?
I have always focused my career on serving in the not-for-profit community and because I have a daughter with a disability, this was a cause I was drawn to. While my husband and I have made plans about who will look after our daughter should anything happen to us, it is a complex challenge when one thinks about all that a guardian would need to know about her and her unique needs if we weren't around. We are blessed to have a large family and a natural support network, but that is not the case for many families. It would be frightening to think about the future if our daughter did not have this network of natural supports around her to ensure that she is safe and secure.
What was the situation like when you started?
PLAN Calgary had just voted in a new Board when I arrived and while our mission and vision has remained the same, the way that we were working in community on this complex issue has changed slightly over the years. There was, and still is, a strong network of families in place who are committed to ensuring their loved one has a safe and secure future. We are not a service organization, but one built upon leveraging the assets of community to create inclusive environments for people of all abilities. We work to activate caring people in our member's lives who can take on key roles now and in the future.
How has it changed since?
With the current global pandemic, it has been an extremely challenging year as our work is about building community in community. We had to quickly switch gears to meet with families and community online and add virtual programs for the individuals with a disability. We know that this year has been extremely difficult for them and they are feeling disconnected not being able to access community as they had before. However, we felt that it was important not only to provide a platform for our members to connect with each other, but also to continue to grow their social, communication and technology skills. Since then, our meetings look different, but we are also finding unexpected value to using online platforms that continue to build strong community around our members.
What more needs to be done?
First and foremost, we are all responsible to create communities where individuals of all abilities are accepted and are encouraged to share their unique gifts and abilities. Secondly, there needs to be an appreciation for families who are raising or supporting a loved one with a disability. These individuals are not only parents, but are also advocates, employment coaches, health liaisons, school navigators, and sometimes full-time caregivers. I asked one of our mom's once when she takes time for herself to just be an adult. She looked at me and said "There is no time for that, this is my life" and that was hard to hear. We often take for granted the time that we all take for our own wellness and we need to recognize that there are many people in the community who do not have the supports and resources that many take for granted.. When you see someone in the community with a disability, be kind to them, engage with them and above all, let them know that they belong.
How can our readers help?
While we do not recruit "volunteers" for our organization, if you have an opportunity to be involved in community that would support inclusion of our members, please reach out to me! We are always looking for people who can offer supportive environments for our members to be engaged through work and volunteering as well as social and recreational activities.
We are doing virtual meetings with our members right now, so if you have a talent or skill that you can teach someone with a disability, please reach out to me at ED@plancalgary.ca.
As for non-profit organizations, this has been a difficult year financially and every donation we get directly supports our families. Think of us if you are able to be make a donation this year, which can be done easily through our Canada Helps donation page.
Do you have any events coming up?
While we would love to have an event to celebrate our 20th anniversary, we are all cognisant of the restrictions in community right now so will not be proceeding with in person events until it is safe to do so!
On December 18th both the Calgary Tower and the Telus Spark Science Center will be light in honor of our anniversary!
Where can we follow you?
You can read more about our work through our website or follow us on Facebook and Instagram
PAY IT FORWARD: What is an awesome local charity that you love?
I would love to nominate URSA (Universal Rehabilitation Service Agency) as a local charity who is doing great work in supporting individuals with disabilities to live their best life in community!