Our future is comprised of our youth, so it is vital to help create a culture for them to better express themselves and feel comfortable with who they are. This week we spoke to Jake Stika, one of the founders of Next Gen Men, about how they're working to create a future where boys and men can experience less pain and cause less harm.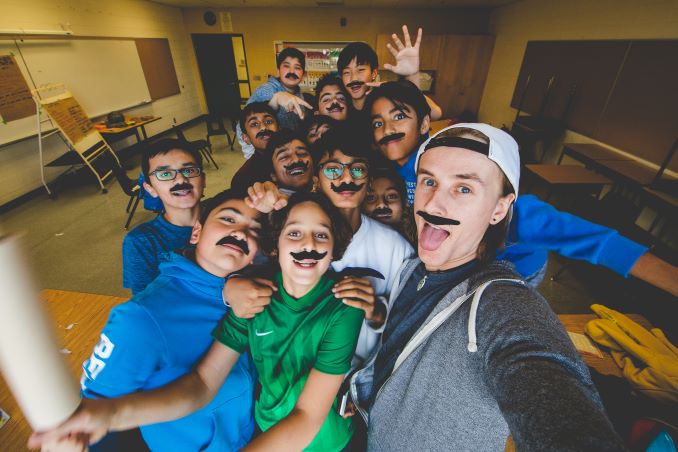 Describe your charity/non-profit in a few sentences.
Next Gen Men is working towards a future where boys & men experience less pain, and cause less harm by promoting positive masculinities, healthy relationships, mental wellness, and gender equity.
What problem does it aim to solve?
Today, men constitute 3 out 4 suicides, are the primary perpetrators of all forms of violence and aside from gender-based violence are actually the primary victims of violence, they die on average 5 years earlier than women due to a lack of health and help-seeking as well as increased risk-taking behaviours, as well as constituting the majority of substance abuse, homelessness, and incarceration populations.
When did you start/join it?
I am lucky to be one of the co-founders along with Jermal Jones and Jason Tan de Bibiana, back in November of 2014 (which feels like ages ago).
What made you want to get involved?
My personal motivation stemmed from my negative experiences of depression as a young man who was an all-academic varsity athlete and should have 'had it all'. The internal dialogues that I should 'man up, never ask for help, don't appear weak' were leading me to binge drink and self-harm. It wasn't anything anyone said to me, so it had to be the culture I grew up in and I wanted different for the next generation.
What was the situation like when you started?
When we started we were three knuckleheads who'd never done anything like this before. Quickly we found that boys were craving spaces beyond sports to talk about what manhood meant to them. We often say 'boys will be boys', but really boys will be what we give them the space to be.
How has it changed since?
We've grown! Next Gen Men started with a youth program in Ontario, and since then we've served over 2,000 youth. In 2016 we started hosting public discussions in two communities (Calgary & Toronto), and now you can join the conversation in seven communities (Vancouver, Edmonton, Medicine Hat, St. John's) across Canada as well as online. In 2017 the #MeToo movement brought an extra spotlight on the need to engage men & boys. And in 2018 we started working with leaders in male-dominated industries such as energy, finance, construction, and technology to lead inclusive and effective workplaces for people of all genders. In 2020, much like the rest of the World, we were dealt the COVID card and to the new normal we've pivoted our programming online and empowering folks to take on leading these discussions in their circles with things like Cards for Masculinity.
What more needs to be done?
Well, the patriarchy wasn't built in a day so there's lots more work to do but we're seeing the social zeitgeist around gender shifting rapidly. What keeps me up at night is the impending wave of automation that will hit male-dominated industries. Without upstream efforts to engage men in the possibilities of careers involving emotional labour, caregiving, and other traditionally female-dominated spaces we risk seeing further backlash in the forms of suicide, violence, and more. Over the past 70+ years we've had a brilliant conversation for, with, and about women's roles and identities in society under the banner of feminism – we need to do the same for and with men & boys.
How can our readers help?
If folks are interested in the types of conversations we're leading, one of the best ways to help and get involved is by becoming a Next Gen Menber (we know, the name is perfect and awful simultaneously). NGMenbers support middle-school aged boys to participate in NGM Boys Club during COVID-19 where we offer social connection, mental wellness supports, and a bit of an academic nudge so that whether they're in school or not they have the support they need to thrive AND NGMenbers receive access to a private (read: no trolls) online community of folks looking to redefine what it means to 'be a man', free admission to Next Gen Men Circle events, as well as exclusive discounts on NGM merch.
Do you have any events coming up?
Our next event on Masculinity & Substance Abuse on November 19th.
You can always find NGM Circle events on Eventbrite.
Where can we follow you?
Find us on our website and on all the socials @nextgenmen
PAY IT FORWARD: What is an awesome local charity that you love?
I'd love to shout out Oneball, Knights Cabin, Chic Geek, Leftovers Foundation, and Young Women in Energy as I don't know where I'd be without the support of those Executive Directors! They all do such amazing and inspiring work.