Four Feet Companion Foundation is a non-profit organization that empowers animal lovers and local registered charities to create a better life for companion animals. They award financial grants, volunteer support and supply donations to registered local animal charities so they can continue to rescue, save lives, find forever homes and promote responsible pet guardianship.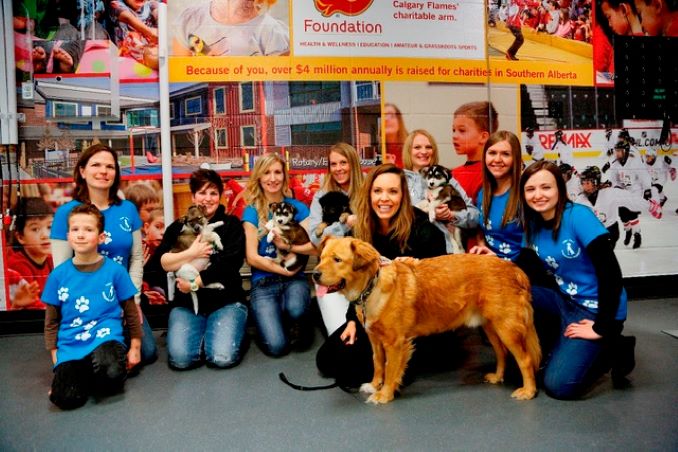 Describe your charity/non-profit in a few sentences.
Four Feet Companion Foundation is a registered animal charity that bridges the gap between a seemingly infinite need for animal welfare needs in Alberta and finite resources. We're dedicated to helping all companion animals (including dogs, cats, horses, rabbits, and even potbelly pigs) and are committed to ensuring each dollar has the greatest impact. As of November 2021, we've granted over $255,000 in funds and $60,000 in food and supplies to over 35 charities for causes like the wildfires, to establish a pet-friendly women's shelter, to help seniors afford their pets, and to save pets from hoarding situations.
What problem does it aim to solve?
There's a seemingly infinite need in the world of not-for-profit, combined with finite resources. We aim to provide life-saving resources for emergency situations and special projects that wouldn't be possible otherwise, ensuring that the door is never closed on an animal in need.
When did you start/join it?
We started in the fall of 2012 with a team of about five volunteers.
What made you want to get involved?
The senseless loss of a little Yorkie Cross, named Pumpkin, due to neglect & injuries gave light to a fund to raise money to help the always overwhelming demand for medical treatment of animals.
Knowing the need out there for helping homeless, abused and sick pets was motivation to start our foundation. In addition, this foundation gave us the opportunity to work with passionate, like-minded volunteers to make a difference and save lives! It's incredible to be part of a team of 100% volunteers working to make a difference for a cause we all care deeply about.
What was the situation like when you started?
We instantly realized how much we had to do! Our team of volunteers was smaller, but we realized the wide range of projects and emergencies that the great group of Alberta animal welfare groups face every day. Our first grant to fund a spay/neuter initiative in rural Alberta, and since then, we've funded spay-neuter projects, education projects, emergency aid, and feeding thousands of animals.
On a continual basis, we get calls from organizations in dire need. A friend once told me that saving animals is like catching raindrops. We are reminded of that on a continual basis. And we are thankful that we have been able to save over 11000 raindrops.
How has it changed since?
The pandemic has increased awareness of the benefits of having a pet in the family. Now that people are returning to work, many of these animals are being surrendered and there will be even more need. The changes in the economy have certainly had an impact both on families with pets and our mission.
The pandemic has taken a toll on our ability to host fundraising events. We've noticed an increased demand (even for pet food at various food banks), a more limited supply of donations and fundraising revenues, and, most inspiring, a sense of perseverance, innovation, and passion from the Calgary community. Our team has grown as we've welcomed new volunteers over the years, and our group is working tirelessly to bridge the gap and save more animals.
What more needs to be done?
Each individual can make such an impact in enriching the lives of animals, and in turn, enriching our lives. Certainly, opting to adopt from a shelter or rescue rather than shop for your next family member truly is a life-saving decision. Without politicizing what we do, we also need, as a society, to protect animals as sentient beings. We can all work together to advance animal welfare by researching and educating ourselves on animal welfare issues, advocating for those who don't have a voice, by donating, volunteering, and attending events.
How can our readers help?
Volunteer, Donate, and Attend – we love to meet new people! We're 100% volunteer-run and are always looking for people to join our team. As well, we certainly couldn't serve the community without the support of generous donors, and we have easy ways to donate on our website.
Do you have any events coming up?
Our fundraising events have been curtailed by the pandemic restrictions. We have a book drive starting November 3rd, we have an online auction happening soon, and we will be having another 50/50 draw in the New Year also.
Where can we follow you?
Connect with us on social media or visit our website.
Facebook
Twitter
Instagram
PAY IT FORWARD: What is another Calgary charity that you love?
There are so many great Calgary charities! We've worked with a number of inspiring animal charities so it's tough to pick just one; Rescue Friends is a fantastic, reputable and a rescue with heart and soul.