The Calgary Catholic Education Foundation provides enhanced learning opportunities through classroom and school grants. We spoke with Executive director Janet Lymer to find out more about them.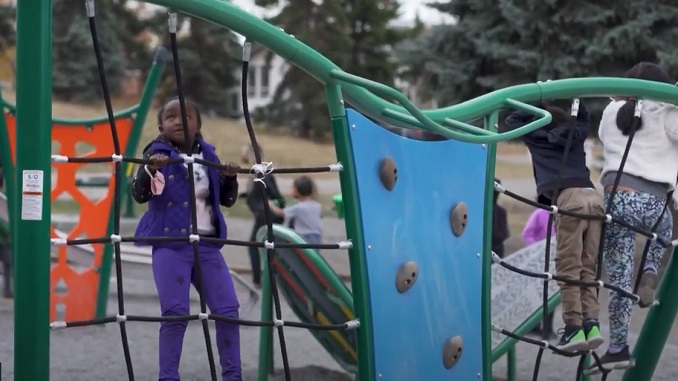 Describe your charity/non-profit in a few sentences.
Publicly funded Catholic Education in Calgary has been an integral part of our Alberta history for over 130 years and is rooted in the gospel of Jesus Christ. The Calgary Catholic Education Foundation supports the largest Catholic school district in the province, with 117 schools and 57,000+ students in the Calgary Catholic School District. The CCEF is a Canadian registered charity that provides enhanced learning opportunities through classroom and school grants. In partnership with our supporters and funders, The CCEF creates additional educational opportunities for Calgary Catholic youth to have the best possibility to succeed today and to become tomorrow's leaders.
What problem does it aim to solve?
The CCEF sees inequity in education, even in publicly funded education. Our goal is to ensure that enhanced learning opportunities such as access to technology, indigenous spaces, access to the arts, exclusive field trips such as Campus Calgary/Open Minds® and even safe playground structures are available to students in Calgary Catholic regardless of financial abilities of the local parent population.
When did you start/join it?
I joined in September 2018 and became the only employee of this small but mighty charity!
What made you want to get involved?
In 2006, Bishop Emeritus Henry taught Catholics that participating in Casino Fundraisers was a social injustice against families as it leads to addiction. That stance resonated with me: "if you don't stand for something, you will fall for anything." At the time, I was working in corporate marketing and volunteering with my children's school, which I continued to do so right up until my youngest graduated in 2018. By 2018, I had left the corporate world and worked in a non-profit as I felt my skills, including sales, would better serve the community than corporate shareholders. I was approached by a CCEF board member who invited me to meet with the board and gauge my interest in becoming their Executive Director. I felt a deep connection to the cause and believe this was God guiding me and showing me where my gifts could be best used for the betterment of society.
What was the situation like when you started?
In 2008, the CCEF was built by community members who wanted to bridge the approximately $2 Million void left by the Catholic schools no longer participating in Casino fundraisers. That is $2 Million in yearly casino funds Catholic schools are no longer accessing like their counterparts in the public school system. When I started in 2018, our nest egg had dwindled to approximately $350,000, we relied on a yearly second collection in November through the parishes on Catholic Education Sunday and one biennial raffle to fund roughly $125,000 annual grants that are provided to schools to support technology, social justice, safe caring and faith-filled schools, leadership citizenship and stewardship opportunities. There was no real social media presence, no subscriber base and a static website.
How has it changed since?
Since 2018, our presence across all channels has increased tremendously; we have a frequent newsletter, and we have created opportunities to engage with our supporters and donors through virtual and in-person events such as the CCEF 37th Annual District Golf Tournament coming up on August 23, 2022, at Blue Devil Golf Course. This past May, we held our Inaugural Gala, which was received as a "boost in the arm" for the attendees to see how the CCEF is positively impacting Catholic students. In the past, our biennial raffle consisted of prizes which are very laborious to acquire and not always attractive to the ticket buyer. Since 2020, pre-pandemic, we switched our raffle up to be a cash raffle. This saw a tremendous boost in sales as well as additional subscribers. As of 2022, when we held it online, our board has decided with the advances in technology and the way we have made this a turn-key opportunity, we will be offering it yearly. Now if we aren't supposed to participate in casinos how are we allowed to run raffles? It's simple really. In our raffles, there is a ceiling on the number of tickets sold and there is always a winner.
We've also worked hard to engage with the CCSD employees to switch their payroll donations from the ATA Foundation to support the CCEF. Our payroll donation request is no different than what happens in corporate Calgary with the likes of United Way and Benevity, both of which we are charity recipients. This continues to be a program we work on with CCSD as we are only achieving 12.5% of previous donations. However, given the tumultuous past 3 years of dealing with the pandemic, classrooms pivoting from in-person to online, and the rising mental health amongst students, we know payroll donations aren't top of mind for the amazing staff.
Since the pandemic, the need to support students and classrooms has increased. Students need access to portable technology to manage to go from in-person to online. Many households do not have multiple devices for their children so who takes priority in learning in that case? Our schools are looking to reach more students, especially BIPOC, and are working toward bringing in more meaningful materials such as library resources that are reflective of their school population. In the grant request from St John XXIII School this past year, they wished to reimagine their learning commons to be reflective of their school population and our Treaty 7 land. We have also seen an increase in schools needing to provide a school pantry to ensure students aren't facing food insecurity when schools are closed such as on weekends or Professional Development days. Not every family can afford for their children to partake in-school field trips, especially to a Campus Calgary/Open Minds® opportunity that goes out for a week to locations such as the Calgary Zoo, Telus Spark Centre and even the Mustard Seed. Large fundraisers, such as a playground structure, are not always feasible for a school parent council to undertake due to a smaller school population and parents working multiple jobs to make ends meet. That's where the CCEF comes in to help as we know to fundraise that level of money is out of reach.
What more needs to be done?
The CCEF is doing excellent work and has made great strides since 2018 but more work needs to be done. The reality is we are only able to grant 10% of what Education Matters provides to the Calgary Board of Education whose schools can still participate in casino fundraisers. Our largest hurdle is the perception that we are a religious entity. Often when we approach a corporation, we are declined on this basis. Publicly funded Catholic education is a right granted under the Canadian Charter and has a rich tradition in Alberta going back over 130 years. The CCEF supports the 3rd largest school district in the province and Catholic education continues to grow as a choice for parents. Corporations and businesses across Calgary, the province, and the country hire students who graduated from the 13 high schools in the district. So why won't they invest in them? It costs society less, in the long run, to fund students in K-12 than it is to support them financially through social programs later in life.
How can our readers help?
We would love to get an introduction to your company and see how we can work together! If you would like to make a one-time, monthly or even a donation of securities, we can help you with that through our website.
Do you have any events coming up?
The CCEF 37th Annual District Golf Tournament is on August 23, 2022, at Blue Devil Golf Course.
Where can we follow you?
Facebook | Twitter | Instagram
PAY IT FORWARD: What is an awesome local charity that you love?
Lupus Society of Alberta. This is a charity near and dear to me as my late mother was one of the longest-living Lupus patients (40+ years) and she is where I draw my faith and strength from.