Rümi is a new local business within the ATCO family of businesses that helps Albertans manage repairs, installations, maintenance, and other home improvement products. We spoke with Marshall Wilmot, President of Rümi and Chief Digital Officer at ATCO, to learn more about them.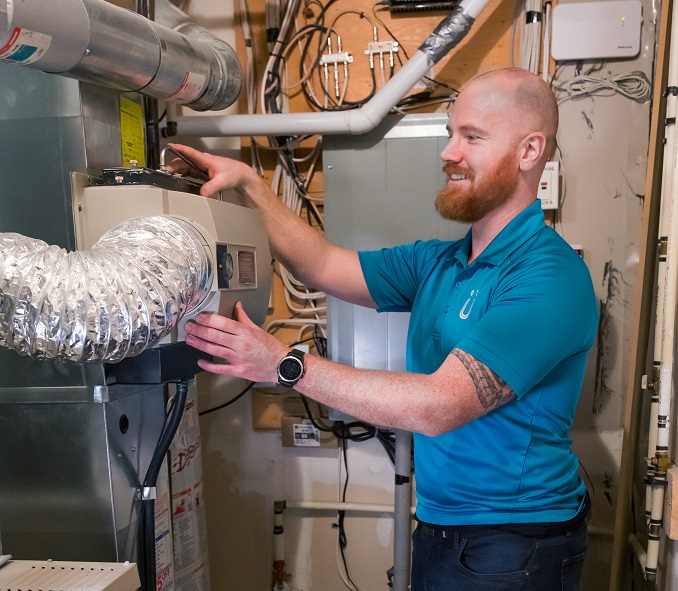 What is your business called and what does it do?
We made it our mission to empower our customers with happy, stress-free homes. But we knew we needed to go even further to support our customers in all aspects of home ownership. Enter Rümi — a new business within the  TCO family that helps Albertans manage repairs, installations, maintenance, and get products that help make the home even happier.
Rümi offers more than 78 home maintenance services through one convenient portal. When Calgarians visit rumi.ca, and they can feel confident in knowing all of the maintenance services we offer are provided by pre-vetted and reputable local service providers, meeting a strong set of standards outlined by the ATCO family.
What made you want to get involved in this business?
The opportunity to make a real, tangible difference when it comes to how people feel about their homes was a big motivator. Your home should be a place where you can relax and be completely yourself. But so many people also find it stressful or frustrating. I wanted to be a part of changing that.
But I'll be honest, the team we have here also motivates me. At every level of our business, our Rümineers strive for excellence and work hard to make sure we're providing something truly valuable for our fellow Albertans.
What problem did you want to solve with the business?
Our mission at Rümi is to help Albertans find home happiness. When you love the home you live in, you're able to do more and spend more time with the people that matter most to you. Homeownership can be stressful, but a well-maintained home can reduce that stress. So we're here to help with everything from regular maintenance solutions to special items like solar panel installation. No matter what home happiness looks like for you, Rümi is ready to help.
Who are your clientele/demographics?
Our clientele is anyone who wants help maintaining their home. Whether you're a working professional tight on time or need help aging in place, Rümi's vast selection of services can help you make the most out of your home. Rümi also offers maintenance, repair, heating, cooling and cleaning services.
How does your business make money? How does it work?
Rümi has partnerships with dozens of local service providers we know and trust. When you need help caring for your space, we provide a seamless and stress-free experience. When you book through Rümi, we guarantee a quality service at competitive rates.
Where in Alberta can we find you?
Rümi services Calgary and area, Edmonton and Lethbridge.
What is the best question a prospective customer could ask a member of your profession when comparing services? Give the answer as well.
Question: Why would I choose Rümi over directly going to the service provider?
Answer: With Rümi, instead of having a contact list full of numbers for different home services, you just have one number to call. And when you book a home service through Rümi, you book with peace of mind knowing the expert coming to your home has been carefully vetted by our team.
Rümi is also the place to get all of your home to-dos done at once. We have many service bundles that help you maintain your home all year long at the best value possible.
What is the best part about what you do? What is the worst part?
The best part of my job is helping people feel pride in their homes. When we launched this business in 2020, we set out on a mission to help people find home happiness and I'm thrilled to say I get to help people do that every day.
The worst part of my job is not being able to help more Albertans. We are really proud of the business model we have created with Rümi and we would love to provide it to other regions across the province.
What's your favourite joke to tell at work?
– Do you want to hear a great roofing joke? It's on the house!
– I bought a great new air filtration unit from Rümi…now it's just in my basement collecting dust.
What are your social media channels?
Facebook | Instagram | Twitter | LinkedIn
PAY IT FORWARD: What is another Calgary business that you love?
A local business I love supporting is the Habitat for Humanity Southern Alberta chapter.