Getting tired of the same old boring grey socks? This week's featured business is Sock Rocket! Their goal is to make your feet look awesome while giving back to the community.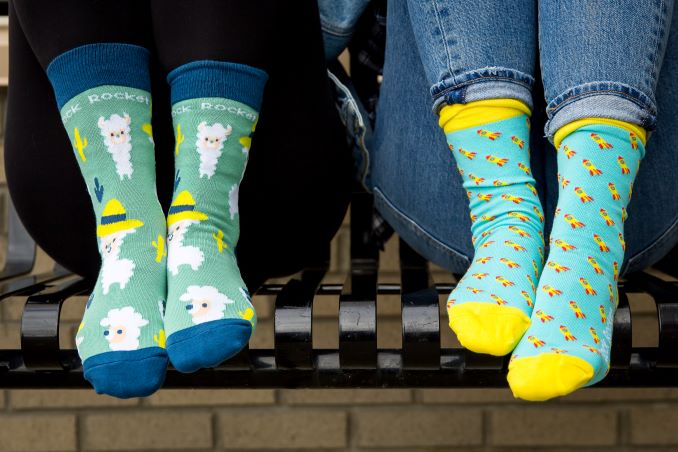 What is your business called and what does it do?
Sock Rocket is a Calgary-based funky sock company and social enterprise. We design and build awesome socks, and for every pair we sell we also donate three pairs to agencies and initiatives providing clothing to those in need.
What made you want to do this work?
A passion for social enterprise and a desire to try out the subscription business model. We wanted to run a business that did good things in the world as a main part of its purpose for existing, and we wanted to prove that it's possible to be profitable and socially responsible inside a small business model.
What problem does this solve?
Several. We're helping people express themselves through their wearables. Our socks are lots of fun, and we love putting smiles on faces, plus we get to donate thousands of pairs of socks to those in need as well! A big part of the problem we're trying to solve is the misconception that a social enterprise is basically a charity that doesn't turn profits. We're doing our best to show the world it's the opposite!
Who are your clientele/demographics?
Anyone with feet who loves smiles and doing good things with their dollars.
How does your business make money? How does it work?
We sell our socks online, as well as at markets and events, and in many stores across Canada. We also do custom socks for businesses and organizations of all shapes and sizes!
Where in Calgary can we find your profession?
You can find us online, and at most large pop-up markets! You can also find our socks at several awesome yyc shops.
What is the best question a prospective customer could ask a member of your profession when comparing services?
What do you do for our community?
Sock Rocket donates three pairs of socks for every pair we sell. We have a wide range of agency and initiative partners across the country, and alongside the donations we provide, we also do our best to help them spread awareness about their organization. We are doing our best to promote the benefits of social enterprise.
What is the best part about what you do? What is the worst part?
The best part of my job is definitely dropping off donations and meeting / chatting with the awesome humans who run our partner agencies and initiatives. The worst part is probably carrying and moving heavy boxes! Yes, socks get heavy in large quantities…
What is your favourite joke about your own profession?
Socks and sandals! We ALWAYS encourage people to do it. Why not?!
PAY IT FORWARD: What is another Calgary business that you love?
Hanni's Pizza!