I was able to encounter and take in Barbara Bickel 's beautiful art in process, before I met her in person. Attending the University of Calgary for our BFA programs, we were unknowingly both working on wood surfaces, being inclusive of the rhythms offered up by the wood grain. In a critique, a professor mentioned that I should visit the painting studios to see the work being done by another student, as we shared this similar ground. We would end up sharing more common ground over the years, and for that I am deeply grateful. That was in 1991, and here we are in 2019, still creating in our lives, our studios, and in the world.
Interested in intersectionality, creative expression, feminist collaboration, and spirituality, our paths crossed again not long after she graduated. Barbara was an energetic force, the dynamic and flexible backbone, that helped bring into being The Centre Gallery in Calgary. This became a space where ritual, performance, music, community gathering, healing, poetry and visual arts all informed one another and were able to coexist and be welcome. This gallery was the only gallery in Calgary to shine a light on women artists so conscientiously, by requiring 70 percent of each show to involve women's work.
Barbara invites people of all experiences, education levels, genders, faiths, ages, cultures and artistic leanings into her circle. She always has. She is receptive to alternate ways of thinking, exploring, seeing, and presenting the embodied complexity that makes us human. She realizes and enacts the connections between humankind and all of the sentient forces that people like to simply call Nature. She makes these connections explicit through movement, sound, language, mark-making, observation and intention.
Through moves from Alberta to British Columbia to Southern Illinois, her capacity for learning and mentorship continued with graduate studies and completing a PhD in Art Education at UBC. Throughout these times, her art as research pushed traditional boundaries and expanded into ever more mediums. Sense of place became important, wherever she was. Present imaginings, enlivening and conversive with those around her-what can we explore together in this time of now, threads through her work. She has made differences in the lives of many artists and educators, and has been shaped in turn by participation in their worlds.
Barbara is resilient. She adjusts and changes in response to ongoing reformations. What does re-establishing community look like in each new place? How might she work both within and outside of systems to make forward shifts, despite criticism, lack of resources, and sometimes apathetic will? How does process become as important as the end result? When is it time to make another major shift in role or self-concept? How does one find solace?
Barbara shows how it can be done; not without work, effort, struggling or striving to be sure. She has shown me that sometimes the most healing acts are to create ritual altars in old growth forests, weave community through the acts of dreaming, reflecting, and creating together, or to simply sing and pay homage to extraordinary trees as they support us in our journeys on this earth. I am so glad she has chosen to move back to Calgary.
-Written by dear and long-time friend of Barbara Bickel – artist, drag king and guide for those in life transitions, Shannon MacKinnon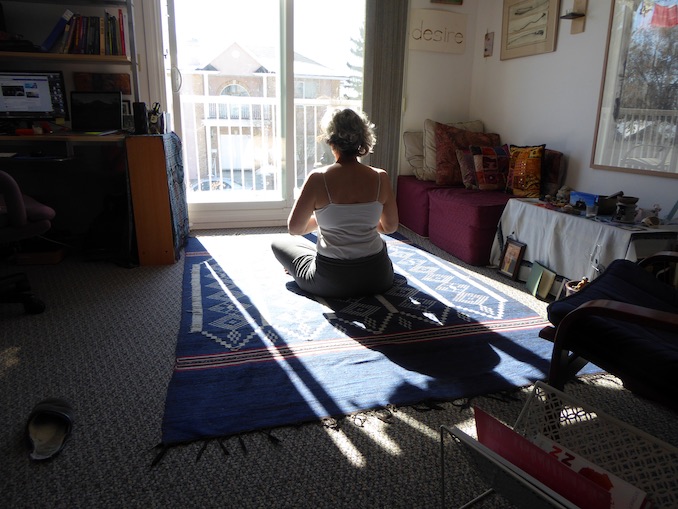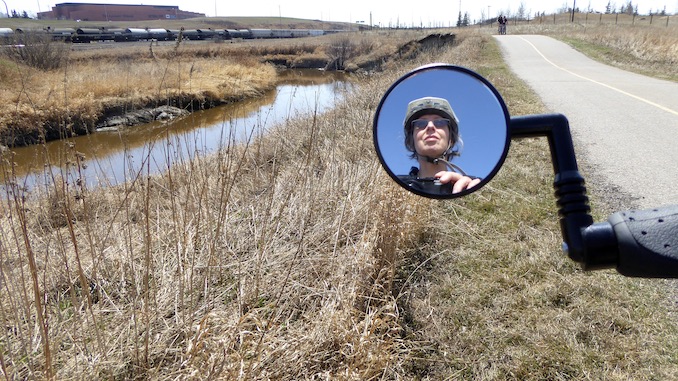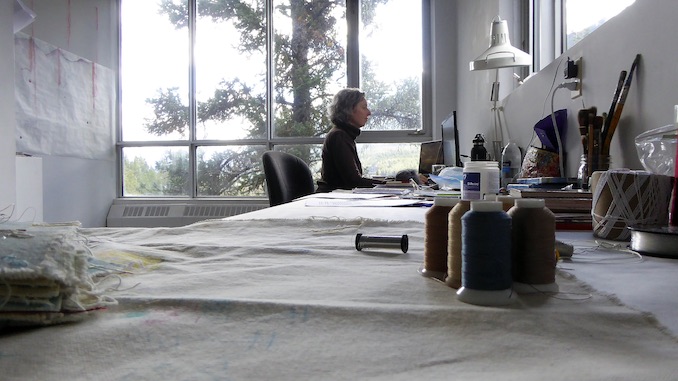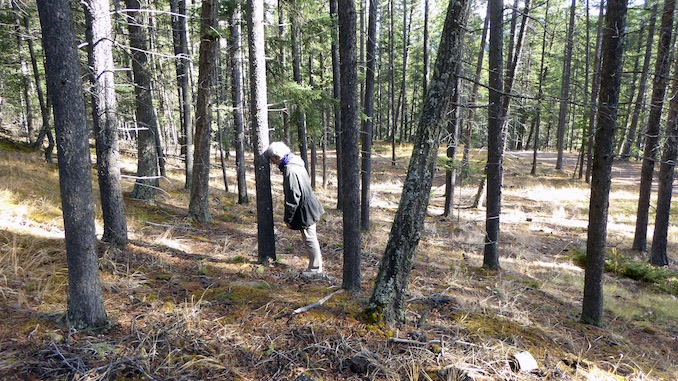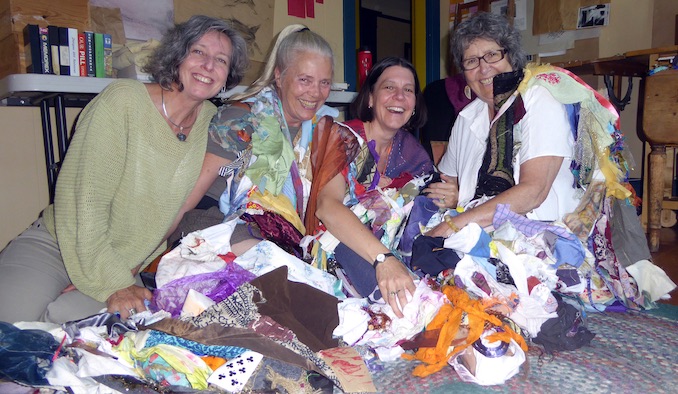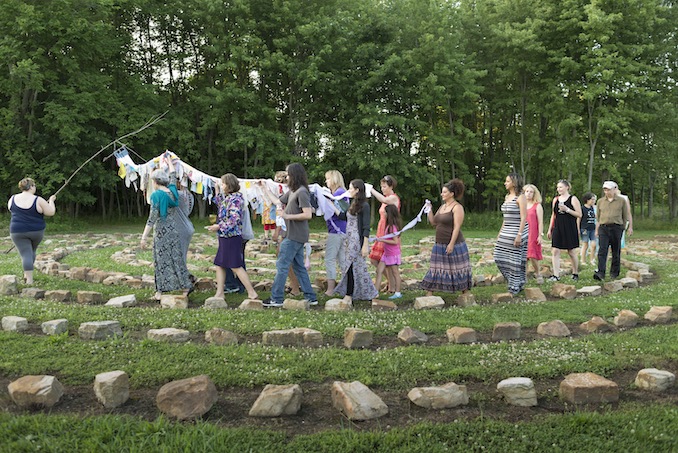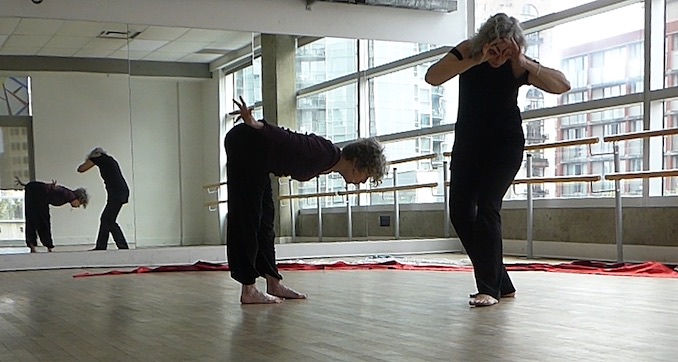 What 'hood are you in?
I feel very lucky to live in Bridgeland with the beautiful Bow River escarpment behind me and the river in front. Across the river I share a studio with my life-partner R. Michael Fisher in Beltline in the historic McHugh House, an emerging Community & Arts Hub run by the Beltline Neighbourhood Association. Both are new neighbourhoods to me and I am loving getting to know each of them. In addition, I am grateful to be learning about the Treaty 7 lands I am living on, a treaty that 20 years ago, as an emerging artist in Calgary, I knew nothing about.
What do you do?
Making art as an inquiry process into all aspects of life has led me into multiple creative paths. I am a socially-engaged multi-media artist who creates with video, sound, textiles, drawing, installation art, performance ritual, place, humans and more-than-humans.
Presently, I am in transition from teaching art in the US full time, to co-creating an independent collaborative research creation lab called Studio M* where art, culture and healing intersects. Through Studio M* I make art, write, teach, host visiting artists and speakers, have weekly public drop-in home library evenings, and explore and share what it is to live in the framework of a gifting/healing economy.
What are you currently working on?
I have many diverse projects at play currently. I am fortunate to be working on a second performative ritual-based collaboration with Vancouver-based artist and dance therapist Tannis Hugill. As descendants of European settlers we are wit(h)nessing each other in movement and trance processes in the studio to make connection with and heal broken lines in our ancestral lineages. In particular for me, I am working to strengthen broken female ancestral lines. This is a long term project that will culminate in public performance rituals that we plan to perform in Calgary, Vancouver and other cities.
Related to my passion for art, trance and ritual I am excited to have just signed a contract with Palgrave Macmillan to write a book on the place of trance, ritual and Arts-based inquiry as relational learning within liminal spaces. I am also an editor and working to complete the 2019 special issue of Artizein: Arts & Teaching Journal entitled An Arts-Based and Contemplative Pause. An open access on-line journal that I hope reaches far and wide.
In June I am excited to be part of the New Forum Magazine, a 2019 iteration of the Forum – a women's writing and art magazine that was published in Alberta until the early 2000s. The New Forum launch, hosted by the publishing team of Lisa Murphy-Lamb and Silvia Pikal, is on June 22 at 7pm at The Loft in Calgary.
With my return to Calgary after 20 years, I have been working with my life-partner Michael in the development of Studio M* as a place/space for artists, thinkers, researchers, writers, healers and makers to gather, meet and explore the transformative possibilities of art/inquiry/learning practices so needed in the world today. The M stands for Matrixial, inspired by the maternal borderspace(s) theory of artist philosopher Bracha Ettinger. The * stands for all other words that M may stand for in an environment committed to radical life-generating and restorative practices.
Where can we follow you?
I can be followed at www.studioM.space as well as @studiomatrixial, to see my art and writing go to my website www.barbarabickel.ca. My collaborative projects with the artist collective Gestare can be found at www.gestareartcollective.com. To access the Artzein journal you can go HERE.