Our Homegrown Business this week is Friday Sock Co. which was established in the spring of 2014 and launched in January 2015. The company was born from the desire to create a unique, "purposely mismatched" design concept that didn't exist in the marketplace.
Each pair of their purposely mismatched socks are designed in Canada, and ethically made in Italy using high-quality OEKOTEX® Egyptian Combed Cotton and G.O.T.S. certified Organic Combed Cotton. Friday Sock Co's soft cotton yarns are tested for harmful materials and produced in an eco-friendly environment.
Friday Sock Co. strives to create one of a kind sock patterns that make people smile. At their core, Friday Sock Co. want to make fun socks and inspire people to embrace their individuality.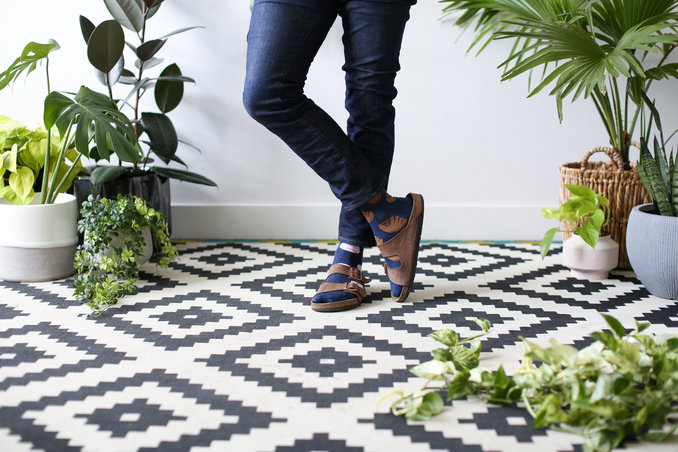 What is your business called and what does it do?
Friday Sock Co. We design purposely mismatched socks and ethically make them in Italy using OEKOTEX certified combed cotton.
What made you want to do this work?
I like to explore the relationship of things and incorporate them in fun designs. Socks is a byproduct of our main mission.
What problem does this solve?
Our socks allow people to express themselves in a unique way, and because we ethically make our product, they can do so in while being kind to the environment.
Who are your clientele/demographics?
Anyone with feet!
How does your business make money? How does it work?
We sell primarily through our website and are in over 400 retail locations in Canada/US and as far away as Japan. We also run a monthly subscription and make custom socks for small and large companies.
Where in Calgary can we find your profession?
In Calgary we can be found at Crafted in the Farmers Market, Lukes Drugmart, Kent of Inglewood, Purr Clothing, Land and Sea, and Steeling home.
What is the best question a prospective customer could ask a member of your profession when comparing services?
Where is the product made, by who, and out of what?
What is the best part about what you do? What is the worst part?
Best part of what I do is strategizing and exploring ideas/opportunities to grow (both as a person and an entrepreneur). Worst part is working 16 hours a day during our busy season.
What is your favourite joke about your own profession?
I used to have a few jokes about matching socks, but I lost one
PAY IT FORWARD: What is another Calgary business that you love?
Calgary – Routine, Little May Papery (my wife's company), TWT Group, Buttercream Clothing, Partake, Ace Class, etc.
Head over to Friday Sock Co. to find out more