Ana Ecal and Jaline Qureshi operate a 'Homegrown-Business'… literally! They arrange incredible flower bouquets, service weddings, functions and events, provide special floral arrangements, as well as run a kid-friendly small Cafe – that serves vegan superfoods! We spoke with Ana and Jaline to find out more about Besties Floral Cafe, in Crescent Heights, Calgary.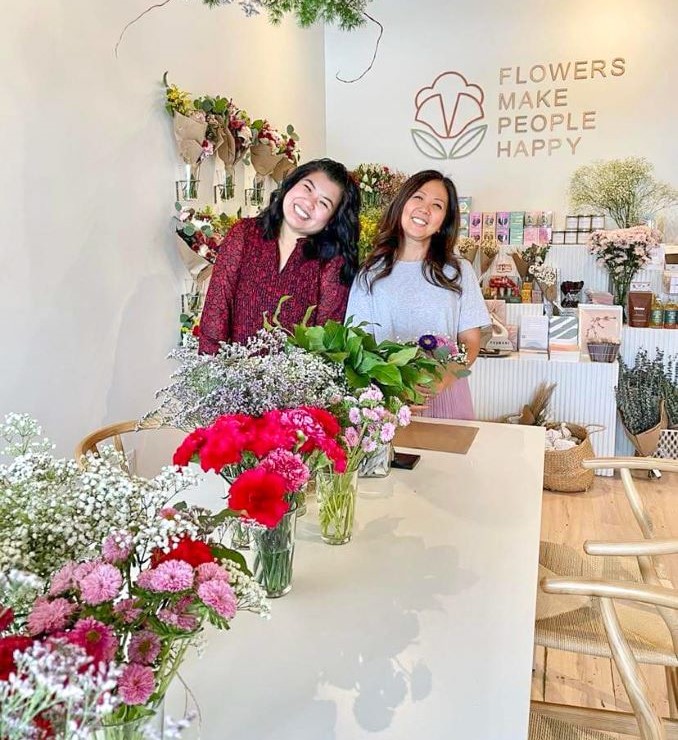 What is your business called and what does it do?
Our business is called Besties Floral Café. Our shop sells grab and go hand tied bouquets, various floral-inspired gifts, a selection of dried bouquets and a micro café that offers lattes that are vegan superfood blends with benefits. We also share the space with the owner of a local toy shop called Cherry Tree Lane Toys.
What made you want to do this work?
Ana: I come from a wedding planning background. While doing weddings I always enjoyed the flower arrangement element of doing events. When Covid hit Calgary in 2020, big weddings and events got cancelled and it really gave me the chance to adapt and see if I could pursue my dream of owning my own floral shop.
Jaline: I am a mother of 4 young kids that always had a dream of owning a cute kid-friendly café where I can meet up with other mom friends in a bright and instagramable space. One day Ana and I were having drinks at a pub and we were both talking about our dreams of owning a floral shop and me a café. We joked about how we should meld our business ideas together and ideas started growing like wildflowers and from there it was no joke we were 2 women on a mission.
What problem did you want to solve with the business?
We wanted to be a one stop shop for flowers and gifts while creating an inviting and aesthetically pleasing environment. We wanted to eliminate the overwhelm of flower choices by creating bouquets that are affordable and at the same time not the average grocery store flowers. We wanted flowers to be readily accessible to celebrate those big and small moments.
Who are your clientele/demographics?
Our clientele are mainly Gen Z and Millennial women that love giving unique and insta-friendly gifts to their besties for any occasion. However, our flowers are for everyone.
How does your business make money? How does it work?
We make money by selling ready-to-go and custom floral arrangements, retail gifts, floral-inspired drinks, Blume lattes and sweet treats.
Our space is also designed to host workshops with the ability to rent out the space for private micro-events.
We are also not limited to our retail shop. We have experience with wedding and event floral arrangements and installments.
Where in Calgary can we find your profession?
We're located at 920 Centre St N in the community of Crescent Heights
What is the best question a prospective customer could ask a member of your profession when comparing services? Give the answer as well.
What style of flower arrangements do you make?
We love to use flowers that are in season on our every day and baby bouquets to keep costs low. We are very thoughtful with the colour and most importantly the movement of the flowers. As for Custom arrangements, show us your inspiration or ideas and we are always up for the challenge to make your dream bouquet within your budget.
What is the best part about what you do? What is the worst part?
Best part of doing what we do is connecting with people in our community. We get fully immersed in their stories for why they are gifting the flowers whether it is for happy occasions or those sad moments (we have a crying corner for those ones). We sometimes cannot believe that this is our job-creating bouquets and putting together gifts for people.
Worst part is definitely the dry hands from washing them all day and removing thorns from rose stems not fun.
What is your favourite joke about your own profession?
Client: "I am looking to make someone happy"
Florist: "That can be arranged"
What are your social media channels?
PAY IT FORWARD: What is another Calgary business or charity that you love?
Cherry Tree Lane Toys – Bekki Leon curates the coolest and most sustainable toys! She works with suppliers that have shared values of quality, aesthetics and fun.