StumpCraft design and create wooden jigsaw puzzles. We spoke with Jasen Robillard, Founder, Creative Director and Puzzle Designer, to find out more about what they do.
What is your business called and what does it do?
StumpCraft designs and crafts artisanal wooden jigsaw puzzles in Calgary. Our laser-cut puzzles feature Canadian fine art and illustrations from across the country. I intentionally design the puzzles to include whimsical, thematic shapes that relate to each featured work of art. As many people have rediscovered over the last few years, puzzles are a fun way of engaging with art, while also helping to upgrade our problem-solving skills. Our fans often use them as catalysts for family quality time and healthy mental resetting. Our puzzles are metaphorical invitations to slow down, to observe the big picture and the details, so we can become familiar with those Canadian elements that connect and bind us together.
What made you want to do this work?
As an avid puzzler myself, I used to purchase wooden puzzles from the US. Customs and exchange rates made the prospect of further orders unappealing to me about a decade ago. Since the recent surge in puzzle interest, the market has also been flooded with poorly made, knock-off puzzles. I wanted to provide access to heirloom quality, Canadian-made puzzles for the discerning puzzler and art lover.
I've realized over the last 5 years that I was also craving a creative outlet. Through my design process, I get to explore Canadian themes, landscapes, and artists that I wouldn't have had the chance to do otherwise.
What problem did you want to solve with the business?
Canadian art deserves expanded and more diverse exposure and I see puzzles as a great medium to accomplish this goal. We love introducing our puzzle patrons to Canadian artists they haven't heard of before.
I personally enjoy going into art galleries & museums. Every time I do, I expose myself to the amazing homegrown talent we have across the country. Aside from the in-the-moment awe, I'm generally forced to leave these galleries empty-handed. I wanted to create engaging and playful art that could be enjoyed within an intimate home setting with friends and family. Our puzzles allow people to take a piece of Canada home with them, enjoy the art again and again, and build lasting memories through playful exploration of the art in puzzle form.
Who are your clientele/demographics?
The puzzling (and gift-buying) crowd tends to slant 60/40 towards women. The recent resurgence in puzzle popularity has shifted our clientele a bit towards a younger demographic but the core is still in the 30-65 year range.
How does your business make money? How does it work?
We sell our puzzles at our workshop, fulfill online orders via our e-commerce website and will be attending a number of craft markets including Art Market at the Telus Convention Centre, Spruce Meadows International Christmas Market, Market Collective at the BMO Centre, as well as Circle Craft in Vancouver, and Signature Originals in Ottawa. We are also expanding our list of approved wholesale resellers across the country.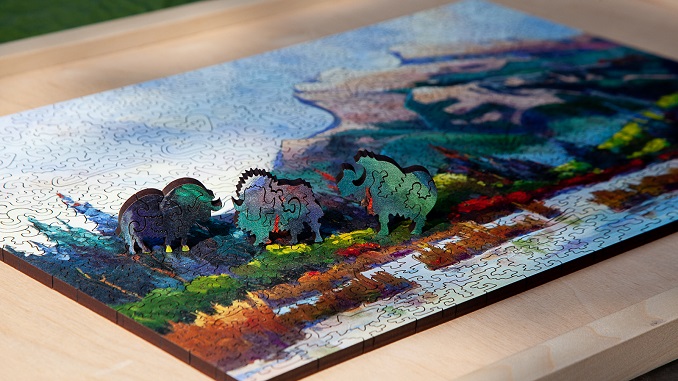 Where in Calgary can we find your store?
We have a small showroom and puzzle gallery at the front of our Calgary workshop. You can find us at Bay D2 – 6115 3 Street SE in Calgary. We are open for browsing, admiring and local pickups Monday – Friday from 9:00 am to 4:00 pm.
What is the best question a prospective customer could ask a member of your profession when comparing products? Give the answer as well.
What sets StumpCraft puzzles apart?
Our focus on Canadian fine art and illustrations. Our thematic, whimsical pieces and puzzle patterns designed by human hand. Our best-in-class heirloom quality puzzles are entirely made in Calgary. Our community of patrons supports artists and local craftspeople.
For what it's worth, first-time StumpCraft puzzlers often describe their first experience as 'mindblowing'.
What is the best part about what you do? What is the worst part?
By far the best part is hearing about the meaningful moments and connections that our puzzles engender in people's lives: kids willingly turning off their cell phones and game devices to spend quality with their parents; new family traditions being made; puzzlers appreciating the themes and hidden easter eggs I throw into each design.
For an introvert like myself, the biggest challenge is marketing within the attention economy and the negative aspects of social media. For a business that intentionally invites people to slow down, unplug and connect with art and people at the table, it's tough to engage authentically in effective marketing that doesn't add more noise to an already noisy world.
What is your favourite joke about your own profession?
Why did the young Buddhist monks struggle to complete the jigsaw puzzle?
They lacked the inner piece.
What are your social media channels?
Facebook | Instagram | LinkedIn
PAY IT FORWARD: What is another Calgary business that you love?
Just one?!
We have so many great local coffee roasters but I've never been disappointed with Five'21 Roasters. And when I'm looking to buy flowers, I always to go Elli at Small Flower Floral Studio.