Steel & Timber started with a banjo, an acoustic guitar, and a summer evening jam in Calgary, Alberta. Founding members Nathan Harris-Thompson and Benjamin Rogalsky expected to play some covers, share some ideas, and enjoy the outdoors. What they didn't expect was an audience. With requests for albums, future performances, and a guitar case full of tips, the duo branched out and started a band.
After releasing albums Homebrew in 2015 and Everything You Own in 2017, husband and wife duo Navarro and Stephanie Ralph, joined the group in 2020 adding the drums and bass to Steel & Timber's self-titled 3rd album, which is set for release on May 28th, 2021.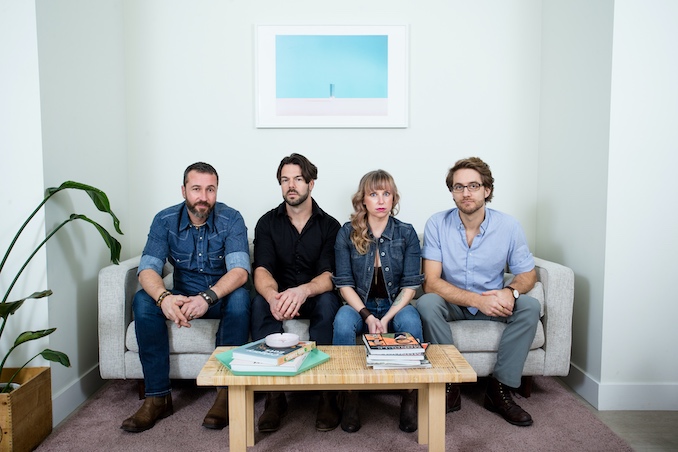 Name: Steel & Timber
Genre: Alternative Country Folk and Roots
Founded: 2015
# of Albums: 3
Latest Release: "Steel & Timber" – out on May 28, 2021
Latest Single: 'Slow Down' – released on May 7th, 2021.
Band Members
Nathan Harris-Thompson – lead vocals, banjo, acoustic guitar, ukulele
Benjamin Rogalsky – acoustic guitar, back up vocals
Navarro Ralph – bass, acoustic guitar, back up vocals
Stephanie Ralph – drums
Favourite Local Restaurant:
Nathan: The Nash
Nav: The White Elephant
Ben: The Nash
Favourite band as a teenager:
Nathan: Tool
Nav: Soundgarden, Rage Against the Machine, Nitty Gritty Dirt Band
Steph: Pearl Jam – was there another band?
Ben: Red Hot Chili Peppers and Led Zeppelin
Favourite band now:
Nathan: Tool, but also The Avett Brothers
Nav: Chris Stapleton
Steph: Lake Street Dive
Ben: Father John Misty
Guilty Pleasure Song:
Nathan: Dance Monkey
Nav: All the Single Ladies
Steph: Dog Days are Over
Ben: Send My Love, covered by I'm With Her. Love that bass groove.
Live Show Ritual:
Nathan: Make a band member laugh!
Nav: Tune, tune, tune, tune ….
Steph: Sparkle eye shadow.
Ben: Show up early to scope things out and grab a beer or coffee depending on the gig.
Favourite local artist:
Nathan: I Am The Mountain, Thomas Thomas
Nav: The Northern Beauties
Steph: Mariel Buckley
Ben: T. Buckley
Nose Hill or Fish Creek?
Nathan: Fish Creek kind of has it all.
Steph: Fish Creek
Ben: Fish Creek
EP or LP?
Nathan: LP
Nav: LP
Steph: EP
Ben: EP – short and sweet.
Early bird or night owl?
Nathan: Early Bird
Nav: Early Bird
Steph: Early Bird
Ben: I like sleeping in and then going to bed early.
Road or studio?
Nathan: Road, or live in town, anywhere really!
Nav: Studio
Steph: Studio
Ben: I'm just happy to be playing, but prefer playing shows.
Where can we follow you?
Instagram | Facebook | Twitter
Any shows or albums coming up?
Nathan: Our third album "Steel & Timber" is out on May 28th, 2021. Hard to say how we'll showcase the release right now though.
Nav: Jesus I hope so.
Steph: Starting to feel like I'm living in Footloose here!