The Epilepsy Association of Calgary is a local, charitable organization that has served Calgary & the area since 1955. They provide Support & Community Education Programs aimed at addressing the impact of epilepsy & reducing fear & misinformation. We got a chance to speak with Emily Dixon and Laura Dickson to learn more about their organization.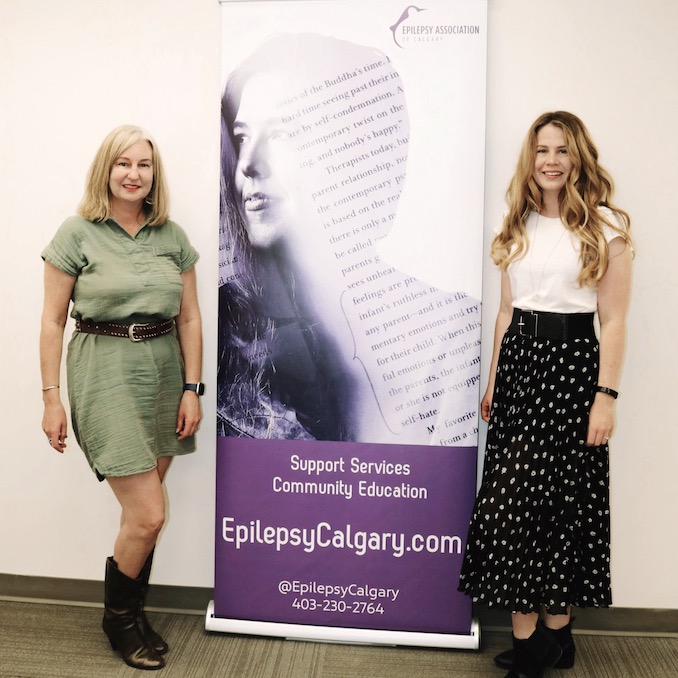 Describe your charity/non-profit in a few sentences.
The Epilepsy Association of Calgary is a charitable social service agency established to address community, individual, and family needs related to epilepsy. We are a group focused on building a community to support individuals who have epilepsy and their individual support networks. Through this community building, we provide educational resources to both schools and places of employment as well as create and manage support groups and programs.
What problem does it aim to solve?
To support independence, quality of life, and community participation for those with and affected by epilepsy.
When did you start/join it?
Emily Wein, Marketing and Communications,
I joined The Epilepsy Association of Calgary in 2020.
Laura Dickson, Executive Director: I joined the Association in December 2019.
What made you want to get involved?
Emily Wein: I wanted to help impact positive change within the epilepsy community. I have always been highly motivated to help others and working at EAC allows me to do just that, it's very rewarding.
Laura Dickson: It was immediately evident to me that the community surrounding the Association was strongly committed to changing the conversation about epilepsy, to removing the barriers that can exist for those with a diagnosis of epilepsy. I saw the potential to contribute to the wellbeing of people living with epilepsy through the Association's model of supports, education, and advocacy. So far it has been very rewarding.
What was the situation like when you started?
Laura Dickson:
The Association was at a turning point in its operations when I joined. The volunteer Board of Directors was in the process of attracting new and qualified talent to help revive the operations of a 65-year-old organization. The Association had experienced a crisis when it lost a major funder in 2017 and needed to re-tune its program and service offering in order to attract new donors, supporters, and volunteers.
How has it changed since?
Since joining and despite weathering some unprecedented headwinds resulting from the Global Pandemic, the organization has strengthened its team, putting in place a new Program Manager who was instrumental in carrying out a community needs assessment. What we learned from this assessment plants the seeds for future growth and a strengthened program and service offering. Over the past 18 months, we have invested in improving our connections with local clinics and with other Associations across Canada. We have also proven our ability to deliver programs, services, and high-quality workshops online welcoming guests and participants from across Southern Alberta and in some cases, across Canada.
What more needs to be done?
When we look at an ideal society, where each person sees opportunity, at EAC we are always looking to improve the experience of individuals who have epilepsy so our work will never be complete until the underlying fear and stigmatization of epilepsy is addressed.
In a more concrete sense, it would be great to see more places of business accommodate employees who have epilepsy. The financial security and independence of Canadians with a disability should be the highest priority. It would be wonderful to be able to identify and celebrate businesses employing people with epilepsy.
How can our readers help?
By helping us to increase general public awareness. This awareness helps to reduce the social stigma endured by many individuals with the condition and to empower individuals living with epilepsy to take action in their communities.
Our income has been heavily impacted during the coronavirus pandemic and it's now more important than ever that we keep the conversation about epilepsy going – if your reader are able to donate to our cause or able to run a third-party fundraiser that would be excellent. Learn more here https://epilepsycalgary.com/get-involved/other-ways-to-give/
Do you have any events coming up?
In Canada, we observe March as Epilepsy Awareness month and March 26th in particular as "Purple Day" for Epilepsy Awareness. Watch as landmarks like the Calgary Tower and Telus Spark turn purple at sunset – just as landmarks across Canada and in many other nations do likewise.
Where can we follow you?
Facebook: @epilepsycalgary
Instagram: @epilepsyassociationofcalgary
Website: https://epilepsycalgary.com
PAY IT FORWARD: What is an awesome local charity that you love?
Branch Out Neurological Foundation is an amazing organization that helps people impacted by a neurological disorder – one of which is epilepsy. The work being done by organizations such as this contribute to a world that is more inclusive and where innovation in the field is of the very highest priority.
https://www.branchoutfoundation.com