This Caramel Banana Truffles recipe is created by Kate Mineeva, the chocolatier and owner of Konfeta Chocolaterie, a Calgary-based artisanal chocolate shop that focuses on handcrafted excellence, artistic presentation and premium ingredients when making their confections.
The recipe was inspired by the beloved Banana Bread. With each bite, you'll experience the rich taste of the luscious milk chocolate ganache flavoured with caramel and ripe bananas, creating a harmonious balance of sweetness and creaminess. This artisanal creation is a true indulgence for chocolate lovers seeking a unique and memorable confectionery experience.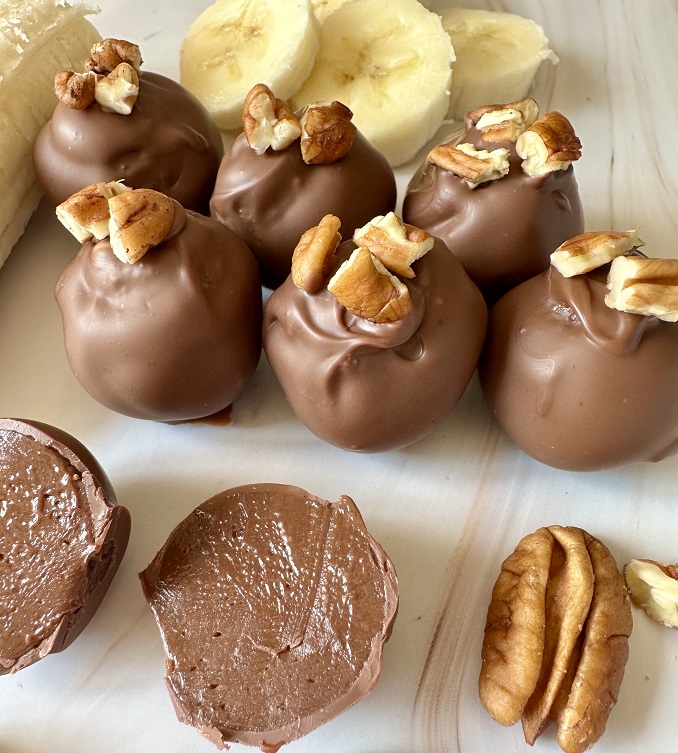 Caramel Banana Truffles
Yield: approx. 28 truffles
Ingredients:
Sugar – 50 g
Whipping Cream 33% – 90 g
Milk 2% – 10 g
Bananas (mashed into puree) – 60 g
Milk Chocolate (*1) (chopped into small pieces) – 340 g
Unsalted Butter (at room temperature)- 40 g
Milk Chocolate (*1) (melted, tempered for dipping) – as needed
Pecans (toasted and chopped for finishing) – as needed
Directions:
1. In a saucepan, caramelize the sugar until amber using the dry method.
2. Bring the cream, milk and banana puree to a boil. With the caramel at low heat, stream in the hot cream, while mixing with a wooden spoon, making sure that the caramelized mixture is entirely incorporated.
3. Remove from heat and cool to 60-70C.
4. Pour the hot caramel mixture over the chopped milk chocolate and let sit for 1 minute to allow the chocolate to melt.
5. Add the salted butter and emulsify using an immersion blender (*2). The ganache is ready.
6. Pour the ganache into a plastic container, cover it with plastic wrap, and put it into the fridge to harden for about 4 hours.
7. After about 4 hours take the ganache out and roll it into small balls (approx. 15g each).
8. Toast pecans and chop them into small pieces.
9. Temper milk chocolate (*3), dip each truffle into it and shake off the excess to form a thin coat. Place the dipped truffle onto a piece of parchment paper.
10. Sprinkle each truffle with a few pieces of pecan while the chocolate is still glossy.
11. The truffles are ready to be enjoyed once the chocolate has fully crystallized and no longer sticks to fingers.
12. Store the truffles in an airtight container, away from heat and direct sunlight. You may store the truffles in the fridge if your room is hot.
13. Enjoy the truffles at room temperature for maximum flavour. Best if eaten within a week.
***
Notes:
Any type of high-quality chocolate will do. Cacao Barry Lactee was used for this recipe.
The ganache should be uniform and smooth at this stage. If you see oil separating from the rest of the mass, add one or two teaspoons of water and emulsify once more.
When tempering chocolate, please ensure that the temperature in the room does not exceed 22C.