This pandemic has been devastating to both lives and livelihoods. The movement to support local businesses has only been amplified by rolling restrictions and ongoing supply chain issues. Big box stores are built to survive these challenges, whereas small, locally-owned shops, regardless of the industry they're in, struggle just to remain open. It has never been more crucial to spend your hard-earned dollars wisely, opting to keep that money within your community, instead of lining the pockets of a billionaire. From food services, to retail, entertainment, and yes even outdoor sports, there are locally-sourced, community-owned options available to all of us.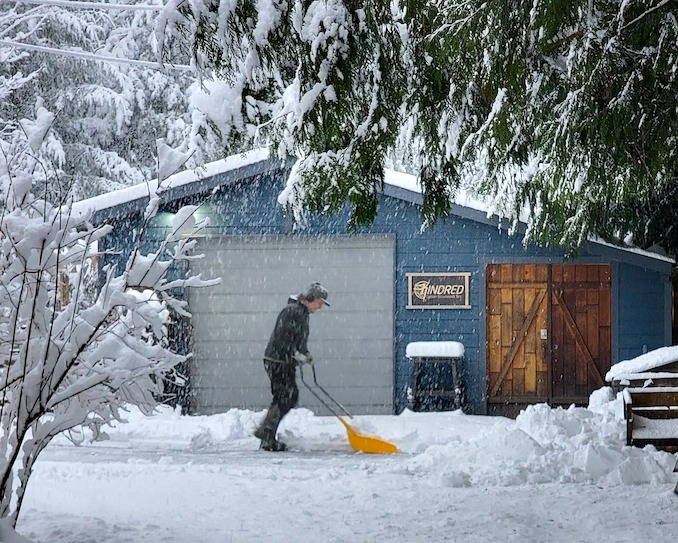 If I could do one thing all winter it would be snowboarding. There's something truly special about carving deep, cold powder that is difficult to articulate. The sport is magical and I have been fascinated with the design process for years. The boards themselves are loaded with the latest technology and are decorated with graphics to match each rider's own style. They are as much a reflection of the rider's own unique personality as they are tools for shredding your way into the white room. In a bid to learn more, and showcase a burgeoning Canadian company, I reached out to Kindred, a custom snowboard, splitboard, and ski store nestled in the Comox Valley on Vancouver Island.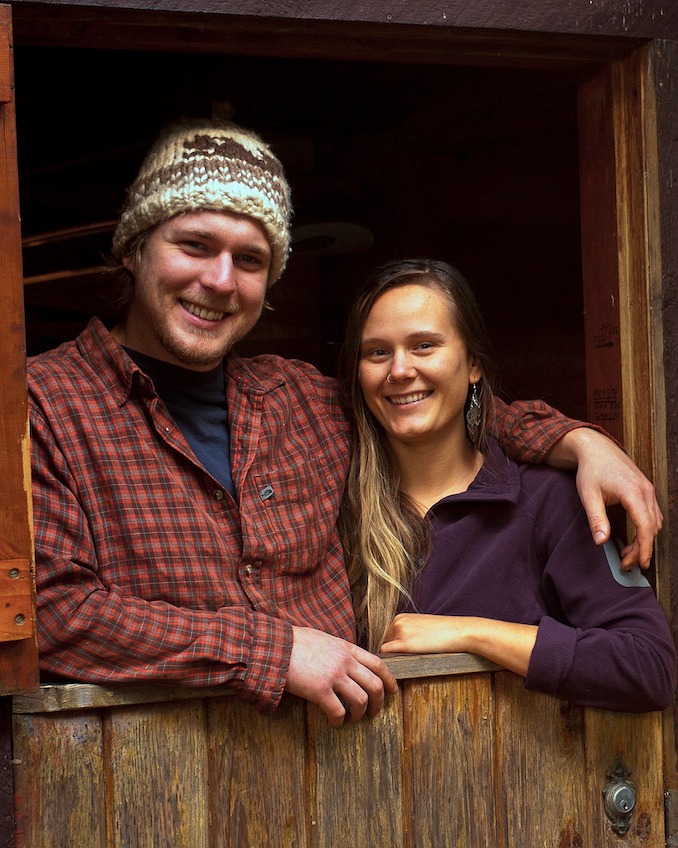 This is how I met Evan and Angie, the team behind Kindred and the creators of art you can ride. Evan grew up in Calgary and has been snowboarding for 23 years. He competed and coached at Canada Olympic Park (COP) and would spend weekends riding the Rockies at resorts like Nakiska, Sunshine, and Lake Louise. He moved to the Island after hearing rumours of the deep snowpack and laid-back vibes. He continued his coaching with the VI Riders Snowboard Club for several years while establishing the business. Angie was born in Vancouver, but raised in Bolton, Ontario, and didn't learn to ski or snowboard until she moved back to Comox to live with her Grandparents when she was 19. She loved snow sports instantly, and used her job as the Events Coordinator at Mount Washington to improve her riding quickly. The couple met through snowboarding after being introduced by a mutual friend up on the mountain. They recall those earliest days fondly as they grew and built an awesome community of fun-loving, like-minded snow enthusiasts, many of whom remain their closest friends and supports. At the time they didn't realize how foundational snow would be to their whole life!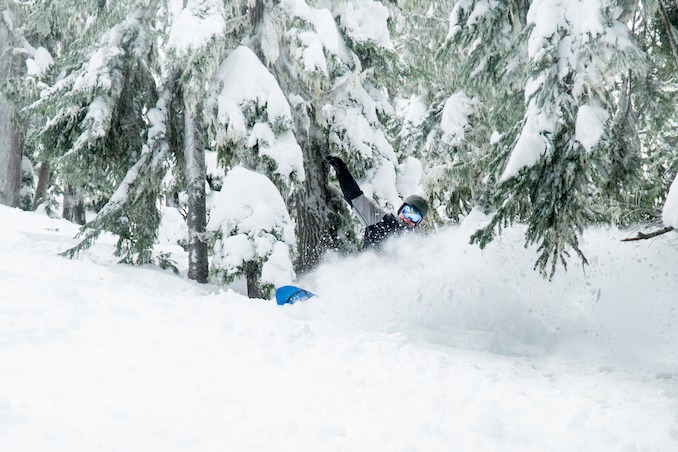 What follows is an insider look at the design and building process for Kindred. Not only will you discover the passion that goes into every piece, but you'll also get to see the incredible works of art that are being produced in their workshop. 
Calgary Guardian: "How did Kindred Snowboards come to be?"
Angie: "Curiosity just morphed into an idea that made sense. We left jobs at the ski resort in 2010 and were searching for a change – a new resort, or a new life path. We were in our early 20's, living in a truck camper, and feeling pretty open minded. We drove all over BC and Alberta checking out resorts and mountain towns. We found ourselves back on Vancouver Island visiting friends and during a Sunday drive along the 19A, only a few kilometres from where we operate now, Evan was telling me about his 'lemonade stand' as a kid, when he would buy factory blank skateboards and upsell them at the skate park for pocket money. This lead to curiosity about the design and construction of snowboards. After some research it was the construction process that really spoke to Evan. Serendipitously, we immediately found a press and small kit of materials for sale locally, which kickstarted a labour of love over the next few formative years of the business.
We built ten boards in the laundry room of our rental that winter, including our first two wood veneer top sheets. It felt so great to ride snowboards that we'd made, and those first builds performed great. Moving forward we could really see the difference that quality materials made in our boards. We eagerly passed them around for feedback, and they were super well-received. We started to get requests for builds almost right away. It seemed that we might have a knack for the craft, and we were finding the process engaging, expressive, and satisfying. Why not try to make a living at it?
We opted for slow and steady growth with a focus on quality. At first it was hard to temper excitement and eagerness in favour of a strong foundation, but we had lots to learn and were hoping it would lead to longevity. We leaned on other people for time and resources, we squeezed into group living situations to cut costs, we waited and bought most things second-hand instead of acting impulsively. We have been building boards and skis for nearly 12 years now, and we still abide by that philosophy."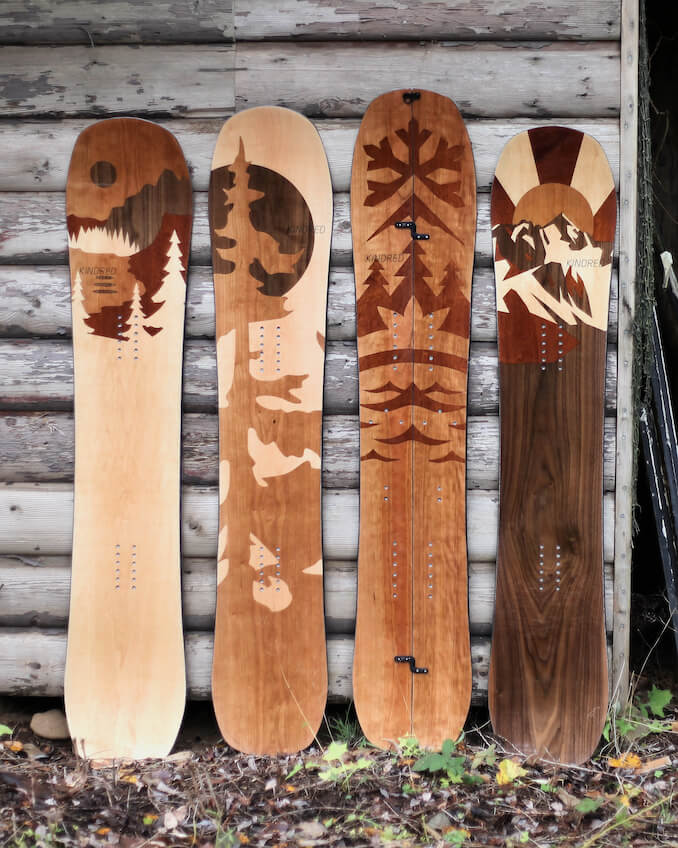 CG: "How did you choose the name?"
Angie: "We brainstormed for years. We were searching for a name that evoked a warm feeling that represented the spirit of our work and business. It had to be timeless, accessible, and integral. A name that would endure and feel comfortable like it's always been there, even in 10 or 20 years. On one level it acknowledges the amazing support of our community, friends, and family. On another level it pays homage to the incredible relationships that are forged through alpine winter sports and lifestyle. Nothing compares to charging a slope of fresh snow to a soundtrack of euphoric hoots and hollers from your friends. Those snowy moments when we're living a shared experience in nature are pure magic. We are surrounded by people who embody that joy on and off the snow. Those are our people, and we had a feeling that most skiers and snowboarders could relate. We think Kindred embodies all of that."

CG: "What type of education, training, skillset is needed for your job?"
Angie: "Well you can't go to school for ski and snowboard building and I don't think there is a specific 'skills recipe' for this job. I can only tell you that Evan and I are well-balanced in what we each bring to the table, covering a broad range of experiences, skills, and education. We both continued to work other jobs for a few years to support ourselves as we figured things out. We are self-taught, and neither of us could have built this business without the other.  
Evan built up years of experience within the snow industry since age ten as a competitive snowboarder and a freestyle coach at COP and Mount Washington. He has a deep and nuanced understanding of the fundamentals of riding, as well as snow culture itself. He is also obsessed with problem-solving and has a focused work ethic that cannot be taught. He learned welding and carpentry basics at Lord Beaverbrook Highschool in Calgary and then worked jobs in the trades for years. These are all crossover skills used consistently in the ski, splitboard, and snowboard building process. His aptitude was immediately obvious, which is why we're still doing this 10-plus years later.

I earned a Dual Major BA in History and Film and Media Studies from Queen's University. That degree gave me a foundation in design theory, critical thought, and cultural context. I spent a year in Europe and took Art History where I was fortunate to study the classical and modern Masters. Between that and studying film I honed my outlook on composition, working in visual media, graphic design, storytelling, and the invaluable skill of staying up later than I'd like to finish a project! In common, we're both fun-loving dreamers, and are optimists in our own ways."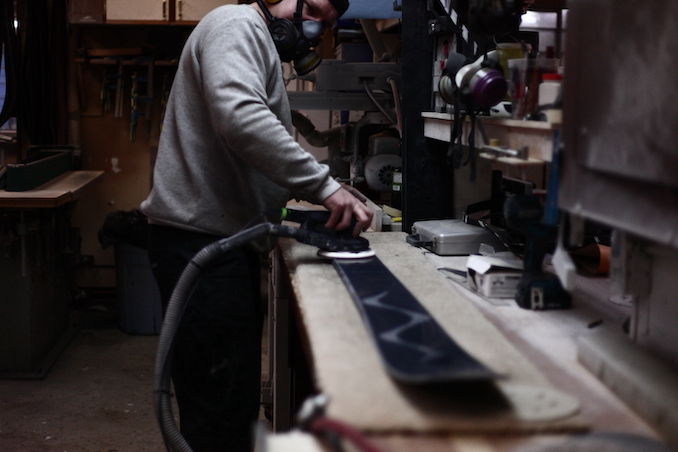 CG: "Your skis and boards are works of art. Who designs the graphics for each product?"

Angie: "All the designs, Limited Edition and Custom, are created by me in-house. We do collaborate with other artists including Pyrographer Samm Moore and local K'omoks Kwakwaka'wakw artist Karver Everson. I am self-taught in marquetry. Versions of inlay and intarsia have been practiced for thousands of years, but marquetry really took off in the 1500s in Europe when it became a sophisticated way to decorate functional goods like boxes and furniture. It involves cutting and matching thin wood veneer and assembling the pieces like a puzzle. I consider the colour profile, facets, behaviour, and grain pattern of different species of wood to give even our repeatable Limited Edition designs their own unique depth and character. They truly are one of a kind.
For the art on a commissioned build I pull from conversations about the rider or skier's passions, hobbies, and interests. I draw up proofs of different design options and use their feedback to refine things until we've come up with a personalized composition that they love. Then I work in tandem with a CNC and hand-cutting to bring the wood topsheet to life.  
Alongside the commissioned builds we also dabble in using the skis and snowboards as a canvas for marquetry art. We have exhibited several builds in juried shows over the years. These are where, conceptually, I am most free to express my own artistic visions."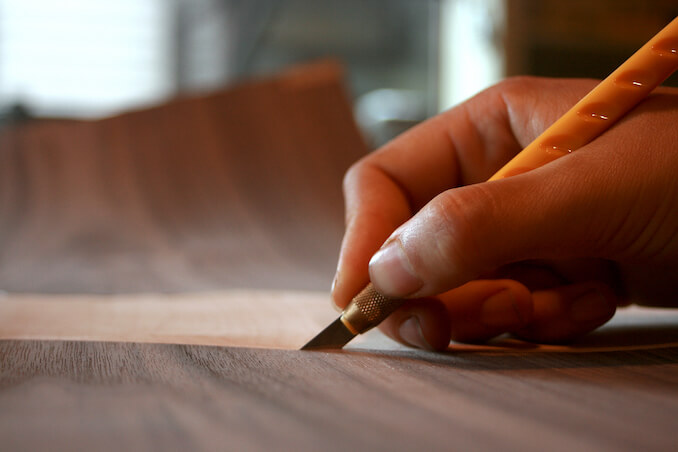 CG: "Could you walk me through the process of building a snowboard from start to finish?"
Angie: "We use sandwich construction, common in the industry. All the separate components get built and prepped including the die cut base, wood core, fiberglass or carbon fiber fabric, metal binding inserts, and topsheet. We use a wet layup process to saturate the materials with resin, and load everything into a heated pneumatic press which cures the epoxy. The camber profile is determined by the mold used in the pressing process. Hours of sanding, shaping, grinding, and waxing provide the familiar ski or snowboard shape. A high gloss topcoat protects the wood topsheets from damage and seals the end product. We also work with standard nylon tops that are familiar with most brands. We offer a full custom experience that can be catered to each individual rider whether it be an artwork request, or custom design and build specs.
For custom work the build timeline depends on how complicated the artwork is and how busy we are. Marquetry is meticulous and time consuming, but our customers really appreciate the attention to detail embedded into each board or ski. The consultation process is ongoing throughout the design to make sure we really nail it. This can take 6-12 weeks from our initial consultation. If someone is on more of a time crunch, we recommend a board or set of skis from our Limited Edition Series. These feature the same wood marquetry tops as our custom work, with stock artwork designs. We do keep some stock available, and otherwise quote 2-3 weeks if we are building to order."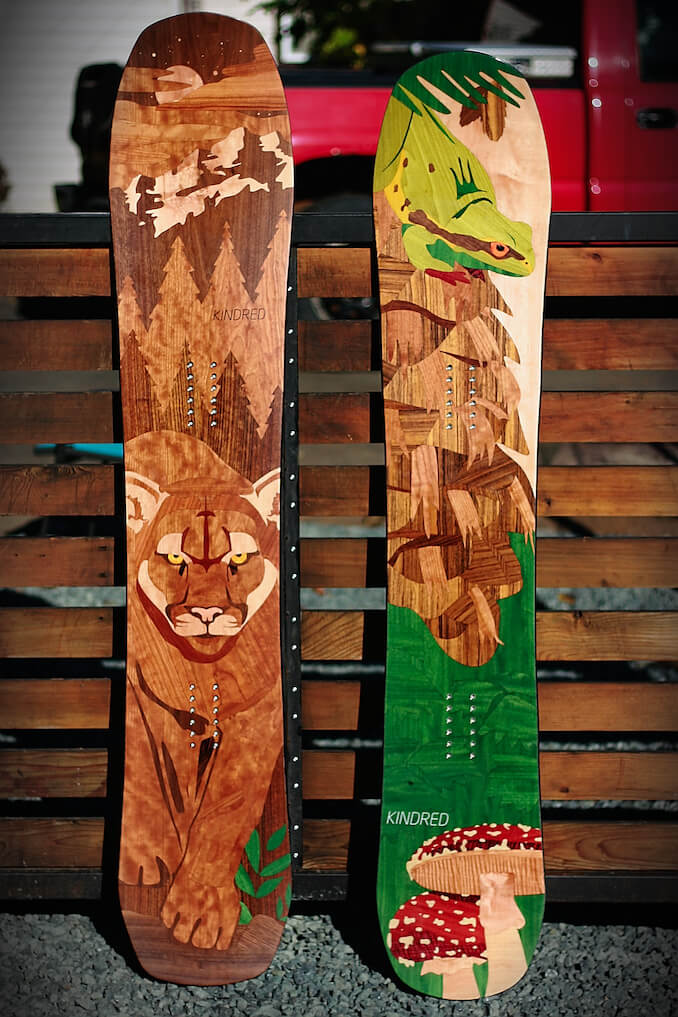 CG: "What's the best thing about your job?"
Angie: "Product testing! Riding boards we've built. Or maybe standing incognito in the lift line and hearing people rave about their board or skis that we've built for them. It's also awesome when people pick up in person so we get to watch their faces as they see their build for the first time. They photograph well, but look even better in person."
CG: "What's one of the most challenging aspects of owning your own company?"
Angie: "You have no one to blame for mistakes but yourself. Which, as much as it's a challenge, it's also how we like it. You learn to be confident or at least somewhat self-assured, or it can eat you alive. There is a misconception that we are out snowboarding all day everyday, but our heavy build season is during the fall/winter. It's ironic to miss a powder day to build a snowboard, but it's the name of the game. Luckily, most of our customers are gracious enough to be flexible in the name of us getting out to shred when it's really good."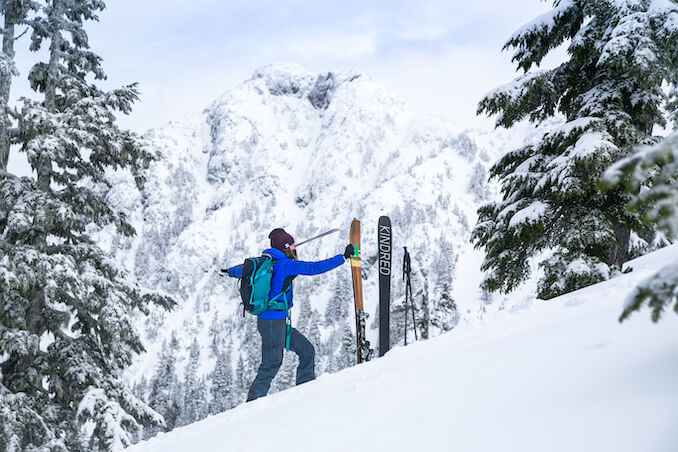 CG: "Do you have a personal favourite snowboard? What makes it so special?"
Evan: "I do have a few shapes that I am constantly drawn to, but I like exploring the different personality traits that exist in each shape we build. Those unique characteristics are what keep things interesting for me. The constant development and tweaking of design and materials is exciting for me, and I'm not sure I could pick a specific favourite as it is constantly changing."
Ange: "My powder tiger Merville swallowtail. It's so much fun. I like to try the prototypes and keep building myself new boards only to sell them and end up back on my old faithful. I have been riding it for five seasons, including groomer days, so might be time to retire it soon. But I'll probably build the same shape! Or the art heavy boards and skis we've built over the years. While I find it easier to work within the constraints and I love the collaborative feel of commissions, it's cathartic to dive into an idea I've had in my own mind."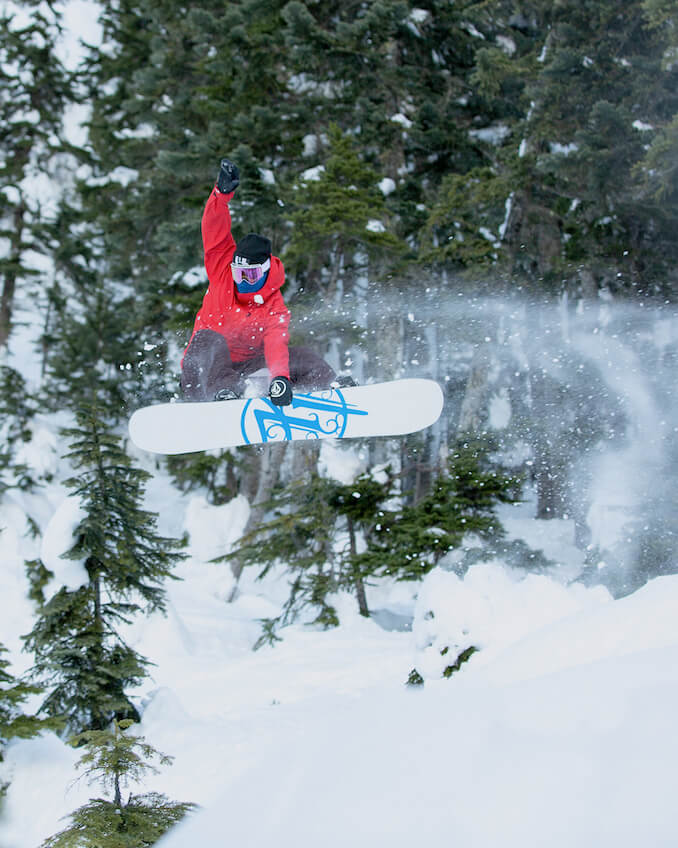 CG: "Resort, backcountry, or a bit of both?"
Angie: "We tend to spend most of our riding days at the resorts on Vancouver Island, but nothing beats earning your turns on a touring setup. We've also made a bit of a tradition of a few days of cat skiing at the end of each season as a cherry on top after long work days."
CG: "What sets Kindred apart from the competition? Why should people choose you for their next snowboard or set of skis?"
Angie: "Our snowboards and skis are manufactured completely in-house, right here in Canada, to a high standard using the best materials available. We offer an alternative to the mass manufactured products that currently dominate the industry. Current supply chain issues have highlighted the good that can come from investing in high quality locally-manufactured goods. By building in smaller quantities we are able to keep our quality control very tight, and have an extremely low warranty rate as a result.
We look at skis and snowboards as tools for making unforgettable memories in nature with family and friends. They are among peoples' most prized possessions, and our work speaks to that. The chance to relate to your own custom piece of functional artwork underfoot elevates the alpine experience. Our customers get to interact with the manufacturing experience. We tailor to the rider's physical specs instead of population averages and are focused on blending personalized performance and aesthetic. 

That said, some people are not interested in the full custom experience but still appreciate the degree of care that goes into each build. For them we have curated a Limited Edition Series of skis, snowboards, and splitboards. Although they aren't personalized these models share the same high quality build materials as the custom work and boast our beautiful original wood marquetry graphics.

We build skis, snowboards, and splitboards that are well-loved and retired as wall art rather than landfill and believe the quality of craftsmanship that ultimately shines through."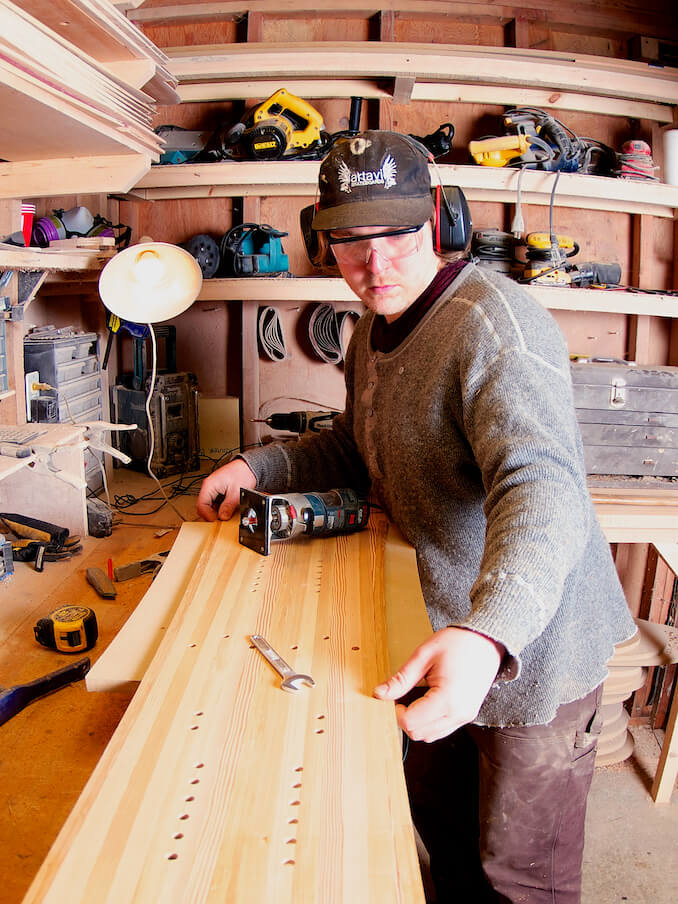 To connect with the Kindred team, please visit their website. You'll find all the information you need on how to purchase you next board or start the custom build process. You can also stay up to date by following them on Facebook, Twitter, and Instagram.
***
About this column:
Wild Jobs is a running series that focuses on people in outdoor-related professions. It provides a brief snapshot of their career and the duties that it entails. Please see my previous post, Wild Jobs: Hiking Outfitter to learn more.