When you think of working dogs what comes to mind? Guide dogs, police dogs, therapy dogs, military dogs, search and rescue dogs, avalanche dogs, and sled dogs all immediately popped into my head. Conservation K-9 dogs never entered my line of thinking at all, until now.
Alberta Environment and Parks defines Aquatic Invasive Species (AIS) as, "non-native organisms that have been brought from other places into Alberta's water. These species cause, or have high potential to cause, harm to our environment, economy, and human health as they become established outside their natural range." Once established, these invasive species can be near impossible to eradicate, so prevention becomes paramount. Conservation dogs have been specifically trained to detect these invasive species to help ensure Alberta's waterways aren't overrun.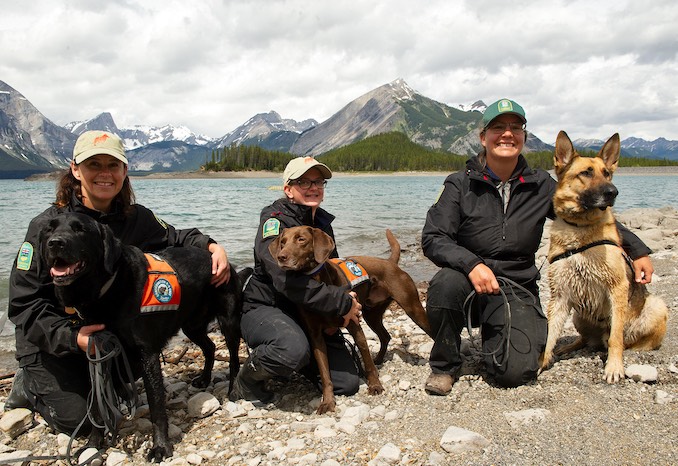 Although conservation dogs have been trained to detect multiple scents, their primary target in Alberta is invasive mussels, more specifically Zebra and Quagga Mussels. If these organisms were to establish themselves in Alberta's watersheds the consequences would be devastating. They disrupt natural food chains, which leads to depleted fisheries. They reproduce extremely fast and have no natural predators within the province. Adults can survive out of water for up to a month and are easily transported from one waterbody to the next by attaching themselves to boats and other recreational aquatic equipment. The province has estimated an annual cost of $75,000,000 if an infestation were to occur.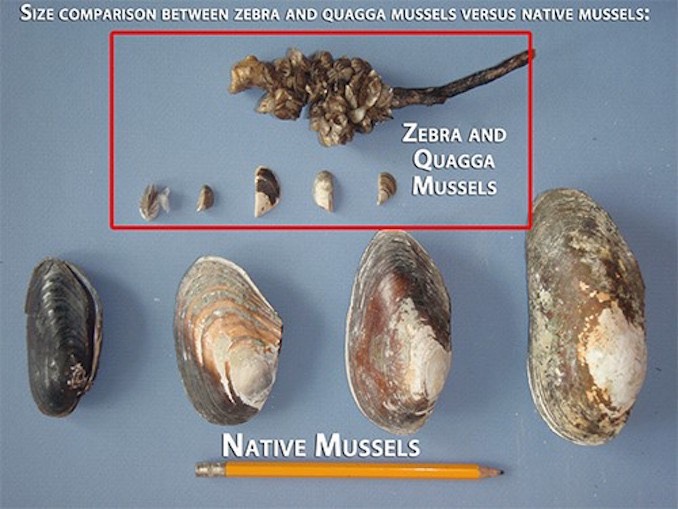 It's obvious the need for early detection and prevention is key to protecting our water and there's no better first line of defence than the nose of a dog. Mussel-detecting dogs were first deployed in Alberta in 2014 as part of a pilot project to test their effectiveness. During a controlled test, where the dogs' performances were compared to that of trained human inspectors, the dogs successfully identified 100% of the watercraft where mussels were present. The humans, on the other hand, missed up to 25%. After the successful pilot study, detection dogs were permanently implemented as part of the watercraft inspection process that was rolled out in 2015.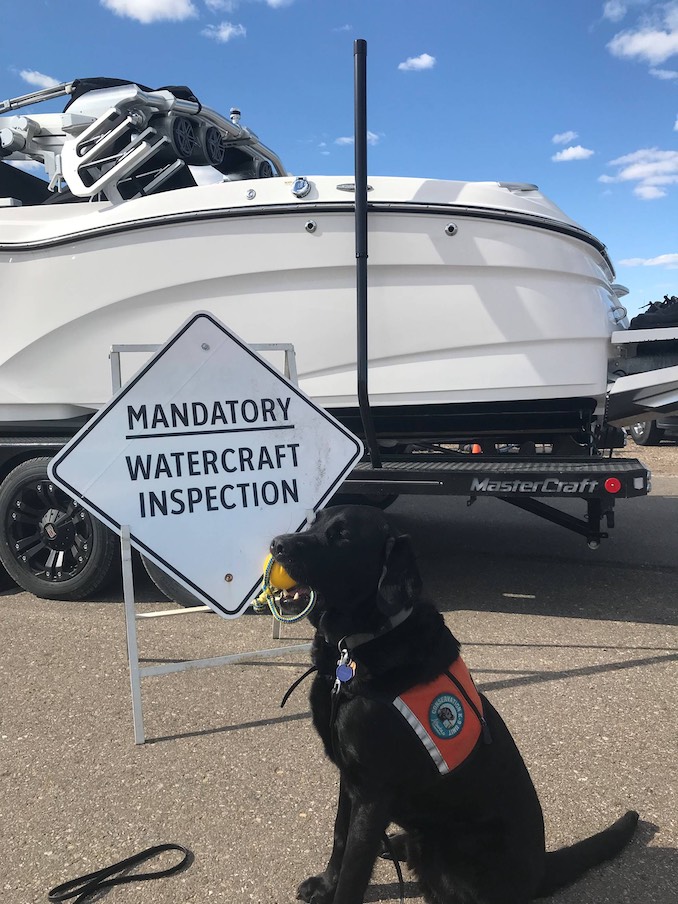 Here to discuss her role as K9 Program Lead is Cindy Sawchuk. Cindy took some time out of her busy schedule to shed some light on what it's like working with a detection dog, the details of her career, and some of the different conservation projects they have worked on in addition to detecting invasive mussels.
Calgary Guardian: "What's the best part of your job?"
Cindy Sawchuk: "The best part of my job is I get to work with my best friend every day! He comes to work with me, even all the boring office days in the middle of January. I get to go out for walks whenever he wants to go. There's also an opportunity to be innovative. This program started simply with mussels on boats, but now we're on shorelines, we're searching for wild boar scat and different invasive weeds. There are all these different targets with high conservation value and we are combining science, conservation, and dogs. There's really no job quite like it."
CG: "What's one of the most challenging aspects of your job?"
CS: "Working dogs aren't just normal, family pets. I can't take him to the dog park. He has high energy and high needs that need to be met everyday, so it's quite different than a pet. I have to keep him continually trained, motivated, happy, and as successful as possible in his career. It's challenging, but very rewarding."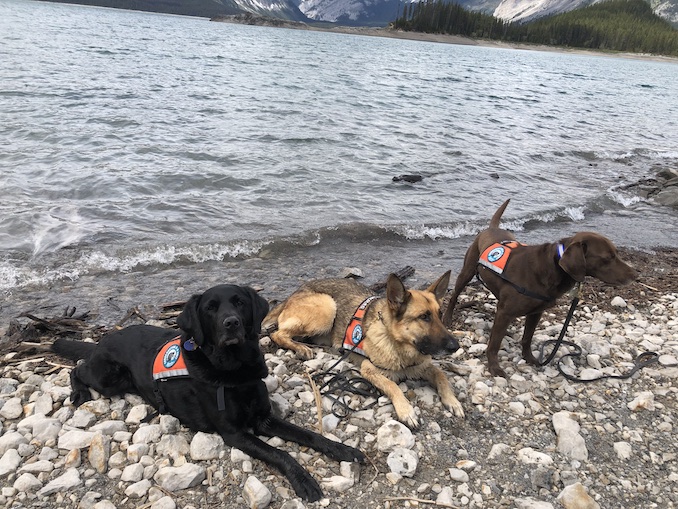 CG: "What are the qualities that make a good detection dog?"
CS: "Less than one in one-thousand has what it takes to make it as a detection dog. They need to have super high energy and an incredible ability to focus. They can't be easily distracted and need a crazy obsession with balls; a high ball drive. It has nothing to do with the breed of dog. On our team there's a German Shepherd, a Chocolate Labrador, and a Black Lab crossed with a Golden Retriever. Another trait that make dogs superior detectors over humans are their scent receptors. Humans have about five million, whereas dogs have 220 million scent receptors."
CG: "What type of training do you and the dogs have to go through?"
CS: "The training is intense. We learn to be handlers at the same time as the dogs are learning to detect. The process starts with an 'interview' to see if the dogs want the job. We assess their ability to remain focused and their drive towards the toys. Once it's established that they have the right characteristics the training can begin. We trained at a non-profit organization in Montana called Working Dogs for Conservation. They arranged all the training, they sourced the dogs, and then trained both dogs and handlers. It was an intensive, 140-hour specialized boot camp that got this all started, but the training is a lifelong adventure; it never stops. Typically we train all winter and then are deployed all summer."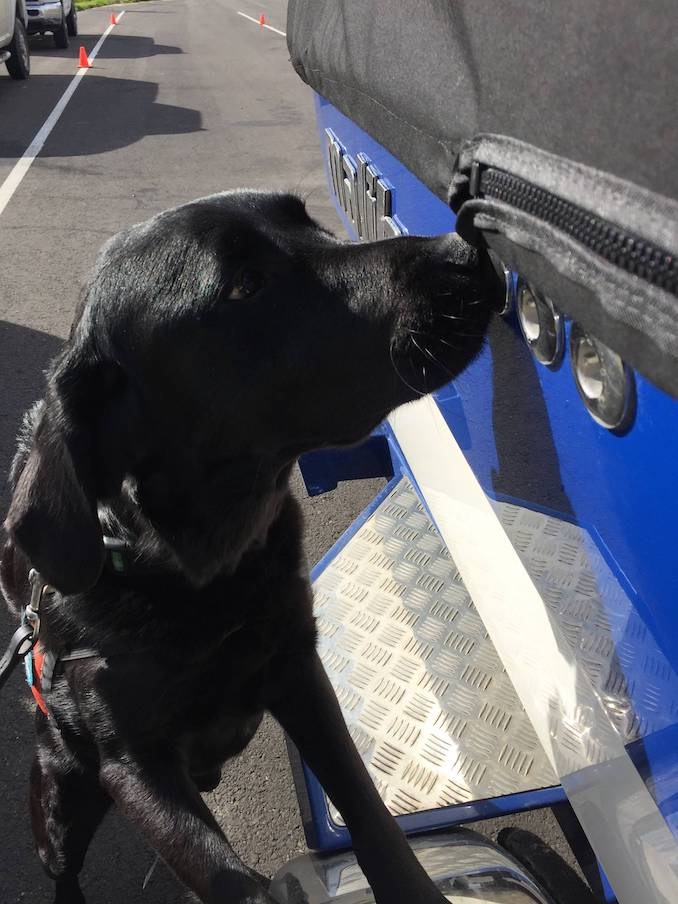 CG: "How many dog teams are there?"
CS: " We currently have three dogs teams in Alberta. Heather and Diesel are stationed in the Crowsnest Pass area of the province. Hannah and Seuss are in the northeast part of Alberta; Vermillion, Cold Lake, and along the Saskatchewan border. Hilo and I are based out of Canmore, but as the lead for the program we are deployed throughout the province. When we aren't working at inspection stations you will find us in the office, out in the field, or making public appearances."
CG: "What exactly are the dogs looking for?"
CS: "For the most part we're searching for invasive mussels on boats and along shorelines. The dogs are cross-trained, so we have also been deployed to search for invasive weeds in Fish Creek Provincial Park as an example. We are also collaborating with Alberta Agriculture on their eradication program for wild boar. The dogs are trained to search for wild boar scat to help determine where the boar are located in the province. The dogs are endlessly trainable and can be trained to search for multiple targets. There was one detection dog in Montana that was so well-trained that at retirement they had been trained to detect thirty different target odours!"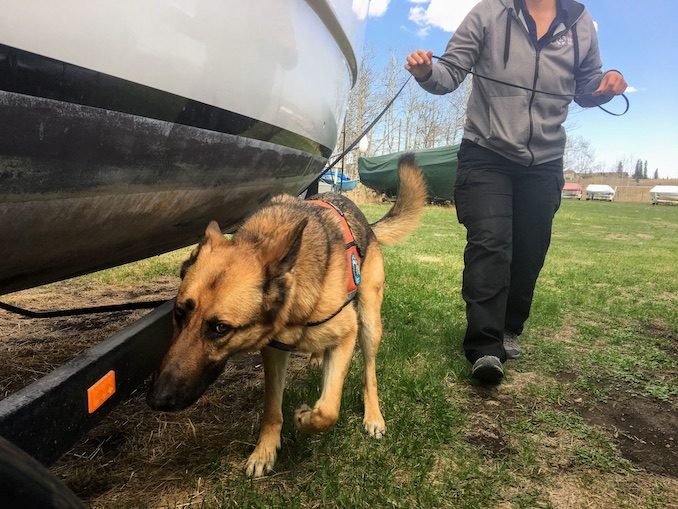 Even though we have detection dogs on the front lines, there are things you can do to help prevent Aquatic Invasive Species from threatening Alberta's waterways. Don't release pond or aquarium species into the wild as they can become invasive. The act of releasing water, fish, plants or other aquatic species is illegal in this province. Additional information about the Don't Let It Loose campaign can be found by following the link. In addition, the importance of cleaning, draining, and drying your gear cannot be understated. If you are transferring aquatic equipment (think motorized/non-motorized boats, life jackets, hip waders, construction equipment etc.) between waterbodies, ensure you have properly cleaned, drained, and dried between uses. More information about the Clean, Drain, Dry initiative can be found at that link.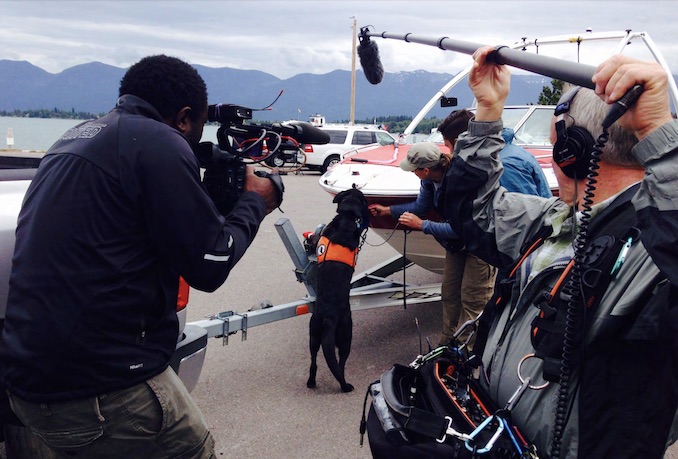 I would like to take this opportunity to thank Cindy for her time and willingness to answer all of my questions. I know it's a busy time as you're gearing up for summer deployment, so thank you!
To stay connected with Alberta Environment and Parks, please follow them on Twitter and YouTube.
For additional posts featuring dogs, please see my previous stories Avalanche Rescue Dogs, Howl For The Wolfdogs, and Historical Photos of Dogsledding from Alberta.
***
About this column:
Wild Jobs is a running series that focuses on people in outdoor-related professions. It provides a brief snapshot of their career and the duties that it entails. Please see my previous post, Wild Jobs: Friends of Kananaskis Volunteer to learn more.